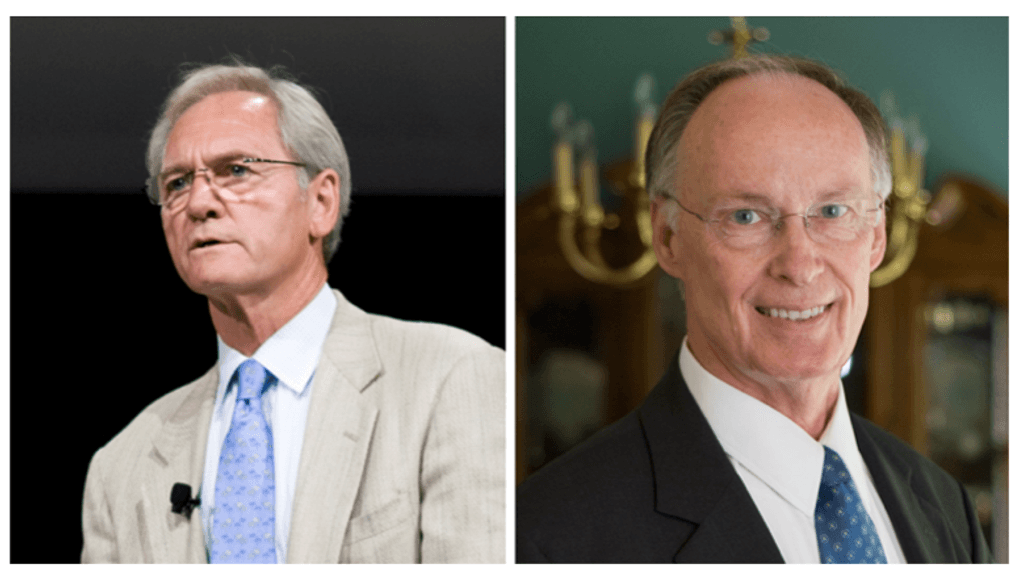 Two former Alabama governors, one a Democrat and one a Republican, have expressed serious doubts about the death penalty in the state and across the country.
In interviews with Birmingham television reporter Lee Hedgepeth in advance of the October 21, 2021 execution of Alabama death-row prisoner Willie B. Smith III, Democrat Don Siegelman (pictured, left) and Republican Robert Bentley (pictured, right), both said they now have significant reservations about the death penalty. Siegelman, who served as governor from 1995 to 1999, and Bentley, who served from 2011 to 2017, each denied clemency to eight death-row prisoners executed during their tenures. Both unsuccessfully urged Governor Kay Ivey to commute Smith's death sentence based on evidence that he was intellectually disabled. "If I knew then what I know now," says Siegelman, "[the prisoners] wouldn't [have been] executed."
Bentley told Hedgepeth that his religious beliefs and his ethical views as a medical doctor leave him "torn" about the use of the death penalty. However, executing Smith, he said, would be inappropriate. "If you were a young child and were mentally challenged, obviously, you wouldn't be in jail. … [T]he mental capacity of an individual should come into play."
While Bentley support for commutation arose out of the facts of Smith's case, Siegelman — who also served as attorney general — is now opposed to capital punishment in all circumstances. "Carrying out [Alabama's] highest form of punishment is wrong for multiple reasons," says Siegelman, and the executions he allowed to be conducted "still don't sit well" with him more than two decades later.
The former governors said that Alabama's death penalty "makes no sense" in many ways. Neither sees the death penalty as an effective deterrent against crime. "Most [people committing crimes] are under the influence or they're angry, but they don't think about the death penalty," says Bentley. He and Siegelman believe that life in prison without parole is a more effective punishment. "If you want to punish someone for a crime, you don't want to put them out of misery," adds Siegelman.
Siegelman and Bentley's views on the death penalty changed after leaving office. "I am pro-life: I don't believe in abortions. I don't believe in euthanasia. I believe in life," Bentley explains. "I don't think anyone has the right to take somebody else's life." Bentley also said he "agonized" about reconciling his oath as a physician with his new role as governor. "I was put in the situation as a physician, as governor, and I had to decide which route I had to go," he says. "And at that time, I was the governor, and so I had to make those decisions." Bentley lamented the lack of unbiased information that was available to him when he was making clemency decisions. "Much of the material that was brought to me was from the prosecutors," he said. "It was somewhat one-sided."
During his tenures as attorney general and as governor, Siegelman said he considered executions a necessary duty, even after a gubernatorial tour of Alabama's death rows and an electric chair demonstration "frightened" him. "I'll never, ever forget the faces I saw on death row and the conditions under which [death row prisoners] were living," he said.
Siegelman says his trial and conviction of fraud in 2006 "of something that I knew hadn't happened" opened his eyes to the fallibility of the judicial system and what that meant for the prisoners put to death during his governorship. "Some of the faces and names of those people who were executed during my term as governor flashed before me," says Siegelman. "I shuddered at the thought of — had I made a mistake. I asked God to forgive me."