Kennedy Brewer, who spent almost 15 years on Mississippi's death row for the 1992 murder and rape of his girlfriend's 3-year-old daughter, has been exonerated of the charges, and another man, Justin Johnson, has been arrested for the same crime. A 2001 investigation by the Innocence Project found that the semen on the victim's body did not match Brewer's DNA, but did match Johnson's. Johnson was a suspect early in the case, and his blood was collected and preserved in the Mississippi State Crime Laboratory for more than 10 years.

Last year, Brewer was released on bond, pending a new trial after the Innocence Project and his attorney pushed for an appeal based upon the DNA test results. Despite the results of the 2001 DNA testing, the Mississippi Supreme Court denied Brewer's request for a new trial in 2002. Brewer eventually won a retrial from a Lowndes County judge. According to the New York Times, District Attorney Ben Creekmore of Oxford, Mississippi, who took over the case when the previous D.A. recused himself, "is preparing to file a motion dismissing all charges against Mr. Brewer."
Brewer's attorney, Carrie Jourdan, said that Brewer is trying to get back into a normal life. She said, "He's gainfully employed. He's working and he's living with his elderly, disabled mother, who he assists in taking care of. He has had no problems from a criminal legal standpoint" since he was released. Mr. Brewer is mildly retarded.

("Man charged in child slaying for which another sentenced to death," by Holbrook Mohr, Associated Press, February 7, 2008; see also S. Dewan, "New Suspect Is Arrested in Mississippi Killings in Which 2 Men were Convicted," N.Y. Times, Feb. 8, 2008). See Innocence. Mr. Brewer is the 127th person to be exonerated from death row since 1973 and the 16th person to be freed from death row through DNA testing.

Innocence
Mar 31, 2023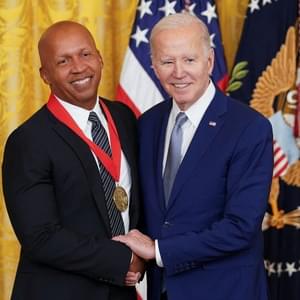 Bryan Stevenson Honored with the National Humanities Medal