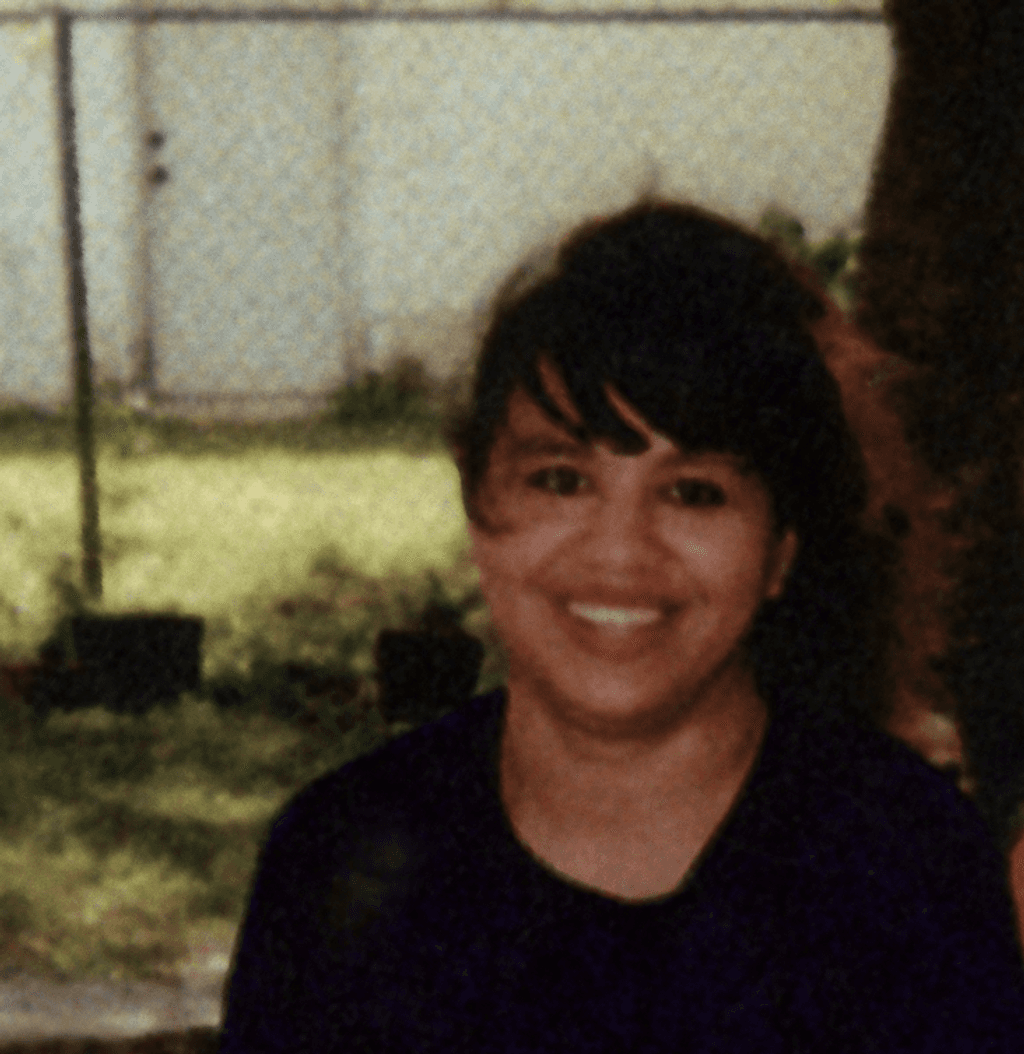 Lawyers for Texas death-row prisoner Melissa Lucio (pictured) have moved to vacate her April 27, 2022 execution date and remove the judge and district attorney in her case because of conflicts of interest stemming from their employment of key members of Lucio's original defense team.
Lucio's lead trial counsel, Peter Gilman, is now employed as an assistant district attorney in the Cameron County District Attorney's office and Irma Gilman, who was counsel's paralegal at the time of trial, is now court administrator for Judge Gabriela Garcia, who is presiding over the case. In separate pleadings filed in Cameron County District Court February 18, 2022, Lucio alleges that the hiring of the Gilmans, who are married, violates due process and unconstitutionally denies her access to critical witnesses in her attempt to investigate and litigate significant issues in the case.
The Cameron County D.A.'s office sought and obtained a death warrant from Judge Garcia scheduling Lucio's execution for April 27, 2022. Garcia's recusal would vacate that death warrant.
Lucio's Motions to Remove the Prosecution and the Judge
Lucio's motion to remove the Cameron County District Attorney alleges that Peter Gilman's employment in the D.A.'s office violates "the continuing duties of loyalty and cooperation that Mr. Gilman owes Ms. Lucio." The motion asserts that "shortly after Ms. Lucio was sentenced to death and while Ms. Lucio's post-conviction counsel was investigating whether Mr. Gilman was iIneffective," former District Attorney Armando Villalobos hired the Gilmans, manipulating the appeals process by making them unavailable to the defense.
The Gilmans' refusal to cooperate with the defense in the post-conviction process was so extreme that Lucio's post-conviction counsel filed a bar grievance against Peter Gilman alleging that both he and his wife had obstructed Lucio's access to her files. Villalobos was later convicted on federal corruption charges for accepting more than $100,000 in cash from defense lawyers in exchange for favorable treatment on criminal cases.
Peter Gilman, the motion states, "continues to work as an at-will employee for current District Attorney Luis Saenz." His continuing "dual loyalty," the motion says, creates a conflict of interest for the D.A.'s office and "denies Ms. Lucio due process by preventing her from obtaining un-conflicted cooperation from Mr. Gilman as she investigates whether DA Villalobos suppressed exculpatory or mitigating evidence at the time of trial." As a result, she says, the Cameron County prosecutors must be removed from the case.
Irma Gilman now serves as court administrator to Judge Garcia. The motion to recuse Garcia alleges that as long as Peter Gilman is D.A. Saenz's at-will employee, "Ms. Lucio cannot rely on Mr. Gilman to cooperate with her present counsel," making Mrs. Gilman "the only witness on whom Ms. Lucio could rely in this ongoing investigation." However, Lucio's counsel argue, several canons of the Texas Code of Judicial Conduct "prohibit Mrs. Gilman from communicating ex parte with Ms. Lucio's counsel" if Judge Garcia is presiding in the case. "Judge Garcia must disqualify or recuse herself in order to remove this obstruction to Ms. Lucio's access to vital information," the motion says.
"Judge Garcia's and D.A. Saenz's roles in this case have the effect of obstructing Melissa Lucio's access to evidence," Tivon Schardl, Chief of the Capital Habeas Unit of the Federal Defender for the Western District of Texas, said in a news release accompanying the motions. "Texas law automatically disqualifies Judge Garcia and D.A. Saenz. And both circumstances constitute due process violations under the 14th Amendment," he said.
In response to the motions, District Attorney Saenz said, "We will be filing a timely response on behalf of the State of Texas."
A separate motion filed February 8, 2022 seeks to withdraw Lucio's execution date on the grounds that she is innocent. Lucio was convicted and sentenced to death on charges that she murdered her two-year-old daughter, Mariah. Lucio has long maintained that Mariah died from an accidental fall. During a coercive interrogation by police on the night her daughter died, Lucio admitted to having spanked Mariah, but denied having abused her. Late into the night, after hours of continuous interrogation, Texas Ranger Victor Escalon pressured Lucio to say more. She responded with: "I don't know what you want me to say. I'm responsible for it." When Escalon later asked her about specific bruises on her daughter's body, Lucio said, "I guess I did it. I guess I did it." Prosecutors presented this statement to the jury as a confession to the killing.
The Inter-American Commission on Human Rights Requests that the Execution be Delayed
Lucio also filed an action in the Inter-American Commission on Human Rights (IACHR) challenging her conviction and death sentence and the conditions of her confinement on the grounds that they violated U.S. human rights obligations. On February 18, 2022, writing that Lucio "finds herself in a situation of serious and urgent risk of irreparable harm to her rights," the IACHR issued "precautionary measures" asking the United States to delay Lucio's execution until it could resolve her human rights claims.
The Commission found that Lucio had presented prima facie evidence that Texas had violated her human rights, citing allegations that Peter Gilman "failed to argue that she was under duress during the interrogation, and was submitted to coercive interrogation techniques that allegedly led to her false confession" and that Gilman "failed to conduct a comprehensive mitigation investigation, and failed to obtain critical expert assistance," leaving the jury ignorant of Lucio's "long history of sexual assault and domestic violence." The IACHR also found that the conditions of Lucio's confinement on death row violated U.S. human rights obligations.
"Ms. Lucio remains on death row in Texas, where she has been held in solitary confinement for over 14 years while awaiting execution," the Commission wrote. Solitary confinement should "in no instance … last longer than thirty days," it said, adding that "it is widely established in international human rights law that solitary confinement for extended periods of time constitutes at the very least a form of cruel, inhuman or degrading treatment or punishment."
Sandra Babcock, Clinical Professor of Law at Cornell Law School, represents Lucio in her appeal to the IACHR. "U.S. prosecutors and courts, including in Hidalgo County, Texas, have postponed execution dates to allow the Commission to complete its review process," Babcock wrote in a statement issued in response to the IACHR ruling. "We call on Cameron County District Attorney Luis V. Saenz to do the same, and to inform the court that he does not oppose Ms. Lucio's pending motion to withdraw the execution date."
Texas Catholic Bishops Call for Lucio's Death Sentence to be Commuted
On February 28, 2022, the Texas Catholic Conference of Bishops released a statement asking for the state to reexamine Lucio's case and calling for commutation of her death sentence. "Melissa's case illustrates yet again why the Texas death penalty process cannot be trusted to provide justice to all," the Texas bishops wrote. "It is a deeply flawed process rife with human error and inconsistency. … We beseech the State of Texas to commute her death sentence and conduct a meaningful review of her case to enable this family to continue the hard work of restorative justice and healing."
Rev. Daniel E. Flores, the Bishop of Brownsville, and Rev. Joe S. Vásquez, the Bishop of Austin, also issued statements supporting Lucio. "Death is not the answer to death," Bishop Flores wrote. "One tragedy is not somehow made better by killing someone else." Bishop Vásquez wrote, "Our faith teaches us that our response must be rooted in justice and mercy. Together let us pray to bring an end to the death penalty so that we may develop a greater love and respect for the sacred dignity of human life."
Sources
Laura B. Martinez, Melissa Lucio attor­neys seek recusal of judge, dis­trict attor­ney, Brownsville Herald, February 18, 2022; Moira Greaney, US Catholic lead­ers urge clemen­cy for moth­er fac­ing exe­cu­tion, Independent Catholic News, February 28, 2022.
Read Melissa Lucio's Motion to Disqualify or Recuse Judge Gabriela Garcia and Motion to Disqualify the Cameron County District Attorney and the accom­pa­ny­ing news release.
Read the deci­sion of the Inter-American Commission on Human Rights, Lucio's defense team's news release in regards to the IACHR's deci­sion, the Texas Catholic Conference of Bishops state­ment, and the state­ment of Rev. Daniel E. Flores and Rev. Joe S. Vásquez.
Representation
Nov 02, 2023
How A British Charity Works to Assist
US

Capital Defenders