After lengthy, intensive interrogations, which in some cases included threats to pursue the death penalty, four enlisted Navy sailors confessed to a rape and murder in Norfolk, Va. that occurred in 1997. Now, convincing new evidence has emerged indicating that all four may be innocent. A recent New York Times Magazine article describes how three of the men - Danial Williams, Joseph Dick, and Derek Tice - were sentenced to life without parole for the rape and murder of Michelle Moore-Bosko, and the fourth sailor, Eric Williams, spent 8-1/2 years in prison for the rape before his release. The four men, known as the "Norfolk Four," now maintain their innocence and say that police coerced their confessions during long interrogations that included threats of a death sentence and physical abuse. Their confessions contained accounts of the murder that varied significantly from one another, and the details they provided did not fit with evidence collected by police. In addition, no physical evidence gathered from the scene linked the men to the crime. A letter turned over to police in 1999 also cast doubt on the "Norfolk Four's" guilt. The letter was authored by Omar Ballard, a known criminal and an acquaintance of Moore-Bosko. In it he confessed to the crime, and police testing later confirmed that the only physical evidence found on the victim matched Ballard's DNA.
In examining why four sailors would all falsely confess to a crime, the author interviewed experts who say the four faced interrogation conditions that often lead to false confessions. Studies of proven false confessions have found a number of recurring markers, including actual violence, threats of violence, threats of harsh sentences like execution, and extreme duress brought about by isolation, sleeplessness and lengthy, high-pressure interrogations. One of the interrogators in the case had previously been disciplined for securing false confessions. Law professors Steven Drizen and Richard Leo added that once detectives have secured a confession, they often fail to consider other theories or suspects. In addition, prosecutors "rarely consider the possibility that an entirely innocent suspect has been made to confess falsely through the use of psychologically coercive and/or improper interrogation methods."

In recent years, four former Virginia attorneys general have joined a growing list of supporters calling on Virginia Govenor Tim Kaine to pardon the four men on the basis that the state perpetrated a major miscarriage of justice in the case. Among those voicing concern is Richard Cullen, who was appointed as a U.S. attorney under former President George H.W. Bush and who served as attorney general for former Virginia Governor George Allen. Cullen said the "totality of the scientific evidence" and "the crime scene being inconsistent with the prosecution theory" convinced him that the four sailors are innocent. Senior Naval Chief Michael Ziegler, who was in charge of Joe Dick's ship while he was stationed in Norfolk, also believes the men are innocent and said that he wishes he had done more to ensure the truth came out about the sailors. Ziegler, who has "no doubt" that Dick was aboard the U.S.S. Saipan at the time of the crime, observed, "I wish I'd gone and forced someone to listen to me - Joe's lawyer, the police, the D.A. - to say something's wrong here… . My biggest mistake was I trusted that the justice system was going to do the right thing. I couldn't conceive that someone who was obviously innocent was going to go to jail. That's where I was wrong."

Omar Ballard is serving a 40-year prison sentence for the rape and beating of a teenage girl just ten days after Moore-Bosko's murder. The crime happened one mile from the earlier incident. When police interrogated him about Moore-Bosko's murder, he told them that he acted alone, a confession supported by all the evidence in the case. Danial Williams, Joseph Dick, and Derek Tice remain in prison, though Tice's conviction was overturned in 2006.
(Alan Berlow, "What Happened in Norfolk?" New York Times Magazine, August 19, 2007). Watch a video about the "Norfolk Four." Read more information about the case. See also, Innocence.
Innocence
Mar 31, 2023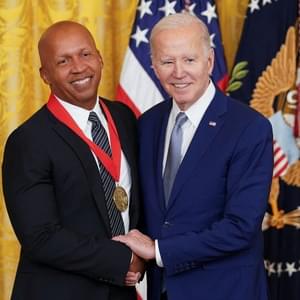 Bryan Stevenson Honored with the National Humanities Medal