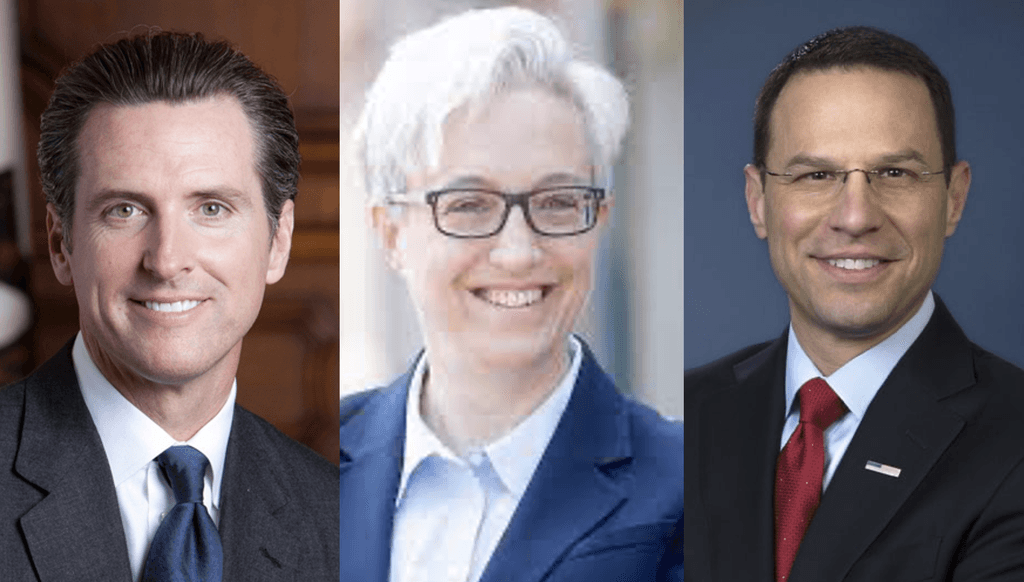 In a year that featured massive campaign advertising attempting to portray legal reformers as responsible for increases in violent crime, candidates committed to criminal legal reform or who promised to continue statewide moratoria on executions posted key election wins in the 2022 midterm elections. Defying a pre-election narrative forecasting a backlash against progressive prosecutors and conventional wisdom that fear of crime drives political outcomes, reform prosecutors were re-elected to office and gained new footholds in counties across the country.
Governors were up for election in the three states that had officially declared moratoria on executions: California, Oregon, and Pennsylvania. In each of these states, gubernatorial election results ensure that the moratoria will continue. Governor Gavin Newsom (pictured, left), who announced a moratorium on executions in 2019 and decisively defeated a recall effort in 2021, easily won re-election in California. Governor-elect Tina Kotek (pictured, center), the former Speaker of the Oregon House of Representatives, has promised to extend the state's existing moratorium on executions. Pennsylvania's next governor, Attorney General Josh Shapiro (pictured, right) has also pledged not to sign execution warrants while in office. Ohio, a state without a formal moratorium, re-elected Governor Mike DeWine, who has issued a series of reprieves to death row prisoners based on obstacles to the state's provision of execution drugs.
Incumbent district attorneys John Creuzot (Dallas) and Joe Gonzales (San Antonio) were re-elected in Texas and Marion County Prosecuting Attorney Ryan Mears (Indianapolis) was re-elected in Indiana, despite opponents' concerted efforts to attack their reform initiatives. Elsewhere in Texas, Fort Bend's reform D.A. Brian Middleton was re-elected without opposition and reformer Kelly Higgins won the District Attorney election in Hays County. Incumbent prosecutors who have signed a pledge to work to end the death penalty were re-elected in Durham and Buncombe counties in North Carolina (Democrats Satana Deberry and Todd Williams); St Louis County, Missouri (Democrat, Wesley Bell), and Salt Lake County, Utah (Republican Sam Gill).
Reform candidates also took the prosecutorial reins in two heavy-use death penalty counties marred by histories of prosecutorial misconduct. In Oklahoma County, voters elected Vicki Behenna, the former executive director of the Oklahoma Innocence Project, to serve as district attorney. Earlier in the year, Shelby County (Memphis), Tennessee voters ousted long-time prosecutor Amy Weirich in favor of University of Memphis law professor Steve Mulroy, a former county commissioner and federal civil rights prosecutor. In a race that was widely perceived as a test of the durability of prosecutorial reform after San Francisco District Attorney Chesa Boudin was recalled in June, civil rights attorney Pamela Price won the district attorney's race in neighboring Alameda County, California.
Behenna will take over as district attorney in a county that has imposed more death sentences in the past fifty years than any other county its size (population between 750,000–1,000,000), imposed more death sentences in the past decade than any other county with a population under 2.25 million people, and carried out more than 2.5 times the number of executions of any other comparably sized county. The Oklahoma County District Attorney's office has a long history of prosecutorial misconduct, with at least eleven death sentences reversed or death-row prisoners exonerated because of misconduct. The county has had more wrongfully convicted death-row prisoners exonerated than all but three other counties in the U.S., with the innocence issues in the cases of Julius Jones and Richard Glossip still unresolved. Twelve of the 25 people scheduled to be executed in Oklahoma's 2002–2004 execution spree were prosecuted in Oklahoma County.
Mulroy took office after winning election on August 4, 2022. Weirich, whose office was plagued with criticisms of bias and misconduct, sought re-election based on what her campaign touted as her "tough on crime" policies. She faced strong opposition from community activists for her efforts to prevent Shelby County death-row prisoner Pervis Payne from obtaining DNA testing for his innocence claim and for opposing efforts to overturn Payne's unconstitutional death sentence because of his intellectual disability.
Mulroy and Behenna have not pledged to never seek the death penalty but are replacing aggressively pro-capital punishment prosecutors in counties that have been disproportionate drivers of death sentencing.
Price, a former defense attorney, will be the first Black woman to serve as Alameda County's district attorney. She campaigned on promises to right past wrongs, including seeking resentencing for all 41 people currently on death row from Alameda County and those sentenced to life without parole.
Public Perception vs. the Truth About Violent Crime
The 2022 midterm elections took place against a backdrop of a record increase in the public perception that local crime was rising, stoked by millions of dollars of negative advertising attempting to falsely link reform prosecutors to increases in violent crime.
In fact, despite significant pandemic increases in murders, the Pew Research Center noted that "[a]nnual government surveys from the Bureau of Justice Statistics show no recent increase in the U.S. violent crime rate." Even with the spike in murders, Pew reported, violent crime "remained well below past highs, and murder remains the least common type of violent crime overall."
At the same time, a multi-university collaborative of researchers found "no evidence to support the claim that progressive prosecutors were responsible for the increase in homicide during the pandemic or before it." The October 20, 2022 report released by the University of Toronto's Munk School of Global Affairs and Public Policy found that a smaller percentage of cities served by "progressive" prosecutors recorded an increase in homicides compared to cities served by "middle" or "traditional" prosecutors, and that "the proportional increase in homicide was lower in cities served by prosecutors deemed 'progressive.'"
The campaign advertising certainly fueled voter perceptions about crime. Gallup's 2022 Crime Survey, administered between October 3–20, 2022, reported the largest one-year increase in fifty years in the number of U.S. adults who reported that crime is up in the area in which they live. But, Gallup reported, "partisanship plays a significant role in shaping Americans' assessments of crime." The spike in perceived crime was fueled primarily by a surge in fear among those identifying as Republicans.
Fifty-six percent of respondents told Gallup they believed that local crime had risen, up 11 percentage points from the 45% who said so in 2021. But Republicans' perception that local crime was rising increased from 38% in the final year of the Trump presidency to 67% in 2021 to 73% at the approach of the Biden midterm elections. Fifty-one percent of Independents believed local crime was rising, up four percentage points from 2021, along with 42% of Democrats, who accounted for a two percentage-point increase. 95% percent of Republicans said they believed national crime was up, the highest percentage ever reported for any party in the history of Gallup's polling.
The data — supported by the election outcomes — suggest that the crime ads had their greatest effect on a voting base that was already predisposed to vote against reform candidates, and so had no material impact on most of the elections. The community most directly affected by crime — African Americans — were also the group most likely to say that crime was an important issue to them during the midterm elections (81%). But the often overtly racist crime ads did not persuade Black voters to support candidates advocating more punitive approaches to crime.
Both the ads themselves and the political rhetoric had another notable character: the death penalty was not part of the political fear-mongering and the generalized belief that crime was rising did not translate into greater support for the death penalty. At the same time that the belief that crime was rising increased, Gallup found that support for capital punishment remained just one percentage point above the 50-year low of 54% recorded in 2021. And in the same two-year period in which Gallup found that Republicans' perception that local crime was rising skyrocketed by 35 percentage points, Republican support for capital punishment fell from 82% to 77%.
In a November 23, 2022 analysis for the Vera Institute of Justice, senior writer Sam McCann noted that "[b]etween Labor Day and the November 8th midterm elections, voters were bombarded with at least $85 million dollars' worth of campaign advertisements about crime. … But," he said, "those big bets on scare tactics failed to pay off on Election Day." In state and federal elections, "voters generally opted for candidates pledging to prevent crime through investment in community services rather than those running on platforms pushing for failed punitive approaches," he wrote. The same was true in the many local prosecutor elections in which reform prosecutor posted important gains. "These wins," McCann suggested, "reinforce the fact that most voters want leaders with an affirmative vision for building safety, not those who insist that their neighbors are people to be feared."
Philadelphia District Attorney Larry Krasner, a leading figure in the reform movement, was more direct. In a November 10, 2022 interview, he told The Intercept, "Rather than the Democratic Party answering directly this Willie Horton-style attack on big cities that are diverse and attack on big city prosecutors who are reform prosecutors," he said, "[many] did that dumb thing that, sadly, they sometimes do, which is go Republican-lite, get off in the corner, try not to talk about it." Instead of running from the issue, "[i]t is possible that criminal justice reform, like any other issue that fundamentally touches large numbers of reluctant voters, … could drastically increase voter turnout," he said.
Other election results
Running from the issue may have had an impact in one of the two races in key death-penalty states in which governorships changed hands. In Nevada, Democratic Governor Steve Sisolak, who helped scuttle a bill to abolish the state's death penalty fearing it might hurt his re-election chances, was narrowly defeated by Republican Joe Lombardo, the Sheriff of Clark County, the state's most active death-penalty jurisdiction. That result likely forecloses death-penalty repeal in the state for the foreseeable future.
In Arizona, Democrat Katie Hobbs won the race to replace term-limited Republican Doug Ducey, defeating Republican election denier, Kari Lake. Democrat Kris Mayes, who supports the death penalty but was critical of the state's execution botches, expenditure of funds to purchase cyanide compounds for possible gas chamber executions, and aggressive pursuit of death warrants, leads Republican election denier Abraham Hamadeh — pending a recount — in the race to replace Attorney General Mark Brnovich. The result of that election could affect future executions in the state, including whether a settlement will be reached in the case of Barry Jones, whom the Supreme Court ruled was not entitled to access to the federal courts to present evidence that he could not have committed the murder for which he was sentenced to death.
Legal reform efforts suffered several notable setbacks in 2022. In addition to Boudin's recall, Utah County Attorney David Leavitt, who supported a bill to abolish Utah's death penalty, was defeated in the June Republican primary election. In the November mid-term election, Republicans took control of the seven-member North Carolina Supreme Court, as Trey Allen and Judge Richard Dietz defeated Judge Lucy Inman and Justice Sam Ervin. Three of the Democratic justices who voted in favor of death-row prisoners' challenges to their death sentences under North Carolina's Racial Justice Act are no longer on the court. More than 140 Racial Justice Act challenges are pending in the state.
Sources
Sam McCann, Reform Prosecutors Won Big in Midterms by Rejecting Scare Tactics, Vera Institute of Justice, November 23, 2022; Piper French, With Oakland DA Win, Reformers Rebuild Strength in the Bay Area, Bolts Magazine, November 21, 2022; Lauren-Brooke Eisen, How Criminal Justice Reformers Fared in the Midterms, Brennan Center for Justice, November 11, 2022; Melissa Segura, Progressive Prosecutors Won In Midterm Elections Across The US In Spite Of Tough-On-Crime Rhetoric From Republicans, BuzzFeed News, November 10, 2022; Matthew Impelli, Progressive Prosecutors Win in Midterms Despite GOP's Attacks on Crime, Newsweek, November 9, 2022; Michael Barajas and Daniel Nichanian, The 30 Prosecutor and Sheriff Races that Will Shape Criminal Justice Next Week, Bolts Magazine, November 3, 2022; Akela Lacy, PHILLY DA LARRY KRASNER: IN MIDTERMS, DEMOCRATS WENT ​"REPUBLICAN-LITE" ON CRIME, The Intercept, November 29, 2022; Liliana Segura, BARRY JONES IS SPENDING ANOTHER HOLIDAY SEASON ON DEATH ROW. COULD IT BE HIS LAST?, The Intercept, December 4, 2022.
DPIC analy­sis by Robert Dunham.
Recent Legislative Activity
Jun 02, 2023
Conservative Commentator Warns of Dangers of Non-Unanimous Death Sentences
Victims' Families
May 30, 2023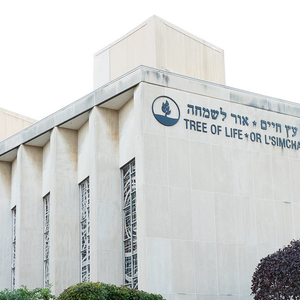 Victims' Families are Divided Over Death Penalty as Bowers Trial Begins