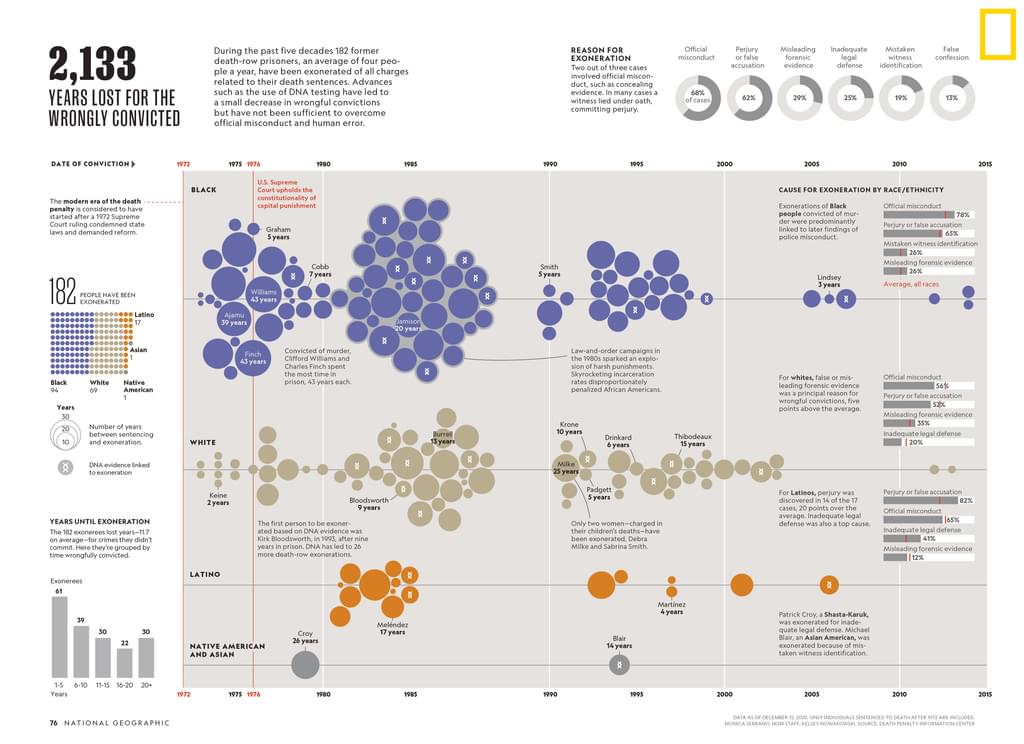 For the first time in its history, National Geographic magazine has tackled the subject of capital punishment. Sentenced to death, but innocent, a feature story in the March 2021 issue of the magazine, chronicles the stories of fifteen death-row exonerees and illuminates the pervasive issue of innocence and the death penalty in the United States. The article, released on the same day as the Death Penalty Information Center's new report The Innocence Epidemic, uses DPIC data and compelling narrative storytelling to show how the U.S. legal system fails innocent people, people of color, and victims of crime. (To enlarge National Geographic graphic, click here.)
Noting that the lives of death-row exonerees after their release "are every bit as daunting, terrifying, and confusing as the burden of innocence that once taunted them," author Phillip Morris explains that "[t]he post-traumatic stress faced by a wrongly convicted person who has awaited execution by the government doesn't dissipate simply because the state frees the inmate, apologizes, or even provides financial compensation—which often is not the case."
The article, accompanied by stellar portrait photographs by Martin Schoeller and infographics on exonerations and the composition of death row, highlights the advocacy and post-exoneration lives of the exonerees. It weaves the stories into the larger picture of the death penalty with data and commentary from legal experts and researchers. Each story illustrates how factors like official misconduct, perjury, and mistaken witness identification contribute to the epidemic of wrongful convictions and death sentences.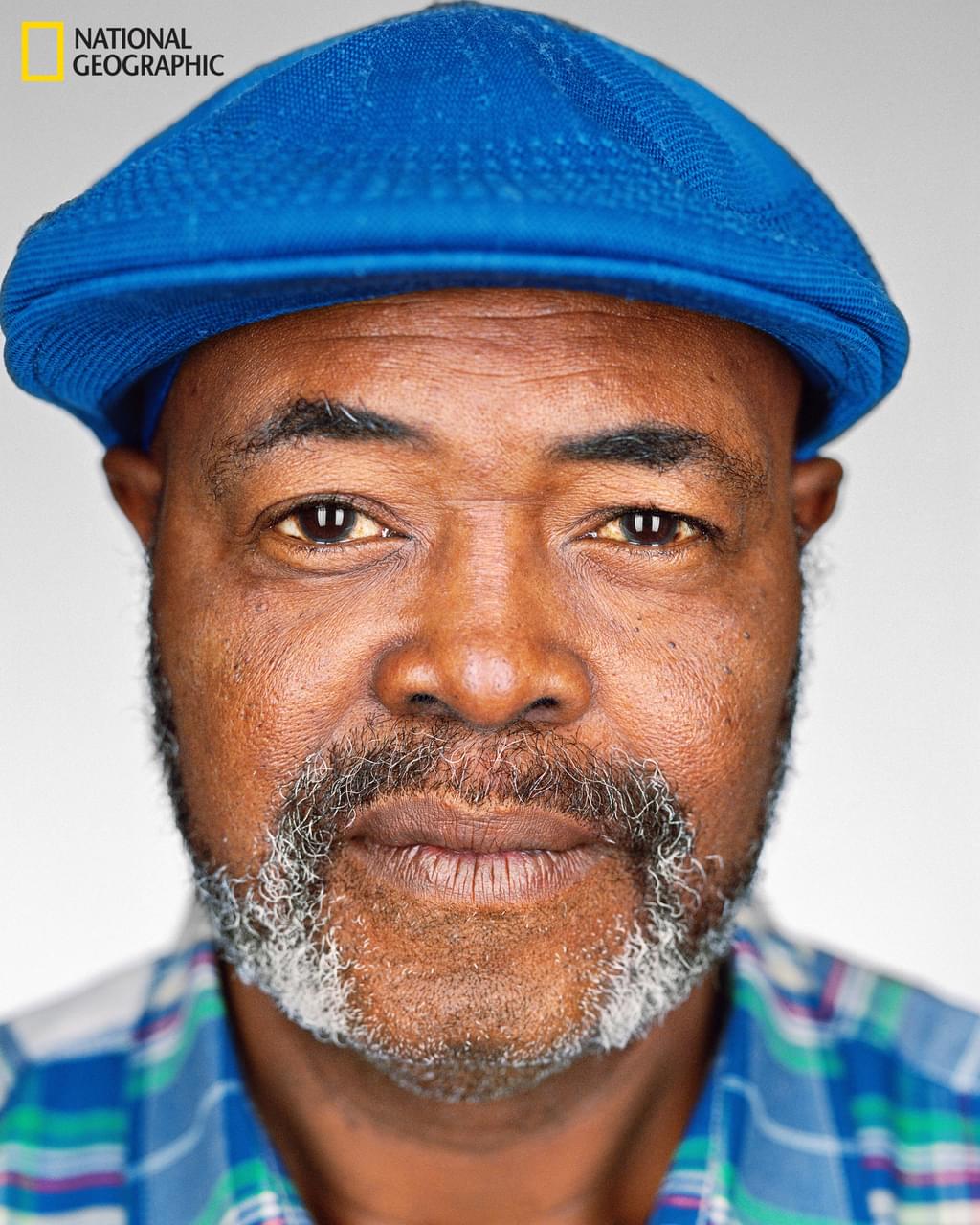 The article opens with the story of death-row exoneree and national anti-death-penalty advocate Kwame Ajamu, who serves as Board Chair of Witness to Innocence (WTI), the national organization of U.S. death-row exonerees. As a teenager, Ajamu was wrongfully convicted in Ohio in 1975. His brother, Wiley Bridgeman, and Ricky Jackson were also wrongfully convicted and condemned. It took 39 years to exonerate them.
"I was abducted by the state of Ohio when I was 17 years old," Ajamu told National Geographic. "I was a child when I was sent to prison to be killed. I did not understand what was happening to me or how it could happen. At first I begged God for mercy, but soon it dawned on me that there would be no mercy coming." Ajamu, Bridgeman, and Jackson were exonerated in 2014 after the only witness — who was only 13 at the time of the murder — recanted his testimony.
Kirk Bloodsworth, who National Geographic calls "a tireless campaigner against capital punishment," was the first death-row survivor to be exonerated by DNA testing. Now executive director of WTI, Bloodsworth says, "When I tell people my story and how easy it is to be convicted of something of which you're innocent, it often causes them to rethink the way the criminal justice system works. It doesn't require much of a stretch to believe that innocent people have been executed."
The story also notes the difficulties exonerees face once they are released. Having endured the trauma of a wrongful conviction and spent years or even decades in prison, exonerees often struggle to reacclimate to life outside of prison. Exoneree Ron Keine, who spent two years on death row in New Mexico, said his experience inspired him to help other exonerees obtain compensation from the government and develop life skills. "I decided that I was going to go from dead man walking to dead man talking," he said of his work testifying before state legislatures. "When people get off death row, they feel like a piece of shit. They don't have any self-worth—no self-esteem, and they usually don't have two nickels in their pocket. We try to build them up. We try and help them find the resources they need to survive."
---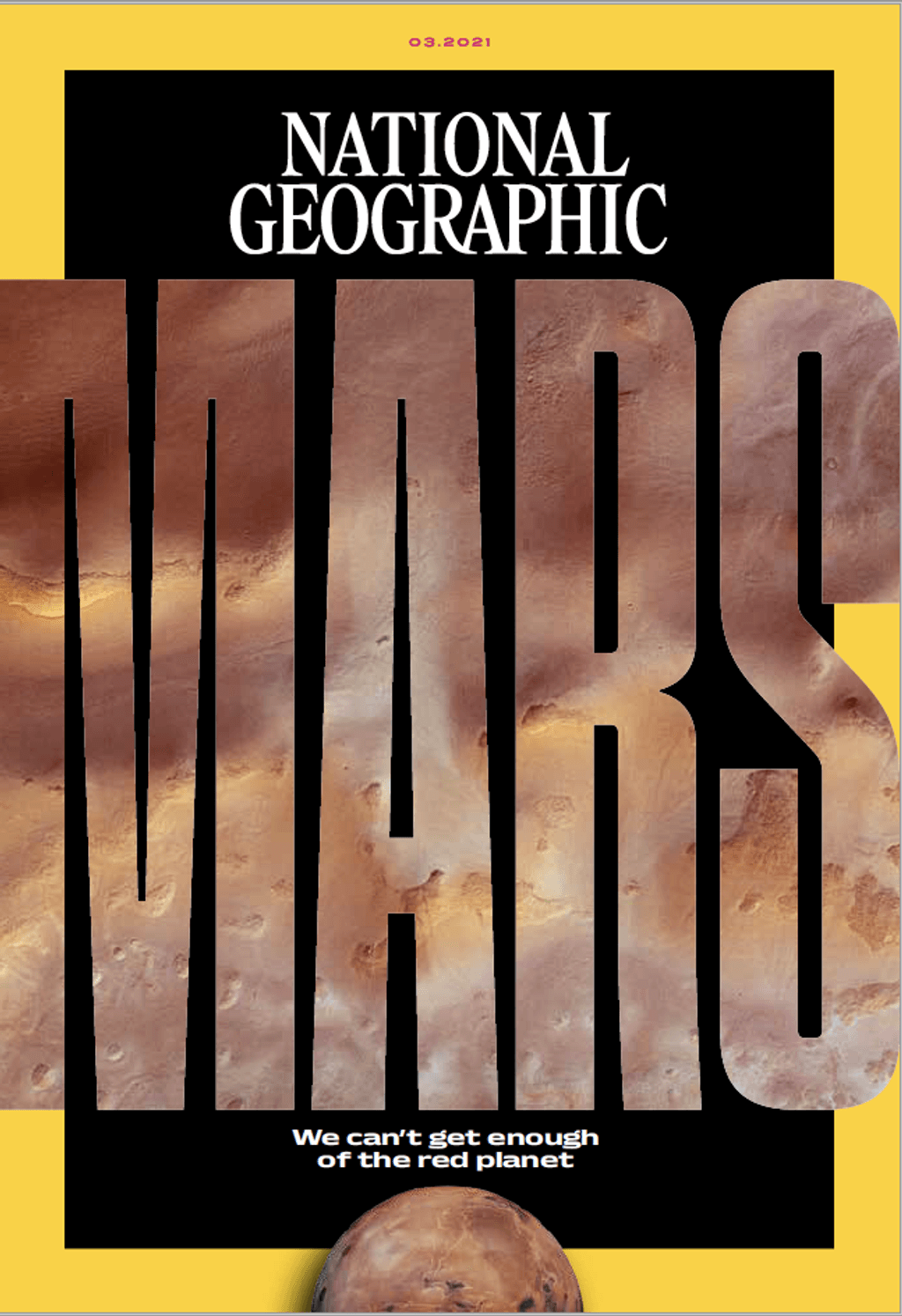 Human Rights
May 24, 2023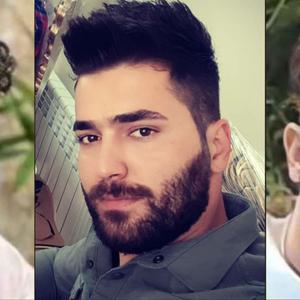 Iran Continues Aggressive Use of Death Penalty Despite International Condemnation