Thirty-three years after a trial a federal appeals court described as "a mixture of disturbing prosecutorial misconduct and woefully inadequate assistance of counsel," a Las Vegas trial court freed Paul Browning (pictured) from Nevada's death row. On August 21, 2019, Clark County District Judge Douglas Herndon ­— who in March had dismissed murder and related charges against Browning ­— ordered state corrections officials to release Browning from custody pending the outcome of the prosecution's appeal of his order dismissing the charges. Browning's lawyer, Tim Ford, had questioned Browning's continued detention, arguing: "How can Mr. Browning be sitting on death row, as he is now, when this court has said all charges against him are dismissed? He's not even a pretrial detainee, and he's on death row. That can't be."
Browning was convicted and sentenced to death in 1986 for the robbery and murder of Las Vegas jeweler, Hugo Elsen. Browning was represented at trial by a lawyer who had been practicing criminal defense for less than a year and failed to interview the police who responded to the scene, examine the evidence against Browning, or investigate the crime. The Nevada Supreme Court overturned Browning's death sentence in 2004 as a result of counsel's ineffective assistance in the penalty phase of trial, but a second jury — hearing the same evidence against him — resentenced Browning to death in 2007.
In 2017, the U.S. Court of Appeals for the Ninth Circuit overturned Browning's conviction based on "extreme malfunctions" during the trial. With the death of prosecution witnesses whom Browning's trial counsel had failed to adequately cross-examine at trial, Judge Herndon dismissed the murder and related charges against Browning, saying "a fair trial consistent with due process is no longer possible."
Browning has consistently maintained his innocence. In his post-conviction appeal, he presented evidence that police and prosecutors had withheld evidence of a bloody footprint found at the scene that did not match Browning's shoes or foot size, misrepresented blood evidence in the case, manipulated eyewitness testimony, failed to disclose benefits it offered to a key witness who may have committed the murder and framed Browning, and that the stab wounds suffered by Elsen did not "coherently coincide" with the knife prosecutors claimed Browning had used to commit the killing. Browning also argued that a minimally competent defense investigation would have revealed the flaws in the prosecution's evidence and the falsity of the representations the prosecution had made to the jury.
The prosecution's case unraveled in the post-conviction proceedings. Prosecutors had told the jury that Elsen's blood had been found on a tan jacket owned by Browning. However, Elsen — who was able to describe his assailant before he died — told police the killer had worn a blue jacket and later DNA testing showed that of the blood on Browning's jacket was not Elsen's. Elsen also said his assailant had shoulder-length Jheri curls, which was completely inconsistent with Browning's Afro-styled hair. Elsen's wife failed to identify Browning in a lineup, but later testified at trial that he was the killer. A white witness who worked near the crime scene told police she had seen a man run by after the murder and thought it could have been Browning, but when police asked if she could be "more sure" about whom she had seen, she said, "No, I wouldn't think so. No … They all look the same, and that's just what I think when I see a black person, that they all look the same." At trial, though, she unhesitatingly testified that Browning was the man she had seen.
Following his release, Browning told the Las Vegas Review-Journal, "I just want to find a little bit of peace after coming through all this madness." Speaking about his time on death row, he said: "Being in there that long, you see a lot of things that affect you. You get to know people, no matter how horrendous their crimes were. You see a lot of death — natural causes, suicide. It affects you." He also spoke about the misconduct in his trial: "It's about me sitting there in court, starting with the preliminary hearing, and you see the witnesses testifying against you — all of the misconduct that occurred during trial. It's just unjust. And it kind of hits you, right here in your gut. And that's what has driven me."
Innocence
Sep 20, 2023
Glynn Simmons Exonerated
48

Years After He Was Sentenced to Death in Oklahoma
Arbitrariness
Sep 13, 2023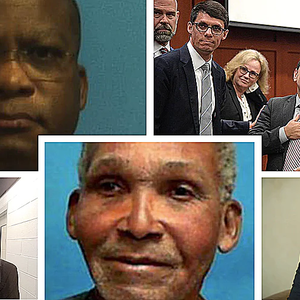 When Jurors Do Not Agree, Should a Death Sentence Be Imposed?