An editorial in the Asbury Park Press, a newspaper that formerly supported capital punishment, called on New Jersey policymakers to abandon the state's costly death penalty and replace it with the "sure and swift" sentence of life without parole. Stating that New Jersey has wasted millions of dollars on the death penalty, but has not carried out an execution since it was reinstated in1982, the editorial noted:

Can it really be 22 years since Robert O. Marshall cowardly hired hit men to shoot and kill his wife and the mother of his three children for insurance money? So he could continue an extramarital affair and carry on with his country club life? Sadly, it has been that long for the 66-year-old former Toms River insurance salesman.

Marshall was on death row for two decades before a court found his representation during the death penalty phase of his trial was lacking. The court overturned the death penalty and the U.S. Supreme Court declined to hear an appeal of that decision, leaving it up to the Ocean County Prosecutor's Office to decide whether to seek the death penalty again.

Ocean County Prosecutor Thomas F. Kelaher said Friday his office struggled with the decision, but ultimately decided not to ask another jury to sentence Marshall to death because of the difficulty in mounting a case so long after the crime was committed and the likelihood that more appeals would take years to resolve at great public expense.

"This troublesome and distressing conclusion was made only after extensive consultation with the family of the victim, Maria Marshall," Kelaher said.

In March, we reluctantly called for another death penalty trial, with concern about the issues raised by Kelaher and the hope that Marshall would never be paroled. However, we understand the prosecutor's reasoning that going through another round of legal proceedings that would cost more millions over a decade or more is problematic. And we urge him in the strongest terms to follow through with his pledge to oppose parole of Marshall forever. He could be released in 2014.

Which again brings us to the issue of New Jersey's death penalty. Since its reinstitution in 1982, no cold-blooded murderer has been executed. Nearly 50 death sentences have been overturned by higher courts. For now, a yearlong moratorium on executions is in effect while a study commission looks at how New Jersey enforces its death penalty statute.

The commission should file its report now with the common-sense finding that New Jersey's death penalty is a failure and should be abolished in favor of life in prison without parole.

To be effective, justice must be sure and swift. New Jersey's death penalty statute is neither. It is such a drain on resources as to be counterproductive.

Think of the millions of taxpayer dollars wasted on scum like Marshall. Multiply that by 50 or more. Life without chance of parole. That's a sentence whose execution can be sure and swift.

(Asbury Park Press, May 16, 2006) (emphasis added). See Editorials, Costs, and Life Without Parole.
New Voices
Sep 25, 2023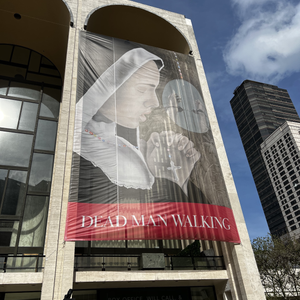 The Metropolitan Opera Premieres ​
"

Dead Man Walking" Based on the Book by Sister Helen Prejean