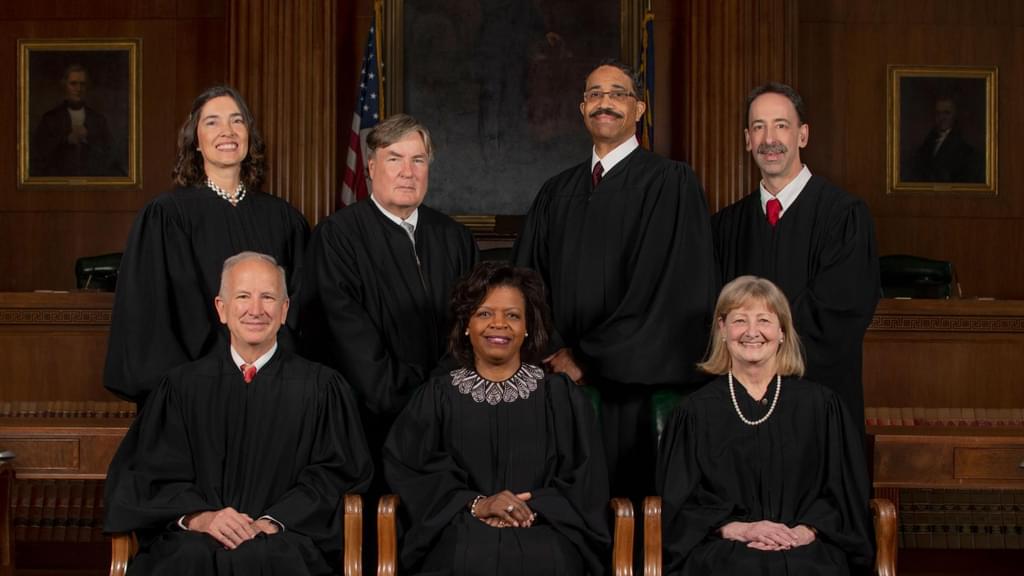 The North Carolina Supreme Court (members pictured) heard arguments on August 26 and 27, 2019 on whether the state may retroactively apply the legislative repeal of its Racial Justice Act to death-row prisoners who had overturned their death sentences or filed claims under the act before it was repealed.
Four prisoners had won reduced sentences under the state's 2009 Racial Justice Act, which had allowed death-row prisoners to overturn their sentences if race had been a "significant factor" in jury selection, prosecutors' decisions to seek a death sentence, or juries' decisions to impose one. When partisan control of the state legislature changed in 2013, the law was repealed. In 2015, the North Carolina Supreme Court vacated lower court decisions finding that race had played an impermissible role in the four cases and remanded the cases to the lower courts to permit prosecutors to present additional evidence challenging those rulings. When the cases returned to the lower court, however, the judge ruled that the Racial Justice Act no longer applied, dismissed the cases without a hearing, and reinstated the prisoners' death sentences. The latest appeals involve those four prisoners, as well as two of the more than 130 people who had filed claims under the Racial Justice Act but did not receive hearings before the law was repealed.
The prisoners' cases involve dramatic evidence of systemic and case-specific racial bias. A Michigan State study of 173 North Carolina death-penalty cases tried over the course of more than a decade found that prosecutors struck qualified black jurors at more than twice the rate at which they struck white jurors. Striking even a single juror on the basis of race was banned by the U.S. Supreme Court case Batson v. Kentucky, so state prosecutors circulated a training document titled "Batson Justifications: Articulating Juror Negatives." That document provided potential race-neutral explanations for prosecutors to offer in court if their juror strikes were questioned. These included "inappropriate dress," "body language," and "attitude." Though prosecutors told the court that these were their reasons for striking black jurors, their notes—obtained later by the defendants—revealed racial bias. In one case, the prosecutor's jury selection notes called a black juror who drank a "blk wino" while referring to a white juror who drank as "ok, country boy."
As a result of discriminatory jury selection practices, nearly half of North Carolina's death-row prisoners were tried by all-white juries or juries with only one person of color. Bias was also present in other portions of African-American defendants' trials. In Andrew Ramseur's trial, his family was forced to sit in the rear of the courtroom. Bailiffs blocked off the front rows near the defense table with police tape, purportedly for Ramseur's protection, but with the effect of making him appear dangerous. At another death penalty trial, the prosecutor told the jury the defendant was a "big black bull."
Defense attorneys presented multiple arguments for barring the state from applying the legislative repeal retroactively to their cases, including that reinstating their death sentences without a hearing violates the constitutional ban on double jeopardy and that giving the Racial Justice Act repeal retroactive effect violated the ex post facto clause of the U.S. Constitution. The latter argument relied on North Carolina case precedent that granted Confederate soldiers amnesty from criminal prosecution. The North Carolina Amnesty Act, passed in 1866, insulated Confederate soldiers from prosecution for crimes they committed during the Civil War. After the law was repealed in 1868, a solider was convicted of the massacre of 13 prisoners. The North Carolina Supreme Court overturned his conviction, saying the statute constituted an invalid ex post facto law.
Cassandra Stubbs, director of the ACLU's Capital Punishment Project, summarized the argument, saying, "Either the North Carolina Supreme Court's going to have to say … that [the] constitutional doctrine that protected Confederate soldiers will not protect these death row prisoners who've proven racial bias in their case, or they're going to say it does apply, and they'll win."
Commentary on the case underscored its importance and placed the issue in historical context. Civil rights leader and former president of the NAACP of North Carolina, Rev. Dr. William Barber, wrote that "[t]he link between slavery, Jim Crow, lynching and the death penalty is as connected as the intertwined ropes of the lynch-man's noose. … As our state and the nation look on, North Carolina's justices must decide: Will they leave the legacy of lynching firmly in place? Or will they have the moral courage to enforce the constitution so that the sin of racism no longer infects the death penalty?" State Senator Floyd McKissick Jr., who sponsored the Racial Justice Act in 2009, said "[n]o one should be on death row because race or prejudice was a consideration in the prosecutor's decision to seek the death penalty or the jury's decision to impose it. … It's about a fair criminal justice system free of prejudice, free of bias, free of discrimination." A New York Times editorial said, "This situation is a travesty not only for the prisoners involved, but for everyone in North Carolina, which had taken an important step toward addressing persistent racial discrimination in its justice system, only to turn back the clock once Republicans took power."
Bryan Stevenson, executive director of the Equal Justice Initiative and author of Just Mercy, wrote in an op-ed, "[t]he gravity of this decision cannot be underestimated. If the seven justices rule in favor of the defendants, they will allow a much-needed systematic review of race discrimination in capital punishment. If they decide against the defendants, the justices will send a message that a mountain of evidence demonstrating racial injustice can be tossed aside and ignored. Eradicating racial bias in our courtrooms requires a break from the past. It will take courage and sustained effort. And, yes, it will be difficult. But nothing less than the integrity of our courts and our commitment to true justice is at stake. At a time of much division and conflict, we should all be united in our support of the proposition that racial bias in jury selection is unacceptable in North Carolina."
Sources
Martha Waggoner, North Carolina high court hears case on race, death penal­ty, Associated Press, August 26, 2019; Tim Pulliam, NC Supreme Court debates race-based jury selec­tion, WTVD, August 27, 2019; Bobby Allyn, N.C. Supreme Court Hears Arguments On Racial Bias In Death Penalty Cases, NPR, August 26, 2019; Mark Rabil, 1940's Mississippi? No, this hap­pened in 21st Century North Carolina, NC Policy Watch, August 26, 2019; Amanda Magnus and Frank Stasio, Addressing Racial Bias In North Carolina's Judicial System, WUNC, August 23, 2019; Bryan Stevenson, NC Supreme Court should end racial bias in jury selec­tions, The News & Observer, August 25, 2019; William J. Barber, Released from death row, then returned — forced to prove race dis­crim­i­na­tion a sec­ond time, USA Today, August 23, 2019; Editorial, They Were Freed From Death Row. Republicans Put Them Back., The New York Times, August 23, 2019; Jeremy Stahl, How a Confederate Amnesty Case Could Save Black Death Row Inmates in North Carolina, Slate, August 26, 2019.
International
Jun 01, 2023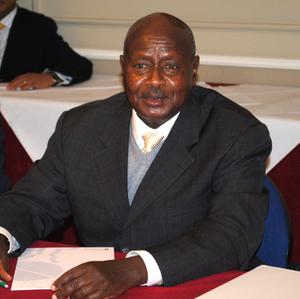 Uganda's Controversial ​
"

Anti-Homosexuality Act" Includes Possibility of Death Sentence
Victims' Families
May 30, 2023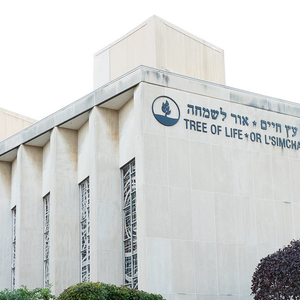 Victims' Families are Divided Over Death Penalty as Bowers Trial Begins