In a 4-1 vote, the Oklahoma Pardon and Parole Board denied clemency to Richard Fairchild, the third of 25 people the state scheduled for execution between August 2022 and December 2024. Fairchild's attorneys argued that he was represented at trial by incompetent counsel who never presented evidence of Fairchild's severe childhood abuse and of his repeated traumatic brain injuries. Fairchild's clemency petition also detailed the debilitating effects of his serious mental illness and organic brain damage.
Oklahoma Attorney General John O'Conner stated that the parole board made the right decision because a jury decided that Fairchild's execution was a "just and appropriate punishment." One of Fairchild's attorneys, Assistant Federal Public Defender Emma Rolls, responded to the decision by saying that "despite having lost touch with reality, Richard remains remorseful for his crime and continues to have an unblemished prison record. There is no principled reason for Oklahoma to execute him."
Fairchild's request for clemency focused on the multiple head traumas he suffered throughout his childhood and adolescence at the hands of his abusive father and as a teenaged amateur boxer. According to his clemency petition, as an adult, Fairchild also suffered five separate severe head injuries that were documented in his military and medical records.
Evidence of Fairchild's organic brain damage was particularly relevant because of the facts of his crime. Fairchild was convicted in 1996 for the murder of his girlfriend's three-year-old son while Fairchild was intoxicated. Evidence of traumatic brain injury could have explained how drugs or alcohol interacted with his damaged brain and made him more reactive to minor provocations.
Fairchild was represented at trial by John Albert, who was eventually suspended from the practice of law because of his substance abuse. Even though a psychiatrist who evaluated Fairchild prior to his trial documented evidence of "severe organic brain syndrome," Albert did not discuss the issue with the psychiatrist before trial and did not question the psychiatrist on organic brain damage at trial. Instead, he explained Fairchild's behavior as solely being induced by substance abuse.
The clemency petition argues that Albert's failure to introduce known evidence of Fairchild's severe brain damage was a deciding factor in his death sentence. A juror's affidavit supports this contention. The juror stated that if she had been aware of Fairchild's physical brain damage, she would not have voted for death.
According to a neuropsychological assessment and prison medical records, Fairchild's brain damage is accompanied by severe mental illness. In several assessments spanning several years, Fairchild was found to be "floridly psychotic," disconnected from reality, and suffering from delusions and hallucinations.
The petition ends by noting Fairchild's remorse for the crime and requesting that the board "consider the circumstances of how his childhood, his brain damage, mental illness, and substance abuse contributed to the events that took place that night."
The Pardon and Parole Board voted to deny clemency on October 13, 2022, and Fairchild is scheduled for execution on November 17. His execution date is also his 63rd birthday.
Sources
Andy Weber, Advocates Call for State to Spare Life of Oklahoma Death Row Inmate Richard Fairchild, KOCONEWS5 ABC, Oklahoma City, Oct. 7, 2022; Adria Goins, Attorneys for Death Row Inmate Say Mental Illness, Unfair Trial are Reasons for Clemency, Oklahoma's News 4, Oklahoma City, Oct. 7, 2022; Board Rejects Clemency Request of Oklahoma Death Row Inmate, AP News, Oklahoma City, Oct. 12, 2022; Derrick James, Clemency Denied for Death Row Inmate Richard Fairchild, Enid News & Eagle, Oct. 14, 2022.
Innocence
Sep 20, 2023
Glynn Simmons Exonerated
48

Years After He Was Sentenced to Death in Oklahoma
Arbitrariness
Sep 13, 2023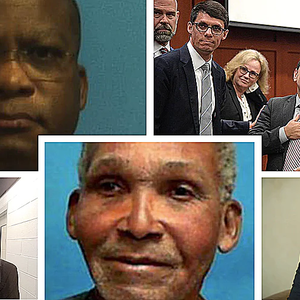 When Jurors Do Not Agree, Should a Death Sentence Be Imposed?