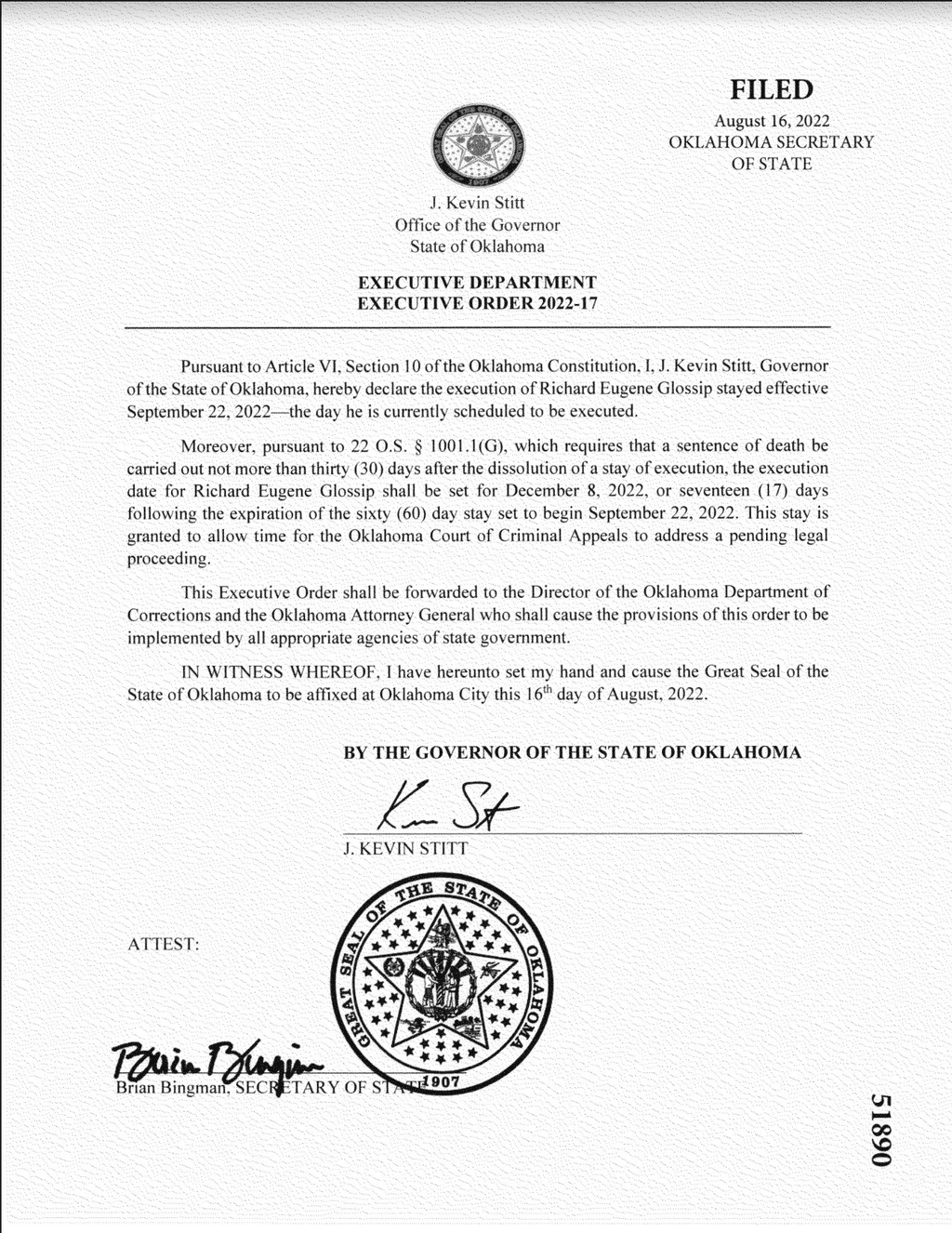 Oklahoma Governor J. Kevin Stitt has issued a 60-day stay of execution to death-row prisoner Richard Glossip. The order, issued August 16, 2022, delays Glossip's September 22 execution to provide the Oklahoma Court of Criminal Appeals time to review a pending motion by Glossip seeking an evidentiary hearing on new evidence that he is innocent of the 1997 murder of Barry Van Treese, his boss at an Oklahoma City motel. Glossip filed that motion in the wake of an independent investigation that uncovered additional evidence of Glossip's innocence and significant government misconduct.
Stitt rescheduled Glossip's execution for December 8, 2022.
Glossip has long maintained that he had no involvement in Van Treese's murder. No physical evidence linked him to the murder, and the prosecution's case rested on the self-serving testimony of his co-defendant, Justin Sneed. Sneed confessed to killing Van Treese but, after numerous inconsistent statements, claimed that Glossip had hired him to do so. In exchange for his testimony, Sneed avoided the death penalty.
Glossip filed a clemency petition on August 19 in which he pointed to new evidence of innocence during an independent investigation commissioned by the Oklahoma legislature. The 343-page independent report, prepared by the law firm Reed Smith LLP and released in June 2022, revealed that the district attorney's office had told police to destroy a box of evidence before Glossip's second trial and that crucial surveillance video information had also disappeared. The report sharply criticized law enforcement's "sloppy and truncated" investigation into the case and suggestive questioning of Sneed by police that relied heavily on leading questions about Glossip. The clemency petition also cited a supplemental report focused on the recent discovery of a 2007 letter from Sneed to his attorney that raised questions as to the truthfulness of his testimony in Glossip's trial.
Glossip's attorneys praised the governor's decision to stay the execution, with attorney Don Knight noting that the stay occurred "sufficiently in advance of the August 23 clemency hearing to spare everyone the trauma that such a hearing entails." The Oklahoma legislators who commissioned the independent investigation also saw the decision as an important step towards a full examination of the case. State Representative Kevin McDugle said, "The governor is all about finding the truth, and if the truth is there's not enough evidence to convict, then I think he will stand with that."
Oklahoma Attorney General John O'Connor said that his office respected the governor's decision and that attorneys for the state "have confidence in the Oklahoma Court of Criminal Appeals to sift through Glossip's recent filings and render a sound decision. Our hearts go out to the family of the victim, Barry Van Treese, who was beaten to death with a baseball bat in January of 1997."
The stay marks the fourth time Glossip's execution has been postponed. Glossip was last set to be executed in 2015. Then-Governor Mary Fallin halted the execution shortly before it was set to begin after state officials informed the governor that they had procured the wrong drug, a drug that had already been used to execute Charles Warner earlier that year. The state's drug mix-up led to a grand jury investigation and a damning report on the state's failures to follow its lethal injection protocol. The state suspended executions for more than 5 years after its failed attempt to execute Glossip.
The governor's order stays Glossip's September 22nd scheduled execution for 60 days and sets a new date for shortly after the stay expires. This means that Glossip's execution has been delayed until at least December 8th. Court action before that time could further delay or call off the execution entirely.
Sources
Khaleda Rahman, Richard Glossip Survives Fourth Execution Date, Newsweek, August 17, 2022; Carmen Forman, Oklahoma death row inmate Richard Glossip gets exe­cu­tion stay, The Oklahoman, August 16, 2022; Sean Murphy, Oklahoma gov­er­nor grants 60-day reprieve to Richard Glossip, Associated Press, August 16, 2022; Ashley Moss, ​'We have a chance still to get this right': OK death row inmate Richard Glossip files clemen­cy peti­tion, KFOR, August 13, 2022; Ed Pilkington, Handwritten let­ter casts doubt on key tes­ti­mo­ny in Oklahoma death row case, The Guardian, August 12, 2022.
Read the Governor's stay order here.
Human Rights
May 24, 2023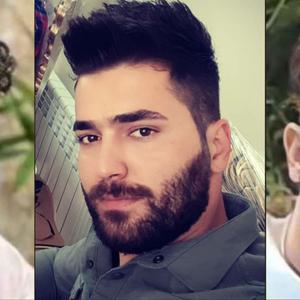 Iran Continues Aggressive Use of Death Penalty Despite International Condemnation