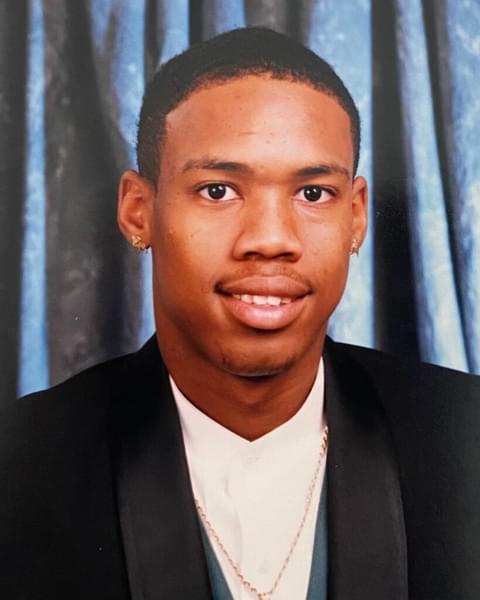 The Oklahoma Pardon and Parole Board has voted to recommend that Governor Kevin Stitt commute the death sentence imposed on Julius Jones (pictured) by an Oklahoma County jury in 1999 to a sentence of life in prison with the possibility of parole.
After a three-hour hearing on September 13, 2021 that featured testimony from prosecutors, defense attorneys, and family members of murder victim Paul Howell, the board voted 3-1 in favor of commutation, with one member, Scott Williams, recusing himself to avoid any appearance of a conflict arising out of a professional relationship with one of Jones' lawyers in an unrelated matter. The Board's recommendation for commutation now goes to Governor Kevin Stitt for a final decision.
In announcing his vote, Board Chairman Adam Luck, who was appointed by Governor Stitt, said, "I believe in death penalty cases there should be no doubts. And put simply, I have doubts about this case." Board member Kelly Doyle said that recent developments in brain science persuaded her that the death penalty was excessive because Jones was only 19 at the time of the murder, adding that she also harbored doubts about Jones' guilt.
"I just don't have the words to say," Madeline Davis-Jones, mother of Julius Jones, said after the board voted. "I don't know how I was feeling. I was just in a good place." Reverend Cece Jones-Davis, who has spearheaded advocacy around Jones' case and is the Campaign Director of the Justice for Julius Campaign, issued a statement to the Religion News Service saying "Today, God won." Jones-Davis praised the board members for their votes. "They saw the merits of the case as they are, were moved by compassion, and did the right thing. I am beyond grateful to them," she said.
In a statement issued after the hearing, Governor Stitt's office said: "The governor takes his role in this process seriously and will carefully consider the Pardon and Parole Board's recommendation as he does in all cases. We will not have any further comment until the governor has made a decision."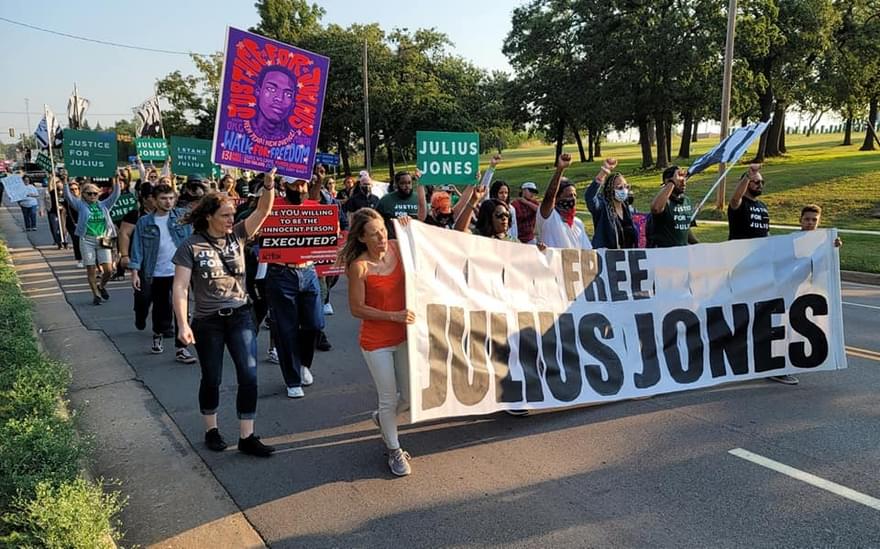 Jones' case has made national headlines and inspired a movement of supporters urging his release. Jones-Davis told supporters before the clemency hearing that "[t]here are times when we will pray. But sometimes we have to get up. Sometimes we have to fight. This fight is sacred. This fight is worth fighting for."
Whether Jones would receive a hearing at all and who would judge his application for clemency remained in doubt until shortly before the hearing itself. After the board set the hearing date, Oklahoma Attorney General John O'Connor asked the Oklahoma Court of Criminal Appeals to issue a death warrant setting Jones' execution for October 28. Anticipating a death warrant would issue, the board tentatively scheduled a clemency hearing on October 5 to replace the commutation hearing. When the court did not set an execution date, the board prepared to conduct the September 13 hearing. Oklahoma County District Attorney David Prater then filed an emergency motion with the Oklahoma Supreme Court to recuse Luck and Doyle from participating in Jones' hearing, alleging that they would be biased in favor of commutation because of their ties to organizations that seek to reduce incarceration rates. The court denied the motion on September 10, writing that Prater was "asking this Court to provide for a remedy that simply does not exist under Oklahoma law."
Prater's request was the latest in a string of prosecutorial efforts criticized as attempts to deny Jones meaningful review in the clemency process. In June 2020, the board asked then-Attorney General Mike Hunter if it was allowed to hold a commutation hearing for a death-row prisoner. An investigation by The Frontier found that former judge Allen McCall had threatened the board's executive director, Steven Bickley, with a grand jury investigation if he scheduled a hearing a for Jones without first seeking Hunter's approval. Bickley subsequently resigned, saying he had been "threatened for doing his job." Prater had also unsuccessfully sought to remove Luck from an earlier stage of Jones' hearing process.
Recounting numerous problems with the prosecution's case, Connie Ellison, Howell's girlfriend at the time he was killed, wrote in an op-ed in The Black Wall Street Times that she "question[ed] if the wrong person has been sitting on death row all these years. I know, without doubt, " she said, "that Paul would not want an innocent man to be executed for his murder." Howell's sister Megan — who provided a description of the killer that Jones' supporters say actually fits his co-defendant, Chris Jordan — asked the board to deny Jones' petition. "The guilt of Julius Jones is so overwhelming we would ask the Board to see that truth, hear that truth and offer no relief to Julius Jones through these commutation hearings," she said.
At the hearing, Jones' lawyer Amanda Bass expressed sympathy "for the unfathomable suffering" experienced by the Howell family. "We are troubled by what happened that day," she said. "We desire only justice." However, she added, "justice will not be achieved by executing an innocent man. … The question this honorable Board must answer is what does justice look like?"
Bass presented the board with evidence that, while he was in prison, Jordan had confessed to Roderick Wesley that he had killed a man and that someone was doing time on death row for his crime. Jones' prosecutors asked the Board to disregard Wesley's testimony because of his criminal record. Noting the irony, Bass pointed out that while the prosecution asserted that defense witnesses with felony convictions are not believable, it "at the same time has asked you to credit the testimony of its central witnesses, all of whom were convicted felons and informants themselves."
Sources
Deon Osborne, IN HISTORIC VOTE, PARDON AND PAROLE BOARD RECOMMENDS LIFE, POSSIBILITY OF PAROLE FOR JULIUS JONES, The Black Wall Street Times, September 13, 2021; Sean Murphy, Oklahoma board urges gov­er­nor to com­mute death sen­tence, Associated Press, September 13, 2021; Dylan Goforth, In a his­toric vote, the Oklahoma Pardon and Parole Board rec­om­mends com­mut­ing Julius Jones' sen­tence from death to life, The Frontier, September 13, 2021; Josh Dulaney, Jessie Christopher Smith, and Carmen Forman, Oklahoma Pardon and Parole Board rec­om­mends com­mu­ta­tion of Julius Jones' death sen­tence, The Oklahoman, September 13, 2021; Adelle M. Banks, Faith lead­ers back­ing Okla. death row inmate hail parole board's com­mu­ta­tion request, Religion News Service, September 14, 2021; Hicham Raache, Oklahoma Supreme Court denies DA Prater's request that 2 Pardon and Parole Board mem­bers be dis­qual­i­fied from Julius Jones' com­mu­ta­tion hear­ing, KFOR, September 10, 2021; Sean Murphy, Oklahoma high court to hear prosecutor's death row request, Associated Press, September 9, 2021; Deon Osborne, JULIUS JONES' LAST CHANCE: PARDON AND PAROLE BOARD POISED TO SET OCTOBER CLEMENCY HEARING DATE, The Black Wall Street Times, August 31, 2021.
Arbitrariness
Mar 24, 2023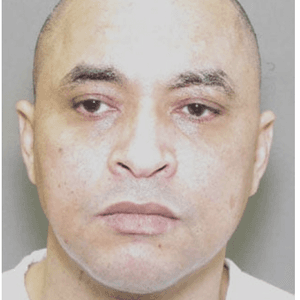 REPRESENTATION

: Why Poor People in Texas End Up on Death Row and Face Execution
Sentencing Alternatives
Mar 21, 2023
California to Close San Quentin's Death Row as Part of a Broader Prison Reform