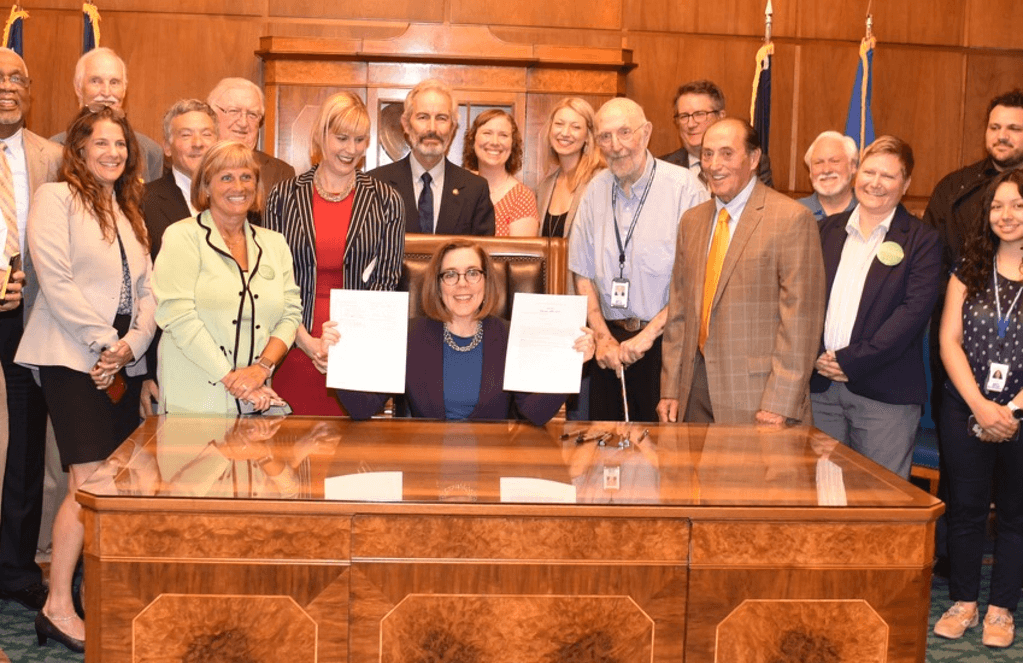 Calling the state's death penalty "dysfunctional," "costly," and "immoral," Oregon Governor Kate Brown (pictured, left, at signing ceremony) on August 1, 2019 signed a bill significantly limiting the crimes for which capital punishment can be imposed in the state. The new law amends Oregon's definition of death-eligible "aggravated murder," reducing the categories of murder punishable by death from 19 to four. The new law restricts the death penalty to cases involving acts of terrorism in which two or more people are killed, premeditated murders of children aged thirteen or younger, prison murders committed by those already incarcerated for aggravated murder, and premeditated murders of police or correctional officers.
Oregon's action continues the steady trend away from capital punishment across the American west. Governors in four western states—Oregon, Washington, Colorado, and California—have imposed moratoria on executions this decade, and the Washington Supreme Court struck down its capital-sentencing statute as unconstitutional in November 2018. In 2011, then-Governor John Kitzhaber instituted the first death-penalty moratorium, declaring: "I refuse to be a part of this compromised and inequitable system any longer; and I will not allow further executions while I am Governor." In halting executions in the state, Kitzhaber said, "I am convinced we can find a better solution that keeps society safe, supports the victims of crime and their families and reflects Oregon values." In 2015, shortly after taking office, Brown extended the state's execution moratorium.
In 2018, every western state except Arizona and Nevada set or tied a record low in the number of new death sentences imposed, and those states imposed just one sentence more than their record lows. No state west of Texas has carried out an execution since the two-hour-long botched execution of Joseph Wood by Arizona in July 2014.
"Oregon's legislature made the wise decision to 'close the front door' — most of the way, at least — to death row, reserving death sentences for only the rarest and most heinous murders," Brown said in prepared remarks at a signing ceremony that was closed to the media. "This is an important step, in Oregon and nationally, toward one day eliminating the death penalty nationwide."
Oregon has not executed anyone in more than two decades. The only two executions it has conducted since executions resumed in the U.S. in 1977 were in 1996 and 1997, and both involved "volunteers"who had waived their appeals. Thirty-one people are currently on death row in the state, a vast majority of whom could not have been sentenced to death under the new law. "Oregon's death penalty is dysfunctional. It is costly and immoral," said Brown in her prepared remarks. "Our state's criminal justice system continues to impose death sentences, and send people to death row, even as we know that no one has been executed here in a generation." Alice Lundell, a spokesperson for the Oregon Justice Resource Center, a criminal justice reform group that opposes the death penalty, called on Governor Brown to use the state's passage of the new law as an opportunity "to stand up against th[e] type of politicizing of the death penalty that is happening at the federal level" by commuting the death sentences of the state's death-row prisoners.
Sources
Noelle Crombie, Calling Oregon death penal­ty ​'cost­ly and immoral,' gov­er­nor signs bill lim­it­ing its use, The Oregonian, August 1, 2019; Dirk Vanderhart, Gov. Kate Brown Signs Bill Narrowing Oregon Death Penalty, KHSU Radio, August 1, 2019; Sarah Zimmerman, Oregon sub­stan­tial­ly nar­rows use of death penal­ty, Associated Press, August 1, 2019. Photo cred­it: Office of Governor Kate Brown, cour­tesy of Oregonians for Alternatives to the Death Penalty.
Read Oregon Senate Bill 1013 here.
Recent Legislative Activity
Jun 02, 2023
Conservative Commentator Warns of Dangers of Non-Unanimous Death Sentences
Victims' Families
May 30, 2023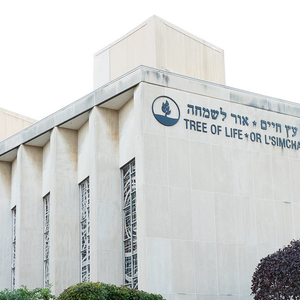 Victims' Families are Divided Over Death Penalty as Bowers Trial Begins