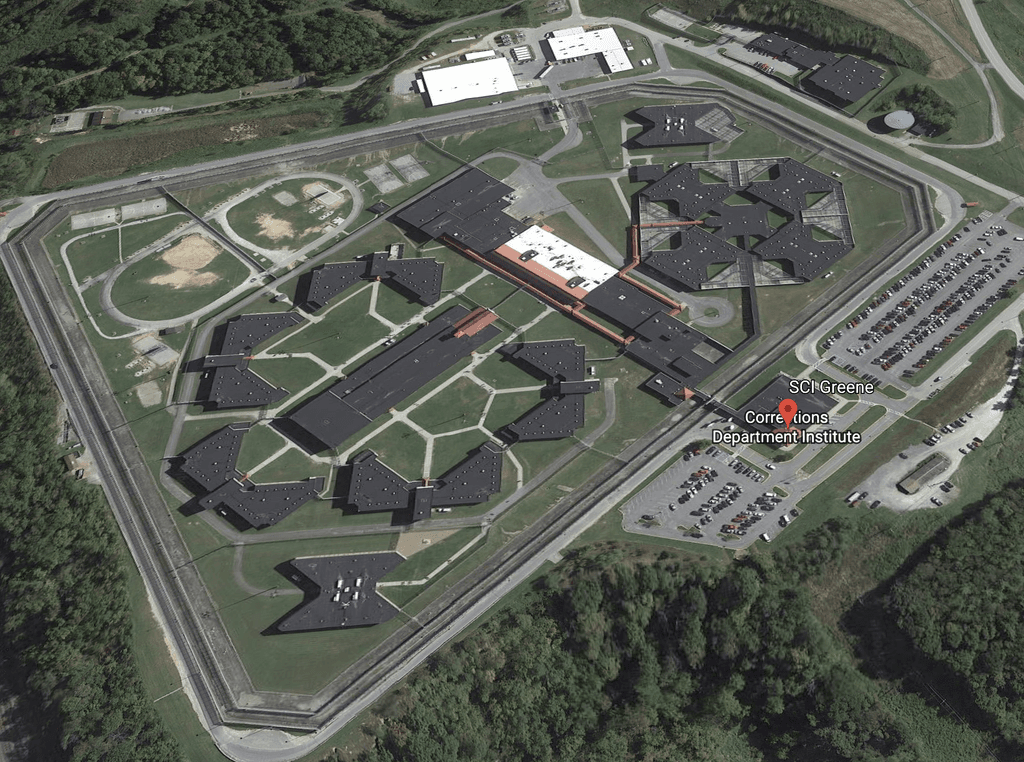 Pennsylvania has agreed to end its policy of mandatory incarceration of death-row prisoners in permanent solitary confinement. The policy change was part of a proposed settlement agreement of a federal class action lawsuit brought by a coalition of prisoners' rights organizations on behalf of the Commonwealth's 136 death-row prisoners, most of whom are housed in the State Correctional Institution-Greene (pictured from Google Earth image).
The federal settlement agreement, filed with the federal court on November 18, 2019, provides death-row prisoners with at least 42.5 hours a week out of their cells and 15-minutes of phone access each day, and allows prisoners to have contact visits, outdoor exercise, daily showers, group religious services, jobs, and access to educational programs. It also ends the degrading practice of subjecting death-row prisoners to body cavity searches whenever they leave their cells and requiring 24-hour illumination of the prisoners' cells.
"This settlement brings Pennsylvania out of the penological dark ages and makes it a national leader in treating all incarcerated persons humanely," said Witold Walczak, legal director of the ACLU of Pennsylvania, in a statement.
The lawsuit, which was filed by the national ACLU, the ACLU of Pennsylvania, the Pittsburgh-based Abolitionist Law Center, and two Philadelphia law firms in January 2018, challenged the Commonwealth's policy mandating permanent solitary confinement for all death-sentenced prisoners. The prisoners were confined 22-hours per day in cells the size of a parking space, with lights that never turned off, allowed out for a maximum of two hours per day for exercise, and denied human contact with family members during prison visits.
In a news release announcing the settlement, ACLU National Prison Project deputy director Amy Fettig described the state's use of long-term solitary confinement as "torture." The five prisoners in whose names the suit was filed had spent between 16 and 27 years each in solitary confinement. According to the lawsuit, 80% of the state's death-row prisoners had been in solitary confinement for more than a decade.
The Pennsylvania settlement, which still requires approval from the court, is part of a national effort to end the use of mandatory solitary confinement for death-row prisoners. In May 2019, a federal appeals court in Virginia ruled that the Commonwealth's former policy of 23- or 24-hour per day solitary confinement of death-row prisoners constituted cruel and unusual punishment in violation of the Eighth Amendment. Two months later, in the midst of a federal lawsuit challenging its death-row conditions, South Carolina ended its practice of housing death-row prisoners in as much as 23-hour per day solitary confinement in windowless cells the size of a parking space. In September 2019, Oklahoma ended its policy of housing its death-row prisoners in solitary confinement in an underground facility that civil rights groups had called "inhumane and oppressive." The groups had threatened legal action if the state did not institute reforms.
Previously, Arizona settled a federal death-row conditions lawsuit, agreeing to end its policy of automatically and indefinitely incarcerating death-row prisoners in solitary confinement. Prompted by other court challenges, other states including California, Colorado, Louisiana, Nevada, North Carolina, and Tennessee have provided death-sentenced prisoners more time out of their cells and, in some cases, now allow them to eat meals and exercise with other inmates, have contact visits with family members, and hold prison jobs.
The Pennsylvania Department of Corrections began to implement a number of the changes in death-row conditions several months ago. Bret Grote of the Abolitionist Law Center called the response to being permitted contact visits "beyond description: how meaningful that was to the men in the capital case units, some of whom have not touched a loved one for 20 to 30 years until this summer."

Jimmy Dennis, who spent 25 years in solitary confinement on the state's death row and who was released in 2017 in a plea deal after a federal judge found he had been wrongfully convicted, emphasized the importance of the settlement. "I went for years with no shower, no library, no nothing," said Dennis. "It's like chipping away at your soul on so many different levels, and you feel like you're literally suffocating in your own skin."
Dennis told the Philadelphia Inquirer that he still attends therapy twice weekly to help deal with the symptoms of posttraumatic stress disorder from his time in solitary confinement. "There's not a single person that comes from death row or solitary confinement that gets out and they're unaffected. The nightmares that you deal with while you're there, the nightmares you deal with when you come home — it's just an ordeal that you never put behind you." As part of the settlement, current Pennsylvania death-row prisoners will be given re-socialization assistance and mental and physical heath evaluations.