Natrona County, Wyoming District Attorney Mike Blonigen (pictured) recently called for a reconsideration of the state's death penalty after a federal judge overturned the death sentence of Dale Wayne Eaton, a decade after Blonigen obtained it in 2004. At the time U.S. District Judge Alan B. Johnson reversed Eaton's sentence in 2014, Eaton was the only person on Wyoming's death row.
Judge Johnson ruled that Eaton had received ineffective representation, in part because of inadequate funding of the Wyoming Public Defender's Office. Wyoming Gov. Matt Mead requested that the state legislature appropriate $1 million over the next two years to pay for Eaton's defense and another $25,000 to study whether the state is adequately funding prosecutors and public defenders. However, Johnson subsequently barred Wyoming from conducting a new death penalty hearing when the state failed to timely appoint new lawyers for Eaton who were not affiliated with the public defender's office.
Blonigen said the state legislature needs to take a serious look at the issue of capital punishment: "You've got to have the resources and have the commitment to it to carry through with it," he said. "I think the Legislature has to decide do we really want this or not. If we really want it, then we have to change some things." Wyoming has not carried out an execution since 1992, and has not sentenced anyone to death since Eaton was sentenced in 2004.
(B. Neary, "Casper prosecutor says Wyoming needs to reconsider death penalty," Associated Press, January 2, 2016; B. Neary, "Federal judge stays state death prosecution of Dale Eaton," Associated Press, December 22, 2015.) See New Voices and Costs.
Innocence
Aug 17, 2022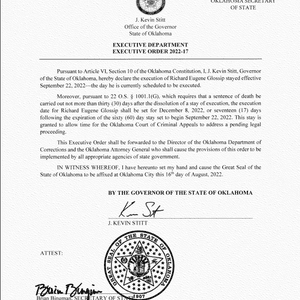 Oklahoma Governor Delays Richard Glossip's Execution to Allow Litigation of Innocence Claims