Bexar County District Attorney Susan Reed recently issued a report finding that Ruben Cantu (pictured) was guilty of the crime for which Texas executed him in 1993. However, critics have noted that Reed was formerly a judge who handled Cantu's appeal and set his execution date, raising a conflict of interest in conducing an investigation of his guilt. Moreover, many who are familiar with the case doubt Reed's conclusions and say the report's findings do not add up. Critics of Reed's report say it overstates evidence of Cantu's guilt and glosses over troubling aspects of the case.

One claim that has raised doubts about the report's accuracy is a finding that one of Cantu's defense attorneys solicited and obtained a plea offer from prosecutors, but that the presiding judge in the case rejected the agreement. That judge, Roy Barrera, Jr., has maintained that he has no memory of the plea deal, adding, "I don't think Ruben ever considered a plea." Andrew Carruthers, Cantu's lead defense attorney during his trial, said that Cantu refused to plead guilty. He noted that if Barrera had rejected a plea deal, the defense would have ensured it appeared somewhere in the record, which it did not.

The report's description of Cantu's jailhouse confession to another inmate has also raised questions. The report claims that while he was awaiting his murder trial, Cantu confessed to fellow inmate Tom L. Cooresmans, who had at least eight prior felony convictions and was potentially facing a mandatory minimum jail term of 25 years in prison. The report states that the snitch was not offered anything for his testimony against Cantu and that he passed a lie detector test about his story. The report does not mention Cooresmans' "habitual offender" status or the fact that prosecutors lowered his bond and helped him to get out of jail after he told his story about Cantu's alledged confession. According to Barry Scheck, co-founder of the New-York based Innocence Project, Cooresmans' motive to lie "is just so obvious."

Though he praised Reed's review of the case, Sam Millsap - the former district attorney whose office prosecuted Cantu and secured his death sentence - said he remains unconvinced of Cantu's guilt. "I don't think we'll ever know. After reading the report, I'm even more firm in my belief that the death penalty should be abolished," Millsap said. Millsap was not consulted by Reed in her investigation of Cantu's guilt.
(San Antonio Express-News, July 8, 2007). Read D.A. Susan Reed's Report. See Innocence and Executed Despite Doubts About Guilt.
Innocence
Sep 20, 2023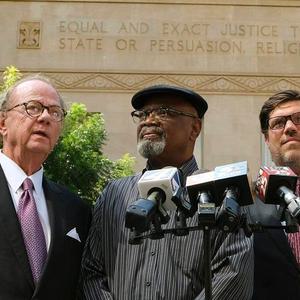 Glynn Simmons Exonerated
48

Years After He Was Sentenced to Death in Oklahoma