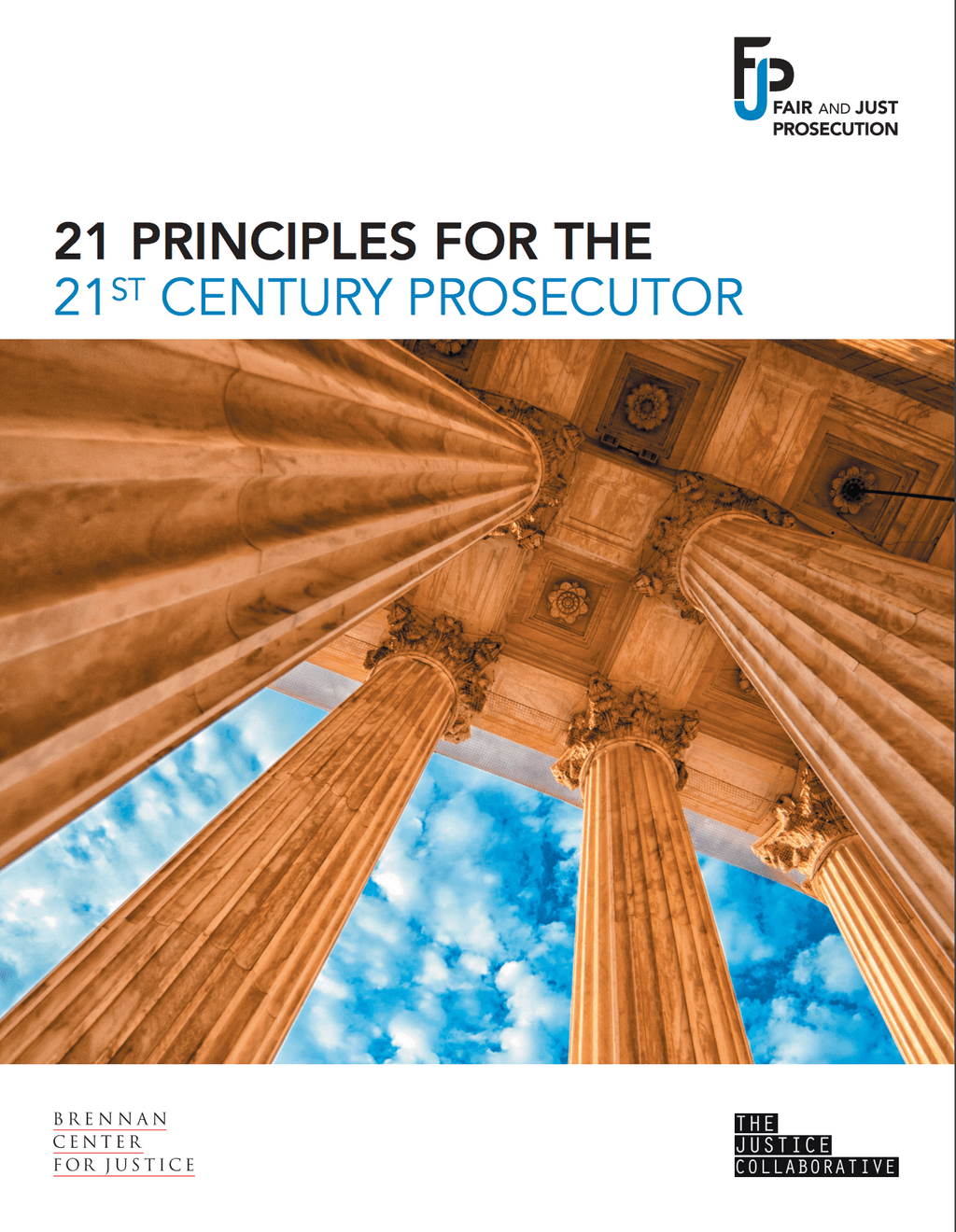 A group of justice-reform organizations has issued a new report, 21 Principles for the 21st Century Prosecutor, that calls on prosecutors to "work to end the death penalty" as part of its recommended reforms in prosecutorial practices. The report, prepared jointly by the organizations Fair and Just Prosecution, the Brennan Center for Justice, and the Justice Collaborative, sets forth a series of principles that the groups say are designed "to improve the overall fairness and efficacy of the criminal justice system." The report sets forth 21 principles of prosecution for a "21st Century vision for meting out mercy and justice." Ten of the principles address ways to reduce incarceration. Eleven are proposals to increase fairness in the criminal justice system. Because prosecutors "wield enormous influence at every stage of the criminal process, from initial charging decisions to the sentences sought and imposed," the report says, they are "well positioned to make changes that can roll back over-incarceration."
The groups' proposals on the death penalty fall within their recommendations on increasing fairness. "Countless studies have shown that the death penalty is fraught with error, provides no more public safety benefit than other sentences, and is routinely imposed on people with diminished culpability," the report says. "Studies also show that the death penalty is applied in a racially discriminatory manner[,] … is expensive and puts victims through decades of litigation and uncertainty." The report recommends that prosecutors "[o]ppose legislation to expand or expedite the death penalty"; establish a review committee to determine whether to prosecute a case capitally; consider alternative punishments in cases in which the death penalty has already been imposed, "particularly when there is substantial evidence of reduced culpability"; and "[d]on't threaten to seek the death penalty to coerce a plea." It quotes two big-city prosecutors, Denver's Democratic District Attorney Beth McCann and Kings County (Seattle) Republican Prosecuting Attorney Dan Satterberg, in support of the principle that prosecutors should work to end the death penalty. Shortly after her election, McCann said, "I don't think the state should be in the business of killing people." Satterberg spoke out in favor of abolishing Washington's death penalty, saying that the death penalty "no longer serves the interests of public safety, criminal justice, or the needs of victims."
Election results in 2018 continued a trend away from prosecutors known for their aggressive pursuit of capital punishment. Since 2015, voters have removed prosecutors in 11 of the 30 most prolific death-sentencing counties in the country, replacing most of them with reform candidates. This year, prosecutorial candidates who ran on reform platforms won election in St. Louis County, Missouri; Jefferson County (Birmingham), Alabama; Bexar (San Antonio) and Dallas, Texas. Two of the nation's most aggressive pro-death-penalty prosecutors also were ousted in Orange and San Bernardino counties in California.
Fair and Just Prosecution is an organization that, its website says, is "building a network of new prosecutors willing to rethink past practices, consider effective new approaches, and connect to other leaders in the field" to promote prosecutorial reforms "grounded in fairness, equity, compassion, and fiscal responsibility."
(Fair and Just Prosecution, The Brennan Center for Justice, Emily Bazelon, and The Justice Collaborative, 21 Principles for the 21st Century Prosecutor, The Brennan Center for Justice, December 3, 2018; Emily Bazelon and Miriam Krinsky, There's a Wave of New Prosecutors. And They Mean Justice., New York Times, December 11, 2018.) See Sentencing and New Voices.