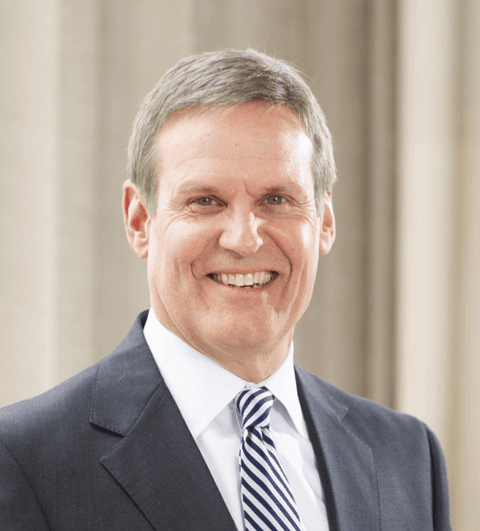 Tennessee Governor Bill Lee (pictured) has paused all executions scheduled for 2022 and called for an "independent review" of the state's execution protocol to address a "technical oversight" that led him to halt Oscar Franklin Smith's execution less than a half-hour before it was scheduled to be carried out on April 21, 2022.
In a news release issued at 5:43 a.m. on Monday, May 2, 2022, Lee announced that the state would retain former U.S. Attorney Ed Stanton to conduct a third-party review of Tennessee's execution process after corrections officials failed to test execution drugs for bacterial endotoxins before Smith's execution. Lee said that Tennessee would not go forward this year with the five executions that had been scheduled in the state between June and December 2022.
"I review each death penalty case and believe it is an appropriate punishment for heinous crimes," Lee said in the release. "However, the death penalty is an extremely serious matter, and I expect the Tennessee Department of Correction to leave no question that procedures are correctly followed."
"Governor Lee's decision to pause executions pending an independent review of Tennessee's lethal injection protocol shows great leadership," said Kelley Henry, Chief of the Capital Habeas Unit at the Nashville Federal Public Defender's Office. "The use of compounded drugs in the context of lethal injection is fraught with risk. The failure to test for endotoxins is a violation of the protocol. Governor Lee did the right thing by stopping executions because of this breach."
Lee issued a temporary reprieve to Smith on April 21, 2022 — the day of Smith's scheduled execution — "[d]ue to an oversight in preparation for lethal injection." The state had intended to execute Smith using a controversial three-drug lethal injection protocol of midazolam, a sedative; vecuronium bromide, a paralytic; and potassium chloride, which stops the prisoner's heart.
"I am granting a temporary reprieve while we address Tennessee Department of Correction protocol," Lee said. No further information about the execution "oversight" was released at the time, but Smith's lawyer Amy Harwell told reporters that her office had been told there was a "mishandling" of the lethal-injection drugs.
Henry immediately called for an independent investigation into the protocol failure. Subsequently, in an April 29, 2022 letter from the federal public defenders, Henry and Harwell urged the Governor to issue a moratorium on executions and appoint a commission to study the state's execution protocol. "The secrecy that shrouds the execution process in Tennessee is troubling, even more so where now one week later we still don't know what happened to cause the last-minute delay," the public defenders wrote.
"What we DO know, as attorneys familiar with the terrible risk of the controversial three-drug protocol[,] is there have been problems every single time the Department has used or attempted to use the protocol," Henry and Harwell wrote. "What we DO know is that many serious and important questions about how TDOC staff and the contract pharmacy produce, store, prepare, ship, and handle these high-risk sterile injectibles remain unanswered. With secrecy comes lack of accountability. With secrecy comes sloppiness. And with secrecy comes a high risk of mistakes."
Lee's announcement said that Stanton — who served as U.S. Attorney for the Western District of Tennessee from 2010 to 2017 — would "conduct an independent review" of three facets of Tennessee's execution process:
"Circumstances that led to testing the lethal injection chemicals for only potency and sterility but not endotoxins preparing for the April 21 execution";
"Clarity of the lethal injection process manual that was last updated in 2018, and adherence to testing policies since the update"; and
"TDOC staffing considerations."
"An investigation by a respected third-party will ensure any operational failures at TDOC are thoroughly addressed," said Lee. "We will pause scheduled executions through the end of 2022 in order to allow for the review and corrective action to be put in place."
A 2021 investigation by The Guardian revealed that Tennessee secretly spent large sums of money on execution drugs. Between 2017 and 2020, the paper reports, Tennessee spent $190,000 for the three drugs it used in executions. Two people were executed by lethal injection during that period, for a $95,000 cost per execution. An additional five people were executed by electrocution in the state from 2017 to 2020.
Sources
News Release, Gov. Lee Calls for Independent Review Following Smith Reprieve, Office of Tennessee Governor Bill Lee, May 2, 2022; Kimberly Kruesi, Tennessee gov: No new details yet why he can­celed exe­cu­tion, Associated Press, April 22, 2022; Mariah Timms, Tennessee yet to release details on ​'tech­ni­cal over­sight' delay­ing Oscar Franklin Smith exe­cu­tion, Nashville Tennessean, April 25, 2022; Mariah Timms, Attorneys seek halt to exe­cu­tions as Oscar Franklin Smith ​'over­sight' inves­ti­gat­ed, Nashville Tennessean, April 28, 2022; Mallika Kallingal and Hannah Sarisohn, Public defend­ers call for mora­to­ri­um on exe­cu­tions in Tennessee after ​'tem­po­rary reprieve' for death row inmate, CNN, April 28, 2022; Madalyn Torres, Gov. Bill Lee paus­es exe­cu­tions, calls for inde­pen­dent review after grant­i­ng tem­po­rary reprieve, May 2, 2022; Ed Pilkington, Revealed: Republican-led states secret­ly spend­ing huge sums on exe­cu­tion drugs, The Guardian, April 9, 2021.
Read the let­ter from defense coun­sel to Governor Bill Lee.
Innocence
Mar 31, 2023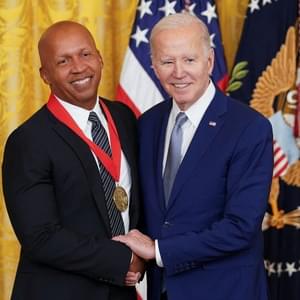 Bryan Stevenson Honored with the National Humanities Medal