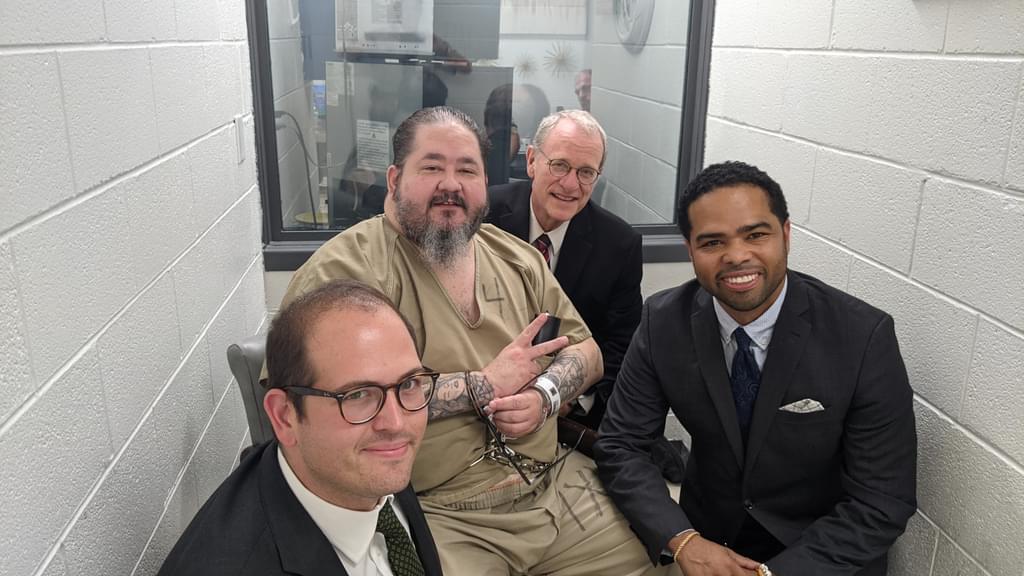 The Texas Court of Criminal Appeals has stayed the March 8, 2022 execution of death-row prisoner Michael Gonzales (pictured, second from left, with his legal team) based on evidence that he may be ineligible for the death penalty because of intellectual disability and that prosecutors withheld favorable evidence from the defense at the time of trial.
The appeals court's order, issued March 3, 2022, halted what would have been the first execution in Texas in 2022.
Gonzales filed a 169-page petition in the appeals court on February 28, 2022, along with a separate motion seeking a stay. His petition set forth evidence of extensive flaws in the police investigation of the case and identified alternate suspects, suggesting that they framed Gonzales. The petition also describes untested physical and fingerprint evidence that defense counsel argues could exonerate Gonzales, and other evidence favorable to Gonzales that was withheld by prosecutors, including the lead police investigator's alleged history of misconduct and fabricating evidence.
Though the court permitted Gonzales to litigate his claims of misconduct and intellectual disability, it denied review of his claims that he is actually innocent and that prosecutors knowingly presented false testimony against him. The court also denied a separate motion Gonzales had filed to conduct DNA testing on fingernail scrapings, crime scene evidence, clothes worn by an alternate suspect, and hair collected from the crime scene and from the other suspect's house.
Evidence Supporting Gonzales' Innocence Claim
Gonzales was convicted of the 1994 murder of his next-door neighbors, Merced and Manuel Aguirre. The only physical evidence against him was three fingerprints on a stereo that had been stolen from the Aguirres' home. Prosecutors also presented questionable testimony from a county jailer that Gonzales spontaneously "blurted out … 'I did it'" while the officer was taking Gonzales back to his cell from a bond hearing.
Just weeks before the scheduled execution, the Odessa, Texas police department uncovered 136 fingerprint cards in Gonzales' case that were previously believed to be lost. Only six of the cards had ever been compared for prints. A fingerprint examiner who reviewed the cards concluded that at least 60 other fingerprints "could have enough information to identify other suspects."
Richard Burr, one of the lawyers who is representing Gonzales, said the defense had been attempting to obtain access to the fingerprints for more than two years. "When the department found the prints in early February [2022]," he said, "they notified us and have been very helpful since then in getting the prints to us in a form that allows comparison to the prints of the known suspects."
Police also discovered blood stains on a flannel shirt belonging to an alternative suspect, Jesse Perkins. Perkins had been investigated as a possible perpetrator, but never charged. Stains on the inner lining of a shirt seized from Perkins during the initial investigation of the crime have never been tested and, Gonzales' lawyers say, could provide additional evidence that Perkins committed the crime.
"It is critical that we be allowed time to conduct testing on the shirt and to make comparisons of these prints to the prints of the known suspects," Burr said in a statement released in conjunction with the filing. "Without this opportunity, there is a strong likelihood the State will execute an innocent person."
According to Gonzales' petition, "In 2003, police learned the shirt had the DNA of both victims on it in two different bloodstains on the exterior of the shirt. …No other item recovered outside the crime scene had even one of the victims' blood." But a new examination of the shirt revealed bloodstains on the inside of the sleeves, consistent with it being worn by someone with cuts on their arms. "Police knew Jesse Perkins had wounds on his arms in the days following the murder—a major clue that he was one of the attackers," the petition explains. "If these stains contain blood and the DNA belongs to Perkins, then Perkins was certainly involved."
"We think we have amassed a lot of evidence that Jesse Perkins is guilty and Michael Gonzales is not," Burr told Odessa, Texas television station KOSA. "It coincides with all of the evidence that police developed within the case. The case against Michael was always pretty shaky, from a prosecution perspective. We think Michael Gonzales is innocent."
The Claims of Police and Prosecutorial Misconduct
Gonzales also alleged that the prosecution suppressed exculpatory evidence and evidence of police misconduct that would have impeached key prosecution testimony. The petition presents evidence that the lead police investigator in the case, Detective Sergeant Snow Robinson, had "a history of falsifying reports, jumping to unfounded conclusions about suspects, manufacturing evidence, and providing false testimony."
Gonzales' counsel alleged that Snow had previously been forced out of the El Paso Police Department after multiple incidents of misconduct, including abusing suspects and lying on official documents, then later resigned from the Odessa police department after being accused of multiple acts of misconduct. During his time with the Odessa police, in which he had multiple suspensions, Snow allegedly committed multiple acts of physical abuse and fabricated police reports claiming that suspects had "blurted out" confessions to him that no one else had heard.
The petition also alleged that the prosecution withheld a memorandum showing that Snow had testified falsely when, in an attempt to connect Gonzales to the crime, he told the jury that he had consulted with a pepper expert from Texas A & M, Dr. Ben Villalon, about chile peppers found beneath the body of one of the victims and other chile peppers found at Gonzales' house and that Dr. Villalon told him that the peppers were "very, very rare for this area." The memorandum, prepared by a staff member of the Ector County District Attorney's office after she spoke with Dr. Villalon, said nothing about whether the peppers were rare for the Odessa area. Rather, it indicated only that Robertson had asked Dr. Villalon to compare the peppers. Dr. Villalon concluded that "all he could say was that the peppers appeared to be the same to him" and he told the DA's office that "he didn't see how he would be useful" in the case when that was all he could say.
The Intellectual Disability Claim
In addition to his innocence-related claims, Gonzales alleged that he is ineligible for the death penalty under the Supreme Court's 2002 decision in Atkins v. Virginia declaring the death penalty unconstitutional for individuals with intellectual disability. He presented evidence from psychological testing that his IQ fell within the range of intellectual disability, as well as having numerous qualifying deficits in adaptive function.
Gonzales' disability, the petition argues, made him particularly vulnerable to "becoming the prosecutorial target for murders he did not commit. … He had significantly impaired social skills—having few friends, continuously ridiculed by most people he thought were his friends, unable to understand how others perceived his behaviors, subject to being used by others to take the blame for wrongful things they did, and always willing to take the blame and not 'snitch' on others. In short," his counsel wrote, "Gonzales was a vulnerable target for a myopic police investigation in which his friends could assist the police in charging and prosecuting him with what they had done."
Sources
Erica Miller, Odessa man on death row asks judge to with­draw exe­cu­tion order, Your Basin, March 1, 2022; Mary Kate Hamilton, ​"We believe Michael Gonzales is inno­cent:" Defense team wants Gonzales's exe­cu­tion halt­ed, KOSU-TV, Odessa, March 3, 2022; Kim Smith, Spider Gonzales gets exe­cu­tion stay, Odessa American, March 3, 2022.
Read Gonzales' motion for stay of exe­cu­tion, his appli­ca­tion for a writ of habeas cor­pus, and the press state­ment by his lawyers released in con­nec­tion with his filings.
Read the order of the Texas Court of Criminal Appeals grant­i­ng a stay of exe­cu­tion.
Executions Overview
Nov 13, 2023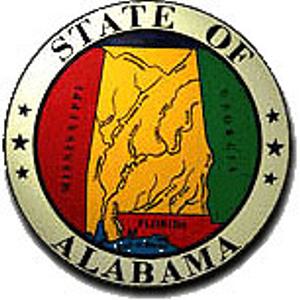 Alabama Schedules A Second Execution for Kenneth Smith, Using Nitrogen Gas for the First Time in U.S. History