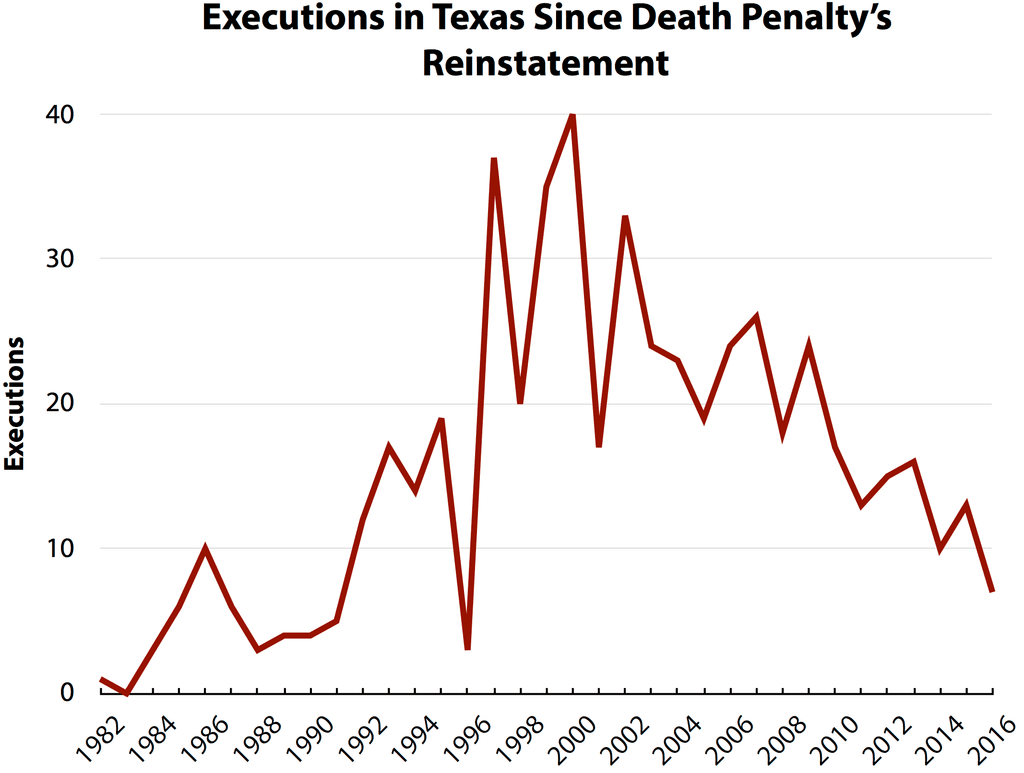 Texas is poised to have the fewest number of executions in 20 years.
As of October, the state has executed seven prisoners in 2016, with just one more execution scheduled this calendar year. The total would mark the fewest executions in the state in any year since 1996. In that year, three people were executed, as legal challenges to a new state law billed as speeding up appeals put most executions on hold.
Fifteen execution dates for 11 people have been stayed or halted in Texas this year. Several of those, most notably the case of Jeffrey Wood, hinged on questions about "junk science" testimony. Wood's execution was stayed to permit review of claims that his death sentence was a product of false psychiatric testimony from James Grigson, who earned the nickname "Dr. Death" for his testimony in numerous capital cases claiming that defendants were certain to commit future acts of violence. Another Texas prisoner, Robert Roberson, was granted a stay to allow him to challenge now-debunked testimony that his daughter died of shaken baby syndrome, when several alternative, non-homicide explanations for her death better fit the evidence.
At the same time as Texas courts have halted executions over questionable scientific testimony, the U.S. Supreme Court is hearing two Texas cases this term (Buck v. Davis and Moore v. Texas) that also involve scientifically-unsound mental health testimony that was used to obtain or defend death sentences. "Texas courts are now aware of the dangers associated with forensic sciences and are closely scrutinizing this evidence," said Greg Gardner, an attorney for John Battaglia, who had an execution date set for December 7.
Along with the drop in executions, Texas has also seen a dramatic decline in death sentences. Death sentences have declined steadily since 2005, as life without parole became available as a sentencing alternative in death penalty trials, but the past two years have seen even lower numbers. Just two people were sentenced to death in 2015, and Texas juries have handed down three death sentences so far this year. Experts say that changing public attitudes, falling murder rates, and better lawyering have also contributed to the decline. (Click to enlarge.)
Jolie McCullough, Texas Will See Lowest Number of Executions in 20 Years, The Texas Tribune, October 11, 2016. See Executions and Texas.
Executions Overview
Aug 28, 2023
Alabama Attorney General Seeks Execution with Unprecedented, Untested Method Using Nitrogen Hypoxia