Texas is planning to execute a seriously mentally ill prisoner who has gouged out both of his eyes because of his paranoid schizophrenia. On November 7, 2022, the District Court of Grayson County, Texas set an April 5, 2023 execution date for Andre Thomas (pictured, left when arrested; center, after gouging out his right eye prior to trial; right, after gouging out and eating his left eye while on death row). Thomas has been described by his attorneys as "one of the most mentally ill prisoners in Texas history."
The issuance of an execution date comes weeks after the U.S. Supreme Court refused to hear a challenge to Thomas' conviction based on evidence of jurors' racial bias. Justices Sonia Sotomayor, Elena Kagan, and Ketanji Brown Jackson dissented from the denial of review. Justice Sotomayor wrote in the dissent that courts must "safeguard the fairness of criminal trials by ensuring that jurors do not harbor, or at the very least could put aside, racially biased sentiments."
In a statement issued in response to Texas scheduling Thomas' execution, Maurie Levin, Thomas' lead counsel said, "For the past thirteen years Mr. Thomas has resided at the Wayne Scott Unit, where the most mentally ill Texas prisoners are housed. There he is given multiple powerful anti-psychotic drugs, which manage only to mitigate his auditory and visual hallucinations…As a blind and very sick man, Mr. Thomas poses no threat to others."
Thomas has a long history of mental illness beginning at age 9 and has attempted suicide several times. Two days before the murders, he attempted suicide and was taken to a hospital, where a social worker "noted that he was experiencing delusions and religious preoccupations." A doctor sought an emergency order to confine Thomas to a mental health facility, but left him unattended, and Thomas left the hospital. Delusions convinced him that his estranged wife and her children were demonic and that killing them was a religious mission. Five days after the murders, he gouged out his right eye because he believed that he was commanded to do so by the Bible. His mental state continued to deteriorate after he was sentenced to death, and years later he gouged out his left eye and ate it.
Thomas, who is Black, was convicted of killing his estranged wife, who was white, along with their biracial child and his wife's child from another relationship. The jury that convicted Thomas was all white, and three jurors – one quarter of the jury – said they disapproved of people of different races marrying or having children together. The prosecutor played on the jury's biases during the penalty phase, asking the jury, "Are you going to take the risk about him asking your daughter out or your granddaughter out?"
Sam Spital, Director of Litigation for the Legal Defense Fund and a member of Thomas' legal team before the U.S. Supreme Court, said in the statement that "It should alarm every Texan that racial bias poisoned Mr. Thomas' case… . Mr. Thomas' execution would make a mockery of a fundamental constitutional principle: racial bias must play no role in the administration of the death penalty."
In response to the Supreme Court decision, Levin told The Texas Tribune that "Guiding a blind, delusional man onto Texas' gurney would be an indelible image that would cast a permanent shadow over Texas' reputation. Texas can keep the public safe by keeping Mr. Thomas in prison for life."
Innocence
Sep 20, 2023
Glynn Simmons Exonerated
48

Years After He Was Sentenced to Death in Oklahoma
Arbitrariness
Sep 13, 2023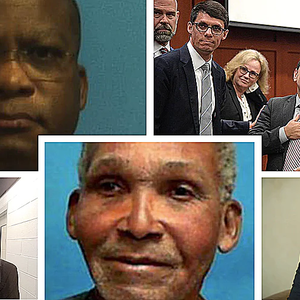 When Jurors Do Not Agree, Should a Death Sentence Be Imposed?