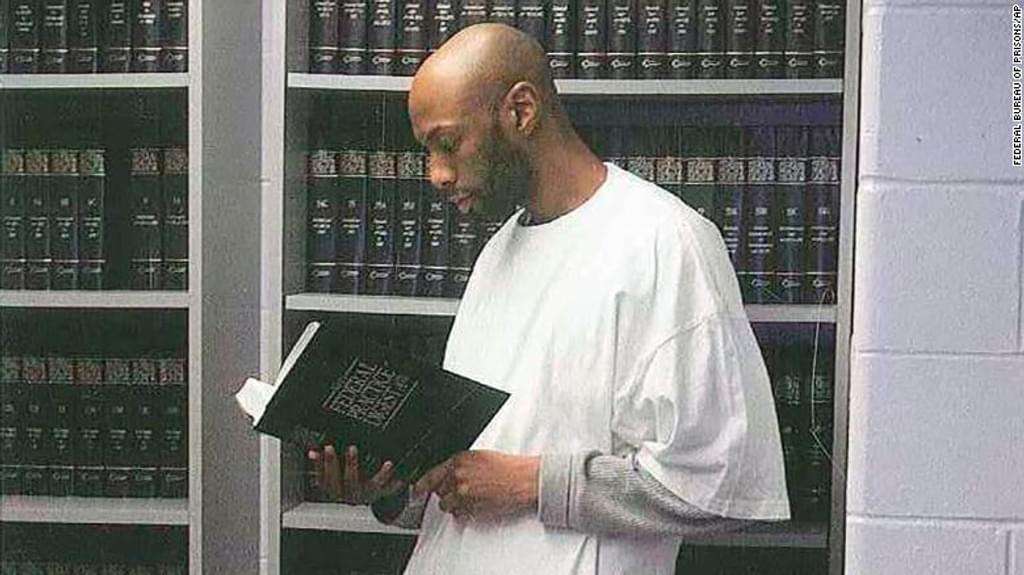 An historically aberrant six-month federal execution spree came to a close after midnight on January 16, 2021 when an African-American man who was scheduled to die on the Rev. Dr. Martin Luther King Jr.'s birthday was put to death by private executioners hired in a secret no-bid contract.
Dustin John Higgs (pictured), who did not kill anyone and professed his innocence prior to his execution, was pronounced dead at 1:23 a.m. The execution moved forward after six justices of the U.S. Supreme Court vacated a stay of execution that would have provided a federal appeals court in Richmond, Virginia time to consider issues regarding the legality of Higgs' execution date. It was the 17th stay of execution lifted by federal appeals courts during the execution spree. A day earlier, a federal appeals court in Washington, D.C. had lifted an injunction prohibiting Higgs' execution while he remained infected with COVID-19. "This is not justice," U.S. Supreme Court Justice Sonia Sotomayor wrote in a blistering dissent from the majority's unsigned order.
The execution was the 13th conducted by the federal government over a 186-day period in which no state in the Union executed a single prisoner. The execution spree was unequaled in its size and duration, surpassing the 12 consecutive executions carried out over a span of 91 days by Texas between January 10 and April 11, 2007. It marked the most consecutive civilian executions by any state or the U.S. government in the 244-year history of the United States. No single government had been the sole active executioner in the U.S. over such a long period of time since executions resumed in the 1970s.
The children of Martin Luther King Jr. spoke out against the offensiveness of executing a Black man on the legendary civil rights leader's birthday. In a Washington Post op-ed on January 14, King's oldest son, Martin Luther King III, wrote: "In 1957, my father, the Rev. Dr. Martin Luther King Jr., was asked whether God approves of the death penalty for certain crimes. He responded, 'I do not think that God approves the death penalty for any crime.' He explained that 'capital punishment is against the better judgment of modern criminology and, above all, against the highest expression of love in the nature of God.'
"My father also recognized 'the severity and inequality' of the death penalty. He spoke out against the disproportionate execution of young Black men, often barely older than children at the time of their crimes, whose punishments were surely influenced by their skin color.
"Decades later, President Trump and his Justice Department, in their unprecedented barrage of executions, have disregarded all of the principles of humanity, decency and justice that my father preached."
Noting that the executions of two more Black men remained scheduled, including one on his father's birthday, King III said, "Nothing could dishonor his legacy more profoundly than if these executions go forward."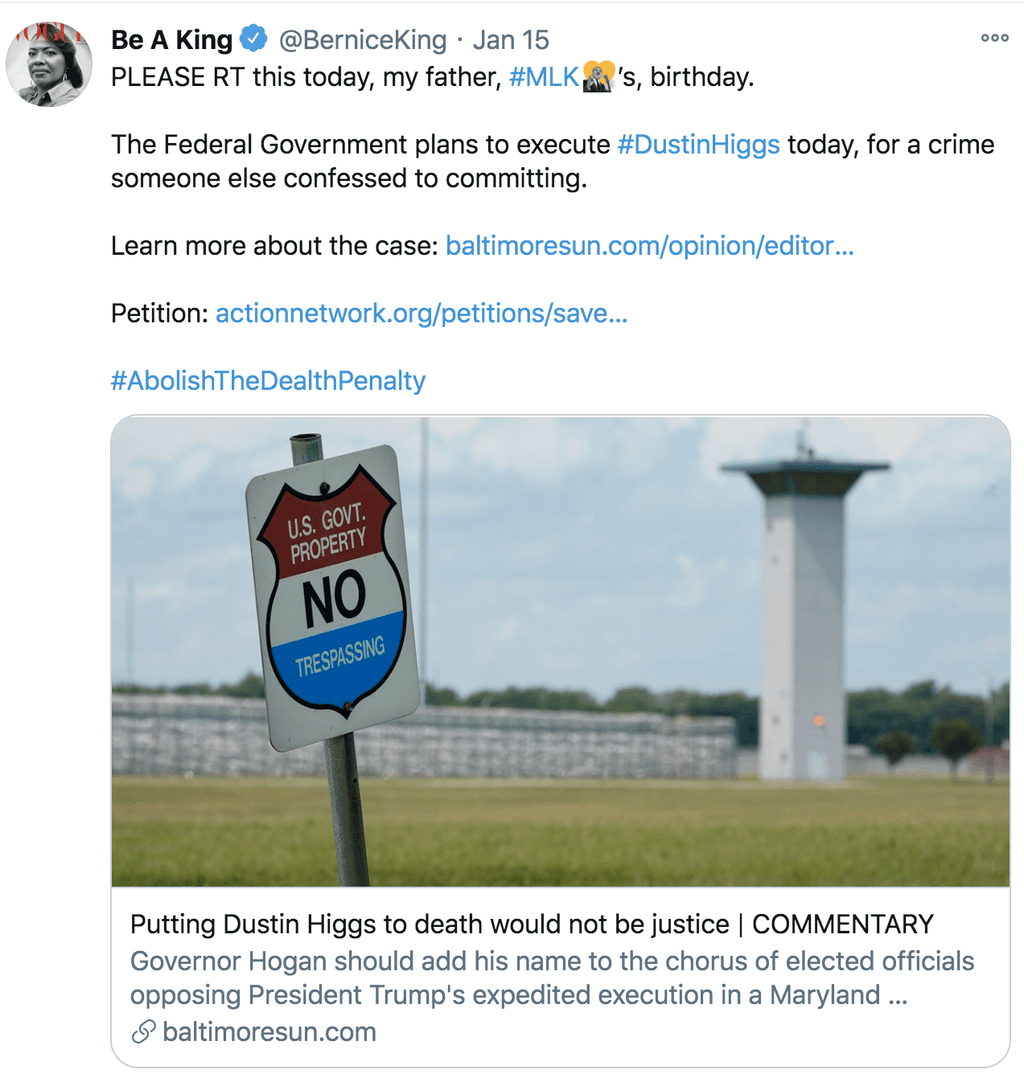 On Rev. King's birthday, his daughter, Bernice King posted several tweets opposing Higgs' execution. "The Federal Government plans to execute #DustinHiggs today, for a crime someone else confessed to committing," she wrote. Attaching a Baltimore Sun editorial, Putting Dustin Higgs to death would not be justice, she asked "PLEASE RT this today, my father, #MLK's, birthday."
Justices Stephen Breyer and Sonia Sotomayor each authored opinions dissenting from the majority's decision to lifting the stay of Higgs' execution. Justice Elena Kagan separately noted that she would have voted to leave the stay in place. Breyer noted that the majority had sided with the federal government on every appeal and every request to vacate stays of execution over the course of the execution spree. Justice Sotomayor wrote, "After waiting almost two decades to resume federal executions, the Government should have proceeded with some measure of restraint to ensure it did so lawfully. When it did not, this Court should have. It has not."
Advocates for women's rights, victims' rights, tribal sovereignty, and individuals with mental illness or intellectual disability also found the execution spree offensive.

On January 13, 2021, the Department of Justice executed Lisa Montgomery, who had been the victim of sexual violence and domestic abuse so relentless it left her riven with mentally illness. DOJ officials announced her execution date on October 16, 2020, during the middle of National Domestic Violence Awareness Month.
The DOJ executed Daniel Lewis Lee on July 14, 2020, after falsely claiming that it had selected his case to do justice for the victims' families and because the case involved the death of a child. Lee and co-defendant Chevie Kehoe were convicted in 1999 of killing Nancy Mueller, her husband William Mueller, and her 8-year-old daughter Sarah Powell. However, the evidence indicated that Kehoe, who received a life sentence, had killed the child after Lee refused to do so, and the victims' family members opposed Lee's capital prosecution and execution.
Over the objection of the Navajo nation and Native American leaders across the country, the federal government executed Navajo citizen Lezmond Mitchell on August 26, the sole Native-American prisoner on federal death row. Mitchell became the first Native American in U.S. history to be executed by the federal government for a crime committed against a member of his own tribe on tribal lands.
The government executed Alfred Bourgeois on December 11 and Corey Johnson on January 14, despite evidence that the men were ineligible for the death penalty because of intellectual disability. The federal government fought efforts to permit courts to conduct clinically appropriate reviews of their claims and both were executed without a hearing.
The execution spree was characterized by numerous deviations from modern American norms and practices. It included:
The first execution of a woman by the federal government in 67 years;
The execution of two prisoners accused of murders committed in their teens, the two youngest offenders executed by the federal government in 68 years;
The first time in U.S. history the federal government executed a Native American for an offense committed against fellow tribe members on tribal lands;
The most federal civilian executions in a single year since 1896, at a time states were carrying out the fewest executions in 37 years;
The most executions during a presidential transition period in the history of the United States;
Scheduling executions during the middle of the worst pandemic in more than a century and flouting public health safeguards as they were being carried out;
Executions carried out while appeals remained pending or despite court rulings that the execution protocol and process were unlawful or unconstitutional;
Executions of two intellectually disabled prisoners, despite no judicial consideration of their cases using clinically appropriate standards of review;
Executions of two mentally ill prisoners without any judicial review of their competency to be executed;
Post-midnight executions of four prisoners after their execution dates had passed, pursuant to new executions notices of questionable legal and constitutional validity;
Leaving one prisoner strapped to the gurney for four hours while federal prosecutors filed pleadings to vacate his stay of execution;
Executing two prisoners who had contracted COVID-19.
Sources
Martin Luther King III, Martin Luther King Jr. abhorred the death penal­ty. Executing Black men on his birth­day would dis­hon­or him., Washington Post, January 14, 2021; James Romoser, Over sharp dis­sents, court inter­venes to allow fed­er­al gov­ern­ment to exe­cute 13th per­son in six months, SCOTUSblog, Jan. 16, 2021; Bernice E. King, Twitter, January 15, 2021; Andrea Germanos, Amid Trump Killing Spree, Family of Martin Luther King Jr Joins Chorus Demanding: ​'Abolish the Death Penalty', Common Dreams, January 15, 2021; Editorial, Putting Dustin Higgs to death would not be jus­tice, Baltimore Sun, December 18, 2021.
Read the deci­sion of the U.S. Supreme Court in United States v. Higgs, January 15, 2021.
Innocence
Sep 20, 2023
Glynn Simmons Exonerated
48

Years After He Was Sentenced to Death in Oklahoma
Arbitrariness
Sep 13, 2023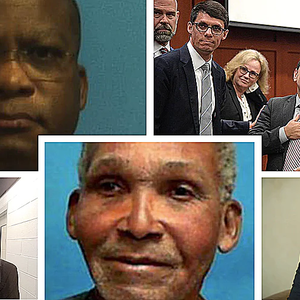 When Jurors Do Not Agree, Should a Death Sentence Be Imposed?