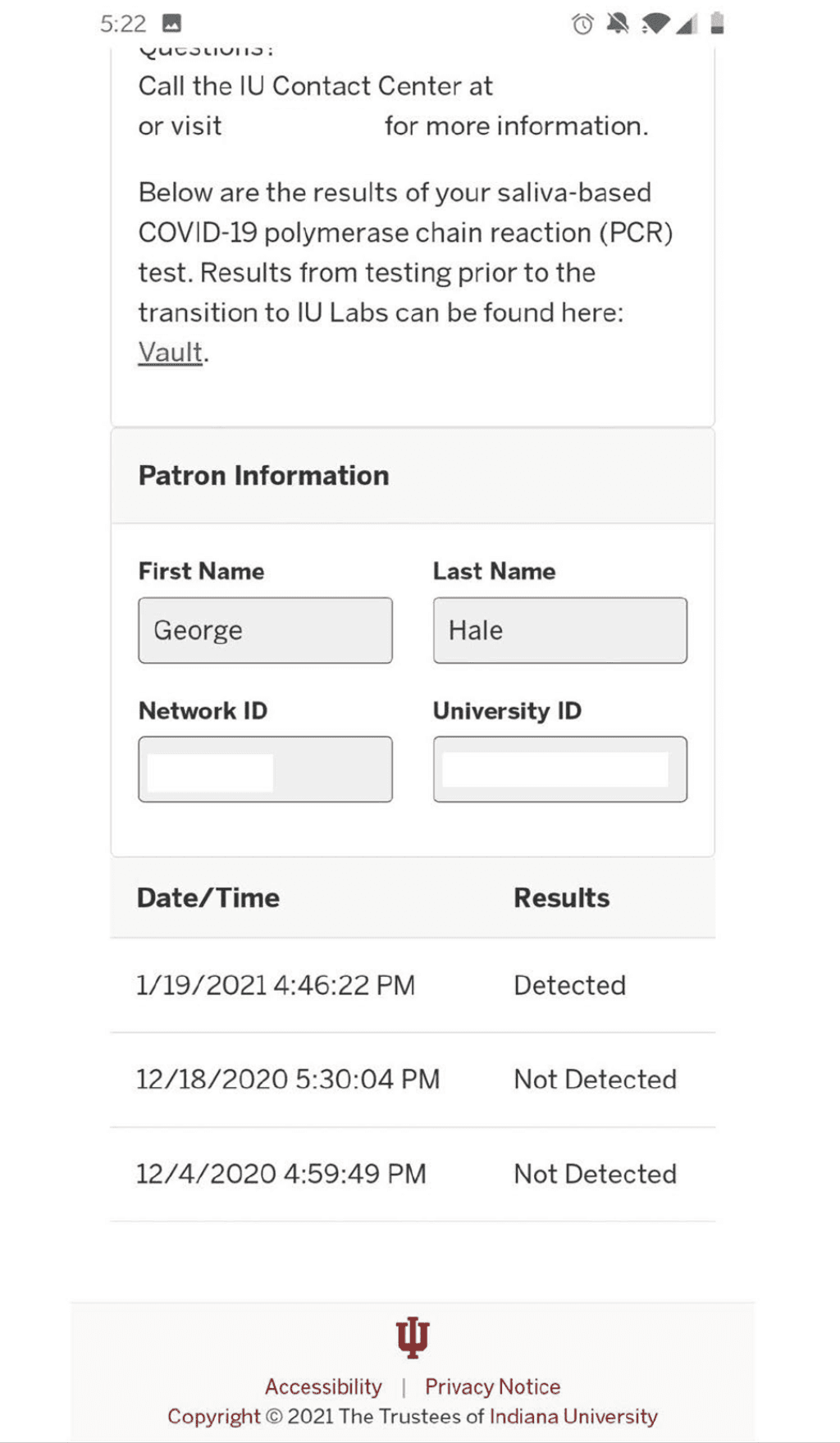 Despite being under federal court order to undertake protective measures against the spread of COVID-19, the Federal Bureau of Prisons (BOP) took no action after being alerted that two reporters who had been media witnesses to the federal executions at the Federal Correctional Complex at Terre Haute, Indiana in January 2021 had contracted COVID-19.
Emails obtained by the Death Penalty Information Center (see pictures) show that Indiana Public Media reporter George Hale notified Bureau of Prisons (BOP) officials on January 21, 2021 and again on January 22 and January 26 that he had tested positive for the coronavirus. Hale also notified BOP that his colleague Adam Pinsker had subsequently tested positive for the virus. But, Associated Press reports, the BOP did not release this information to the public, conduct contact tracing, or notify other execution witnesses who had been in close proximity to the COVID-positive reporters.
BOP never disclosed the information on its own volition, but finally confirmed it was aware of the positive test results on January 27, 2021 in response to questions from Associated Press reporters who also had witnessed the executions.
BOP's intentional refusal to initiate remedial measures is the latest in a series of acts and omissions endangering the public health throughout the course of 13 executions undertaken during a pandemic that has killed as many Americans as died in World War II. The positive tests are the latest in a growing list of death-row prisoners, spiritual advisors, and execution personnel who have contracted the virus as a result of an execution process that has brought together more than 300 people from across the country.
Court records obtained by the ACLU showed that BOP failed to conduct contact tracing for members of the execution teams who tested positive after five executions in August, September, and December. Records were not available for the December executions. The Justice Department prioritized secrecy over public safety, claiming that contact tracing was "not always possible for members of the execution team, given the paramount need for their confidentiality due to the sensitivity of their occupation and their unique mission."
The BOP had been under federal court order to implement health measures after non-capital prisoners sued to block the executions because they had led to an explosion of coronavirus cases in the Terre Haute facility. On January 7, 2021, the week before the January set of federal executions, Judge Jane Magnus-Stinson of the United States District Court for the Southern District of Indiana ordered that the BOP enforce "mask requirements" for the execution team, "maintain contact logs" for those who have come in close contact "with any other person during execution preparation," and "[c]onduct thorough contract tracing for any [Federal Correctional Complex] staff member who tests positive for COVID-19" for 14 days after close contact. The order only covered BOP employees and did not include others, like media witnesses, who may have come into contact with BOP employees.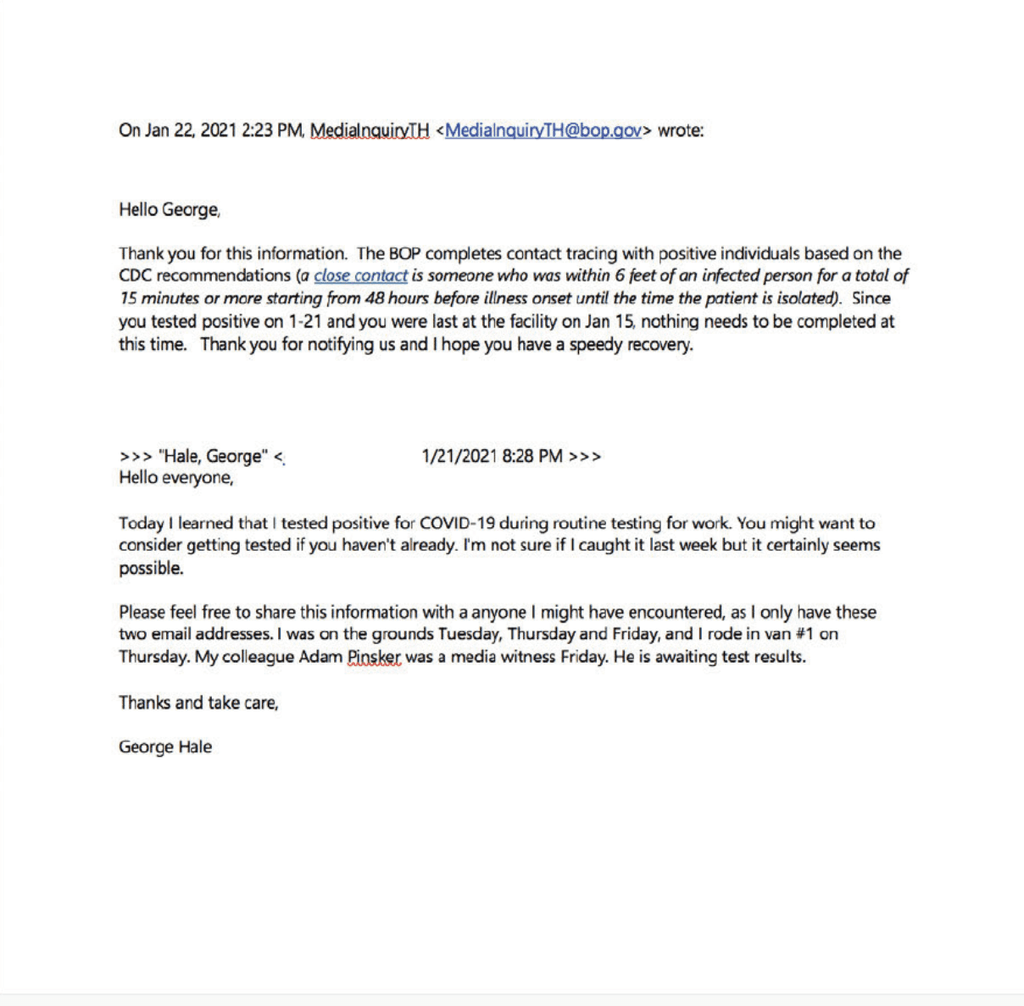 COVID-19 Notification to the Federal Bureau of Prisons
In an article for Indiana Public Media, reporter George Hale wrote about his experience attempting to get BOP to respond to his COVID-19 diagnosis. "A week to the day after witnessing the execution of Cory Johnson, on Jan. 14, 2021, I received notification that I tested positive for COVID-19," he wrote. "My colleague Adam Pinsker witnessed the execution of Dustin Higgs on Jan. 16. He received a positive test result nine days later." He said that "[w]ithin hours of receiving my test result on Jan. 21, I reached out to the U.S. Bureau of Prisons to make sure their staff knew to get tested. I wanted to grant permission to share my positive test result with any person I encountered. Most of the people we meet during the executions are anonymous and this seemed to be the quickest way to notify them. It also seemed like the fastest way to notify the many journalists I encountered."
To the best of his knowledge, Hale asserts that the BOP did not contact anyone who was exposed to him. Numerous reporters and media witnesses have indicated they were not contacted by the BOP concerning Hale's positive test.
Hale sent his first email at 8:28 p.m. on January 21. The next afternoon, at 2:23 p.m., the BOP replied with an email stating, "Thank you for this information. The BOP completes contact tracing with positive individuals based on the CDC recommendations (a close contact is someone who was within 6 feet of an infected person for a total of 15 minutes or more starting from 48 hours before illness onset until the time the patient is isolated). Since you tested positive on 1-21 and you were last at the facility on Jan. 15, nothing needs to be completed at this time. Thank you for notifying us and I hope you have a speedy recovery."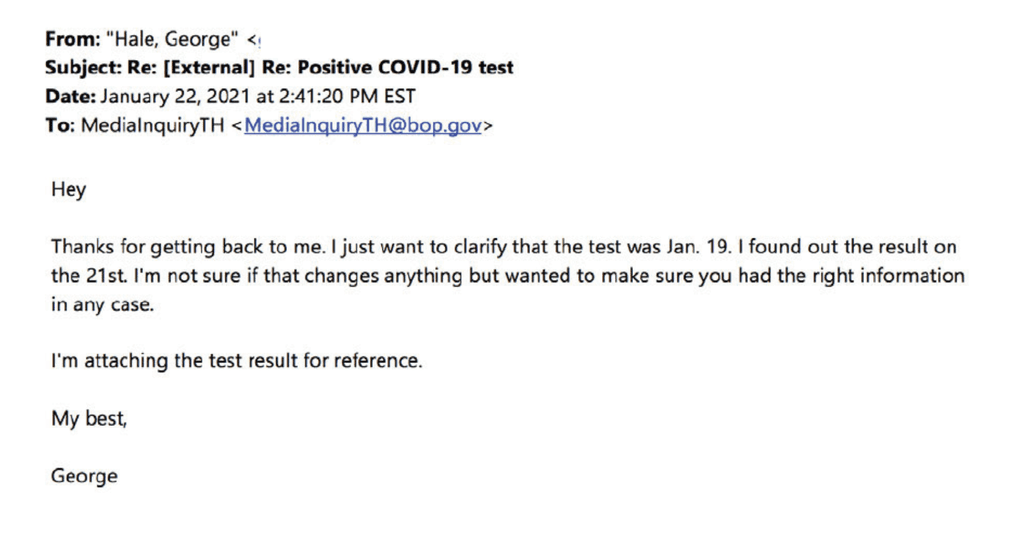 Hale immediately responded with an email to BOP, sent at 2:41 p.m., clarifying that his COVID test had been administered on January 19 and that he had received the results on January 21. Hale attached a copy of the saliva-based COVID-19 polymerase chain reaction (PCR) test results to his email. The report indicated that the test had "detected" evidence of COVID-19.
Hearing nothing further from BOP, Hale followed up with a third email at 5:19 a.m. on January 26. That email detailed the emergence of his COVID-19 symptoms well within the 48-hour window outlined for contact tracing mentioned in the BOP official's email.
Hale said he had begun experiencing a headache on Saturday night, January 16, which lasted for two days. "The last time I was at the media center was, of course, just after midnight Saturday, Jan. 16 following Dustin Higgs' execution," he wrote, adding that "[a] colleague who witnessed that execution received a positive COVID-19 test result yesterday, three days after mine."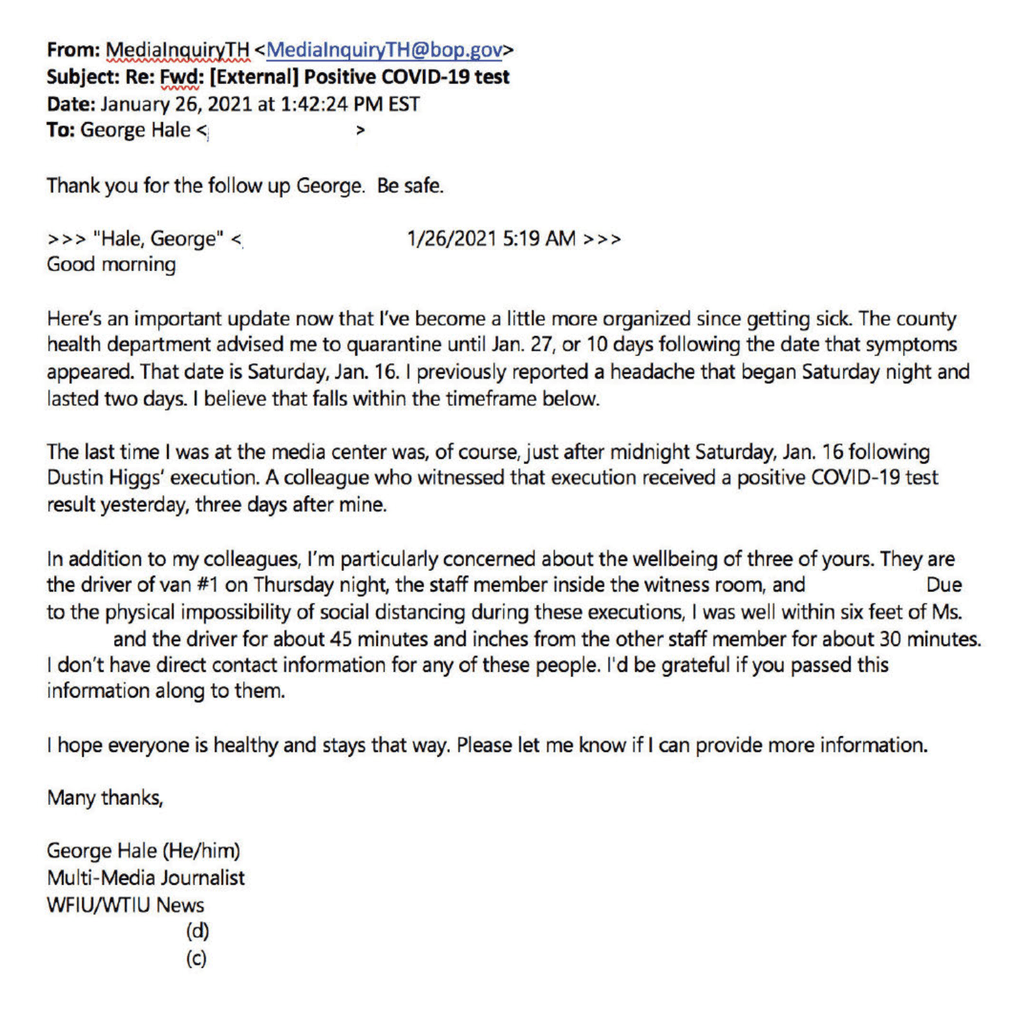 Hale also said he was "particularly concerned about the wellbeing of three" BOP employees with whom he had been in close proximity. "They are the driver of van #1 on Thursday night, the staff member inside the witness room, and [NAME REDACTED]. Due to the physical impossibility of social distancing during these executions, I was well within six feet of Ms. [REDACTED] and the driver for about 45 minutes and inches from the other staff member for about 30 minutes. I don't have direct contact information for any of these people. I'd be grateful if you passed this information along to them."
In his article for Indiana Public Media Hale wrote, "after prison officials received information that might have helped protect those witnesses and their loved ones, they decided to leave them in the dark." BOP's email response to Hale at 1:42 p.m. on the 26th was a single line: "Thank you for the follow up, George. Be safe."
Sources
George Hale, Our Reporters Who've Been Covering The Federal Executions Now Have COVID, WTIU/​WFIU, January 29, 2021; Michael Balsamo and Michael Tarm, Feds with­held info on virus cas­es fol­low­ing exe­cu­tions, Associated Press, January 28, 2021; Jonathan Allen, U.S. to car­ry out 13th and final exe­cu­tion under Trump admin­is­tra­tion, Reuters, January 15, 2021.
Read Judge Jane Magnus-Stinson's January 7, 2021 order here.
Federal Death Penalty
Sep 07, 2023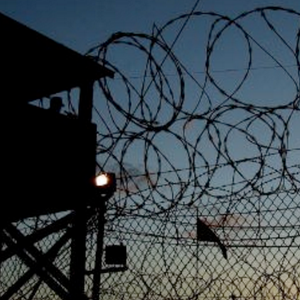 9

/​

11

Victims' Family Members, Members of Congress Urge Biden Administration to Abandon Plea Negotiations with Guantanamo Detainees
Federal Death Penalty
Aug 03, 2023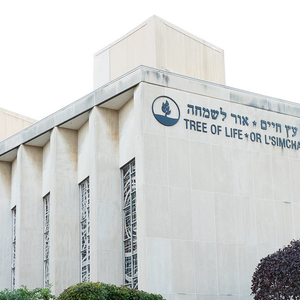 Jurors Sentence Robert Bowers to Death for
2018

Synagogue Shooting
Federal Death Penalty
Jul 13, 2023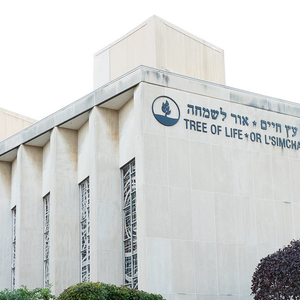 Jury Finds Defendant Eligible for Federal Death Penalty in Pittsburgh Synagogue Trial