UPDATE: "Family members of two Massachusetts murder victims, including the police officer who was killed by the Tsarnaevs, have spoken out concerning their views on the sentence they believe should be imposed on Dzhokhar Tsarnaev in the Boston Marathon bombing. Now Bill and Denise Richards, parents of 8-year-old Martin Richards, the youngest victim killed in the Boston Marathon bombing, have added their voices and called on federal prosecutors to drop the death penalty in exchange for termination of all appeals in the case. In a statement in the Boston Globe, the Richards write: "the story of Marathon Monday 2013 should not be defined by the actions or beliefs of the defendant, but by the resiliency of the human spirit and the rallying cries of this great city. We can never replace what was taken from us, but we can continue to get up every morning and fight another day. As long as the defendant is in the spotlight, we have no choice but to live a story told on his terms, not ours. The minute the defendant fades from our newspapers and TV screens is the minute we begin the process of rebuilding our lives and our family.
Robert Curley (pictured, l.), whose 10-year-old son, Jeffrey, was murdered in 1997, appeared on necn news to discuss his views on capital punishment and the Tsarnaev case. Curley said he came to oppose the death penalty after the trials of the men who murdered his son convinced him that "the system is just not fair" and could not be trusted to reach the right result in capital cases. Curley said he believes Tsarnaev should receive life without parole because a death sentence would mean endless appeals, but a life sentence would mean he would, "go away never to be heard from again." Jennifer Lemmerman, the sister of MIT Police Officer Sean Collier, who was killed in the aftermath of the Boston marathon bombing, also said Tsarnaev should be sentenced to life in prison. "Whenever someone speaks out against the death penalty, they are challenged to imagine how they would feel if someone they love were killed. I've been given that horrible perspective and I can say that my position has only strengthened," Lemmerman wrote. She went on to say, "I also can't imagine that killing in response to killing would ever bring me peace or justice… . I choose to remember Sean for the light that he brought. No more darkness." Tsarnaev was convicted of 30 charges, including 17 that could result in a death sentence. The jury will consider his sentence during the penalty phase of the trial, set to begin April 21.
("Life Sentence Vs. Death Penalty for Tsarnaev," necn news (video), April 13, 2015; J. Ellement, "Sister of slain MIT officer opposes death penalty for Tsarnaev," Boston Globe, April 13, 2015; "To end the anguish, drop the death penalty," Boston Globe, April 16, 2015.) See Victims and New Voices.
Victims' Families
Oct 17, 2023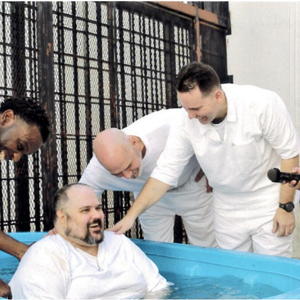 Victim's Sister, Faith Leaders, and Others Plead for Clemency for Will Speer, Faith Based Coordinator on Texas' Death Row