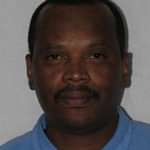 With a federal court ruling on his innocence claims considered imminent, Oprah Winfrey has designated the autobiography of California death-row prisoner Jarvis Jay Masters, That Bird Has Wings, as the September 2022 selection for the Oprah Winfrey Book Club. Masters, who has converted to Buddhism and become a talented author and podcast host in the years since his controversial conviction and death sentence for the 1985 murder of corrections officer Sergeant Hal Burchfield, filed his habeas corpus petition in federal district court in November 2020. His state court challenge had languished for years in California's delay-plagued state court system.
In June 1985, Sergeant Hal Burchfield was fatally stabbed while making rounds at San Quentin State Prison. Three prisoners were capitally tried in the murder, the prisoner who stabbed the correctional officer, the leader of the Black Guerilla Family gang (BGF) who ordered the killing, and Masters, who allegedly had carved the murder weapon. The gang leader was sentenced to life. Marin County Superior Court Judge Beverly Savitt rejected the jury's recommendation of a death sentence for the killer, but sentenced Masters to death. In remarks from the bench, she acknowledged the extreme abuse Masters had experienced as a child and in foster homes, saying that he had been "born into hell." "If people don't want children, they shouldn't have them," Savitt said, finding it "almost impossible" to understand why Masters was born in the first place.
Masters, who was a low-ranking member prison gang (BGF), has consistently asserted that he had no involvement in the murder, but said he had been ordered by Rufus Willis, another leader of BGF, to copy notes that detailed the crime. One of the notes, known as "kites" because they were passed between cells on a string, described the murder weapon as so sharp that it could "chop a T-bone." The "kites" became a key piece of evidence against him in the trial that lasted until 1990. The jury convicted Masters of murder and conspiracy to commit murder for his alleged role in making the spear's metal tip. Willis, the state's key witness at the trial, was granted immunity from prosecution.
In the nearly 40 years since Burchfield was killed, the two men who testified against Masters have recanted their testimony. Defense linguistics experts later determined that the "kites," which admittedly had been in Masters' handwriting, had been authored by someone else, even if Masters had copied that person's words. Masters alleged that Willis falsely identified him as being involved and that an investigator with the Marin County district attorney's office had urged Willis to collect more evidence against him.
Willis has since recanted his testimony that Masters was involved. Bobby Evans, a well-known prison informant, who testified that Masters had confessed to being involved in the murder, has also recanted. Harold Richardson, a prisoner who met confidentially with a program administrator at San Quentin to discuss his desire to get out of the gang, had confessed that others had prepared the weapon and that he, not Masters, had sharpened the metal's tip. Richardson's confession was available at the time of Masters' trial but was not admitted as evidence. The judge who heard his state appeal ruled the confession to be unreliable hearsay.
In 2008, the California Supreme Court stated that a special judge should be appointed to conduct a fresh review of the facts because there were enough legitimate legal questions surrounding Masters' conviction and death sentence. In 2011, former Marin County Superior Court Judge Lynn Duryee produced the report and stated that there was "no agreement" between the prisoners on "fundamental facts." Duryee concluded that although Masters had been convicted and sentenced to death based on testimony by Willis and Evans, their word "means nothing" and could not be used to exonerate him. The California Supreme Court relied on Duryee's conclusions in denying Masters' subsequent appeals.
Masters' case returned to prominence in September 2022 when Oprah Winfrey selected his autobiography for her book club. She called his book, "a deft, wise, page-turning account of childhood trauma, his experiences in foster care, his journey through the American justice system, and his spiritual enlightenment while on death row." She has also expressed her belief in his innocence. "I just feel that any reasonable person, reading the facts of this case, would want to at least have the case reopened so that you could at least know that you made the greatest effort for justice to be served," Winfrey said.
Prior to his conviction for the 1985 murder of Sergeant Hal Burchfield, Masters was incarcerated in San Quentin for armed robbery at the age of 19. Masters' autobiography vividly depicts the trauma he experienced as a child resulting from parental neglect and severe abuse by his foster parents. Citing his traumatic childhood, Michael Satris, Masters' trial lawyer argued that his life should be spared. "There must be a place in our jurisprudence that allows for compassion," Satris said.
The controversy over Masters innocence has divided the victim's family. Marjorie Burchfield, the oldest child, said that the murder destroyed her childhood. She endured homelessness and was addicted to drugs for years before enlisting in the U.S. Army and later becoming a correctional officer like her father. She continues to believe Masters is guilty and that he should be executed. Her brothers, J.D. and Jeremiah Burchfield, on the other hand, believe Masters is innocent. J.D. now opposes the death penalty, saying that it "robs people of a shot at redemption." Jeremiah said, "A man being cheated of his freedom and being incarcerated without reason isn't doing my father justice. It's just ignorance."
Masters said that he was wounded by Marin County Superior Court Judge Beverly Savitt's remarks in sentencing him to death. "When the judge said that I should not have been born before she sentenced me to death, it said something more to her reasons why she gave me the death sentence and no one else," Masters said. "I'm glad my mother gave me a chance to live."
"The only way you can put somebody on death row is you got to dehumanize them. They cannot be a human being," he said.
Seven wrongfully convicted California death-row prisoners have later been exonerated, including Shujaa Graham and Eugene Allen, who, like Masters, were members of the Black Guerilla Family gang and were convicted of murdering a white correctional officer.
Innocence
Mar 31, 2023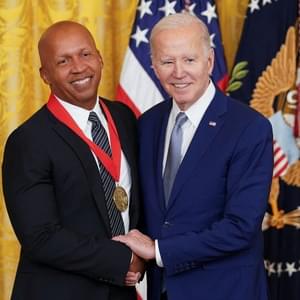 Bryan Stevenson Honored with the National Humanities Medal