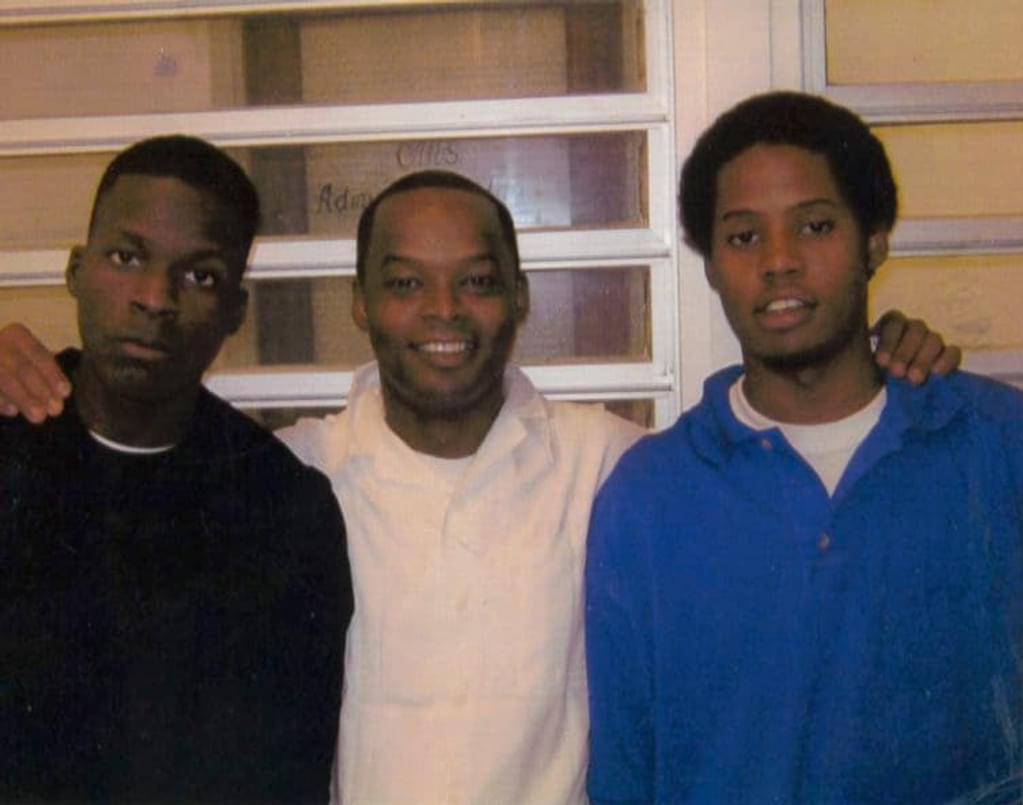 Alabama sentenced Toforest Johnson to death, his lawyers and national experts say, because of prosecutorial misconduct, false eyewitness testimony, and inadequate representation. In an amicus brief filed in a Birmingham trial court on December 12, 2019, the Innocence Project says, "If ever a case bore the hallmarks of a wrongful conviction, Toforest Johnson's is it."
Johnson (pictured center) was convicted in 1999 of murdering Jefferson County Sheriff's Deputy William Hardy, who was working off-duty as a security guard. His conviction rested on a stranger's claim that, while she was eavesdropping on a prison phone call, she had heard a voice she said was Johnson confess. Records later revealed that, unknown to the jury, the witness had been paid $5,000 for her testimony. The prosecution was aware of the payment and the trial judge, Alfred Bahakel, whose brother Jerry was a Jefferson County sheriff's deputy at the time Hardy was murdered, approved the payout. Neither disclosed the payment to the defense.
Over the course of four trials of Johnson and his co-defendant, Ardragus Ford, Birmingham prosecutors advanced at least five different, contradictory theories of the crime, many of them based on the shifting testimony of a 15-year-old witness, Yolanda Chambers. Chambers' story changed numerous times after police repeatedly threatened her with imprisonment. Two other witnesses who refused to testify to the version of events police wanted were jailed.
"All of the evidence, including phone records and witnesses, clearly showed that [Chambers] couldn't have witnessed the Hardy murder," said Richard Jaffe, a defense attorney who represented Ford. "Her accusations should have been painfully and obviously false." Ford ultimately was acquitted, but Johnson's inexperienced court-appointed lawyer failed to marshal the available evidence and he was convicted and sentenced to death.
Johnson's story is not new to Alabama or Birmingham. As Washington Post columnist, Radley Balko, pointed out in a September 2019 feature on Johnson's case, four people wrongly convicted and sentenced to die during former Birmingham District Attorney David Barber's 24-year tenure in office, and at least six who were wrongly convicted of murder, have already been exonerated. Johnson's case, he wrote, bears striking similarities to the case of former death-row prisoner Montez Spradley, whose conviction for a 2004 murder was overturned in 2011 by the Alabama Court of Criminal Appeals.
No physical evidence linked either Johnson or Spradley to the crimes for which they were sentenced to death. In both cases, Balko wrote, "witnesses came forward with damning information in response to a reward. In both cases, it seems safe to say that a conviction wouldn't have been possible without those witnesses. In both cases, the witnesses were paid, but the payments were never disclosed to the defense or the jury. In fact, in both cases, the judge signed off on said payments, yet neither judge bothered to notify defense counsel. … [And i]n the investigations of both Johnson and Spradley, law enforcement officials threatened witnesses with incarceration and the loss of custody of their children if they didn't tell authorities the story they wanted to hear."
Spradley's trial judge was Gloria Bahakel, whose brother had sentenced Johnson to death. Spradley's jury had voted 10-2 in favor of a life sentence, but Judge Bahakel overrode that recommendation and sentenced Spradley to death. After winning a new trial, Spradley entered a no-contest plea that ensured he would not face the death penalty again, secured his immediate release from prison, but fell short of a legal exoneration.

After recently discovering evidence of the witness payment, Johnson's new lawyers from the Southern Center for Human Rights and the Death Penalty Clinic at the University of California, Berkeley School of Law are challenging his conviction, and the trial court — now before Jefferson County Circuit Court Judge Teresa Pulliam — is considering whether prosecutors violated Johnson's rights by withholding evidence of the payment. Judge Pulliam held a hearing in June to determine whether Johnson's rights were violated by prosecutors' failure to disclose that Ellison would be paid reward money.
Johnson's daughter, Shanaye Poole said she is hopeful that her father will be granted a new trial. "Finally we're getting some traction," she said, referring to coverage in The Washington Post and The Appeal, and the intervention of The Innocence Project. "Finally the world is able to hear my Dad's story, and it needs to be heard."
"He'd rather think of the positive outcomes than the negative," Poole said of her father. "That could eat away at a person, but I think he's just maintained his faith and he knows that he is an innocent man."
For more details on Toforest Johnson's case, read below:
On the night of July 19, 1995, when Deputy William Hardy was killed, at least ten alibi witnesses placed Toforest Johnson and his friend, Ardragus Ford at a nightclub on the other side of Birmingham, Alabama. Phone records even showed Ford making a phone call at the time Deputy Hardy was shot. Hours after the shooting, Johnson, Ford, and two girls were stopped and patted down by police, ostensibly because of a report of a "suspicious vehicle," though their car did not resemble witness statements from the scene.
Johnson was arrested because of an outstanding warrant for a traffic violation. The next day, police investigators questioned Yolanda Chambers and Latanya Henderson, the two teenage girls who had been with Johnson and Ford on the night of the crime. They both told police they knew nothing about the crime, but police didn't believe them. Police threatened to criminally charge the girls for lying, but then let them go.
Henderson told Chambers later that day that she would not lie, even if it meant going to jail, but Chambers replied that she would rather lie than go to jail. Henderson later told her story to police again, and was charged with hindering prosecution. She spent months in a juvenile detention facility. Chambers told police she had information about the murder of Deputy Hardy, but changed her story repeatedly. Despite her constantly changing story, law enforcement moved forward with as a star witness in the case.
"All of the evidence, including phone records and witnesses, clearly showed that [Chambers] couldn't have witnessed the Hardy murder," said Richard Jaffe, a defense attorney who represented Ford. "Her accusations should have been painfully and obviously false."
Two other men were held for 15 months as a result of Chambers' accusations, but prosecutors ultimately decided to charge only Johnson and Ford. Both were prosecuted for capital murder and faced possible death sentences, but no physical evidence linked either man to the crime.
Ford's family was able to hire an experienced attorney, Richard Jaffe, but Johnson was assigned an inexperienced court-appointed attorney. During his investigation, Jaffe learned that Chambers had told friends she had falsely implicated the men. When he questioned her during a hearing, she returned to her original version of events: she had nothing to do with the crime and didn't know who did. When Jaffe asked her why she had previously lied, she replied: "Because the pressure. They was telling me, you know, 'Don't you know you can go to jail for this?' And that's all I was thinking. That's all I had put in my mind: Jail. I don't want to go. So after they was putting all the pressure on me, I went on and said I was there … maybe if I go on and say I was there, maybe all the threats and everything will end."
Asked why she accused Ford and Johnson specifically, she said, "Because, I mean, that's what they wanted to hear, that Ardragus was the one who killed the police officer."
On the basis of Chambers' statements, Jaffe asked that charges be dropped, but the judge refused. Jaffe then secured an agreement from District Attorney David Barber to give Ford immunity if he testified against Johnson, but Ford refused, saying, "Look, Mr. Jaffe, Toforest and I are close, but not that close. I see where they won't charge me if I say he did it. If that were the truth, I would say it in a heartbeat. I would not lie for him and put my family through all these changes, including money to pay you to represent me. But I am not lying for anybody, including the cops."
At Ford's trial, prosecutors brought a surprise witness, Carla Bowen, who said Ford had confessed to her. But a recorded interview revealed that she had denied Ford said anything until police threatened her by saying she could lose custody of her children for not coming forward sooner. Ford's trial ended in a hung jury, 10-2 in favor of acquittal.
Johnson was tried next, with key testimony from Violet Ellison. Ellison was a friend of Hardy's and came forward to police the day after the state announced a $10,000 reward for information in the case. She said she had eavesdropped on a prison phone call, and had heard a man identify himself as "Toforest," then admit he "shot the f——r in the head" because the deputy was "messing in my s—t." The jury did not hear that Ellison's testimony made her eligible for the monetary reward. Johnson's trial also ended in a hung jury, with a 10-2 vote for conviction.
When the men were retried, prosecutors presented two contradictory theories of the crime, arguing separately that each man was the shooter. Johnson was convicted and sentenced to death. Soon after, Ford was retried and acquitted after his defense pointed out the unreliability of Chambers' testimony. The prosecution admitted that Chambers had lied 300 times.
On appeal, Johnson challenged his conviction on the grounds that the prosecution presented differing theories of the crime, but the Alabama Criminal Court of Appeals, examining only the trial record from Johnson's trial, unanimously denied the appeal, writing, "There is no evidence in the record before this Court that the prosecutor argued a different theory of the murder at Ford's trial. In fact, the record in Johnson's case does not even reveal that Ford was ever tried for the murder of Deputy Hardy, much less that the prosecutor tried Ford on the theory that Ford was the triggerman."
Sources
Radley Balko, An illu­sion of jus­tice, The Washington Post, September 5, 2019; Eddie Burkhalter, Family of Alabama death row inmate hopes for new tri­al, Alabama Political Reporter, December 18, 2019; Lauren Gill, An Alabama Man on Death Row Says He is Innocent. Will He Get a New Trial?, The Appeal, August 22, 2019.
Innocence
Sep 20, 2023
Glynn Simmons Exonerated
48

Years After He Was Sentenced to Death in Oklahoma
Arbitrariness
Sep 13, 2023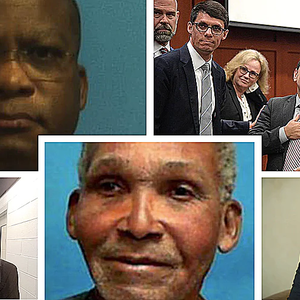 When Jurors Do Not Agree, Should a Death Sentence Be Imposed?