By SYDNEY P. FREEDBERG
© St. Petersburg Times
July 4, 1999
'We'd rather have died than to stay in that place for something we didn't do'
'I had nothing … The world I left no longer existed'
'Yes, I'm angry… . Yes, I'm bitter. I'm frustrated'
'The stigma is always there'
The 13 other survivors and their stories
Twenty-six years after Dave Roby Keaton escaped death, he is still trying to rebuild a life.
In his hometown of Quincy in the Florida Panhandle, Keaton, 47, earns $6.95 an hour as a tree trimmer, feeding oak and sweet gum branches into a wood chipper. He never misses a day.
But he has trouble choosing from a restaurant menu. He can't utter the name of his grandmother, who died while he was on death row, without tears. He drinks too much gin when he is tense. And when he passes the town theater, he flashes back to Jan. 10, 1971, the night police hauled him in for questioning shortly after he had returned home from a movie.
An off-duty deputy sheriff named Khomas Revels had been shot to death during a convenience store robbery. Witnesses saw no more than four black men, but authorities arrested five, including Keaton, 18.
So began the case Florida newspapers called the "Quincy Five."
Using threats and lies, sheriff's deputies coerced confessions out of Keaton after three days of relentless interrogation. The details of those confessions differed sharply from the state's evidence — including the number of participants, the weapons used and the parking place of the getaway car. But an all-white jury convicted Keaton and Johnny Frederick. Frederick got life, and Keaton was sentenced to death. A third defendant was acquitted, and charges against the other two were dropped.
In his death row cell, Keaton prayed for sunshine during yard time and dreamed about his grandmother. He read books about Jewish mysticism, wrote poems for his mother and slept "as much as I could." The cell was so narrow that the 6-foot-2 Keaton could walk up the wall by stretching his arms and legs to both sides of the cell.
Meanwhile, the case against him quickly unraveled. Newspapers disclosed that the polygraph operator who extracted the confessions had a history of obtaining false confessions from frightened suspects without lawyers.
Four months after his conviction, a grand jury indicted three more men for the same murder, based on fingerprints at the scene after a tip from an informant. All three were eventually convicted.
Evidence in those cases prompted the courts to order a new trial for Keaton and Frederick, and in July 1973 the state decided not to try them again, claiming witnesses were too ill.
Keaton was serving time for an unrelated robbery case and had six years to go. He was not released until 1979.
He got a job cleaning cars, then a better one cleaning offices. But at times, Keaton preferred locking himself in his apartment. "People would say, 'What are you doing, Dave? You're free.' "
By 1983, he says, he was bouncing from woman to woman, losing weight and bingeing on crack cocaine. When he woke up in a panic one night, thinking he was going to die, he backed away from the drugs. But the restlessness continued. "The stigma is always there," he says.
For five years, Keaton has spent his workdays turning trees into mulch — "a tedious little job where you don't have to think too much."
He doesn't talk about death row, not even with his family. Listening in on parts of the interview recently, Rutha Mae Keaton heard details about her son's prison ordeal for the first time.
Last year, he moved into a four-room house his mother built. Supportive relatives visit him, but Keaton says he's basically alone with his dog, Waleza, a mix of Rottweiler and pit bullterrier. He enjoys meditating in the piney woods nearby.
Keaton says the rent gets paid and the laundry done, but since death row, he doesn't stop thinking about what he wants most — a woman and a challenging job. He gets mad at himself for not getting into the Christmas spirit or buying presents for his family.
"Prison changed me," he says. "You build a wall to keep from being hurt, and it's hard to break down… . Sometimes I feel like an outcast, like prison turned me into an island."
Jan 04, 2023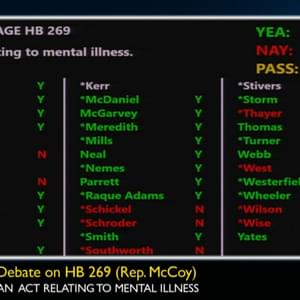 2022

Legislation Activity