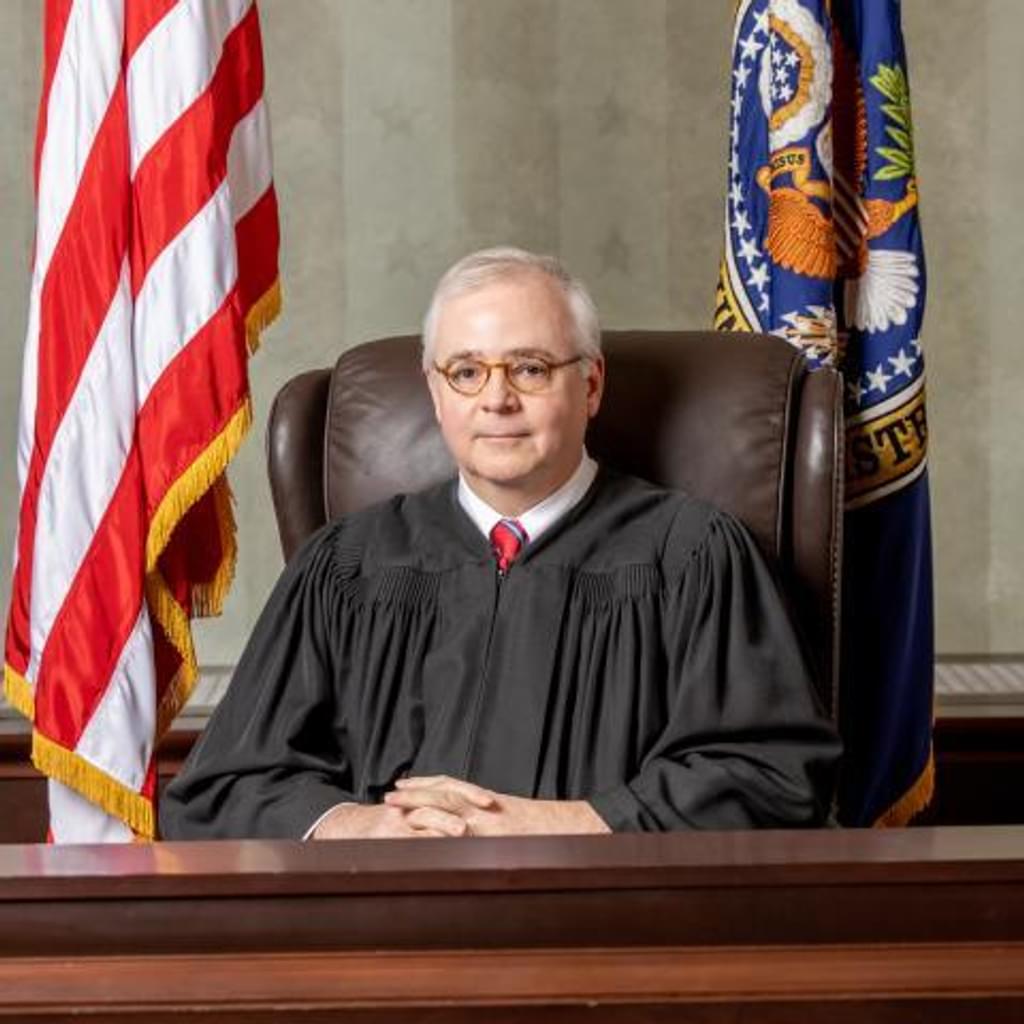 A federal district court issued an order on September 19, 2022 to halt the scheduled September 22, 2022 execution of Alabama death-row prisoner Alan Miller "by any method other than nitrogen hypoxia," leading to a series of last-minute appeals by Alabama prosecutors and an after-hours execution-night ruling by the U.S. Supreme Court to let the execution go forward. Alabama subsequently called off the execution when it became apparent more than two hours later that execution personnel would be unable to successfully set an IV line before the midnight expiration of Miller's death warrant.
In a 61-page ruling Judge R. Austin Huffaker, Jr. of the U.S. District Court for the Middle District of Alabama (pictured), granted Miller's request for a preliminary injunction barring the state from executing him "by any method other than nitrogen hypoxia." Because the Alabama Department of Corrections (ADOC) told the court on September 15 that it is not prepared to carry out an execution by nitrogen hypoxia, the order effectively amounted to a stay of Miller's execution.
The Alabama Attorney General's office appealed Judge Huffaker's order to the U.S. Court of Appeals for the Eleventh Circuit on September 20, which ruled against state prosecutors. A 5-4 majority of the U.S. Supreme Court subsequently vacated the injunction.
When Alabama authorized nitrogen hypoxia as a method of execution, it gave prisoners a 30-day window in which to designate it, rather than lethal injection, as their method of execution. Miller says he did so, and even requested a copy of the form, but the state says it has no record of him submitting the form. State prosecutors then began seeking death warrants against prisoners who had not designated nitrogen hypoxia, scheduling them to be executed by lethal injection. It did not seek warrants against anyone who designated nitrogen hypoxia and withdrew a request for an execution date for death-row prisoner Jarrod Taylor after he produced evidence that ADOC has lost his designation form.
"Miller has presented consistent, credible, and uncontroverted direct evidence that he submitted an election form in the manner he says was announced to him by the [ADOC]," Judge Huffaker wrote, along with "circumstantial evidence" that ADOC lost or misplaced his form.
Miller was not seeking to declare Alabama's method of execution unconstitutional. Rather, he iasked the court to prohibit Alabama from executing him in violation of its own law by denying his statutory right to designate a method of execution authorized by the state. "Miller will likely suffer irreparable injury if an injunction does not issue because he will be deprived of the ability to die by the method he chose and instead will be forced to die by a method he sought to avoid and which he asserts will be painful," Judge Huffaker wrote. The injury will be, "the loss of his 'final dignity'—to choose how he will die."
ADOC and state prosecutors have appealed the injunction to the U.S. Court of Appeals for the Eleventh Circuit, which ordered Miller's lawyers to file his response by 9:00 a.m. September 22, the morning of the scheduled execution. Prosecutors then had until 1:00 p.m. on the 22nd to file their reply. The circuit court reached its decision upholding the injunction mid-afternoon of the 22nd. When prosecutors sought review in the U.S. Supreme Court, it virtually assured that the scheduled execution would be delayed.
Alabama's execution personnel had already botched two recent executions, failing to set an execution line for more than two hours in each case. On February 22, 2018, the execution team unsuccessfully attempted more than 10 times to insert intravenous execution needles into Doyle Lee Hamm's feet, legs, and right groin, causing bleeding in his groin, and likely puncturing his bladder, causing blood in his urine. As the midnight deadline to put Hamm to death approached, ADOC Commissioner Jeffrey Dunn called off the execution and held a news conference in which he said, "I wouldn't characterize what we had tonight as a problem." Dunn repeatedly asserted that the state had followed its execution protocol.
One month later, in response to a motion filed in a civil rights lawsuit by Doyle Hamm's lawyer, the Alabama Attorney General blamed the U.S. Supreme Court for the state's failure to execute Hamm. Prosecutors wrote: "because the Supreme Court prevented Defendants [ADOC] from beginning preparations until a mere three hours before the execution warrant was set to expire, time ran out for Defendants and necessitated aborting the execution."
On July 28, 2022, in the longest recorded botched lethal injection in U.S. history, ADOC personnel took an estimated three hours to execute Joe Nathan James, Jr. ADOC has refused to provide details of what occurred during the three hours before media were permitted into the witness room and the curtains in the execution chamber were opened, but asserted that "ADOC's execution team strictly followed the established protocol." ADOC issued a statement saying "The protocol states that if the veins are such that intravenous access cannot be provided, the team will perform a central line procedure. Fortunately, this was not necessary and with adequate time, intravenous access was established."
A privately funded autopsy subsequently revealed that the execution team had failed multiple times to set an intravenous execution line. James suffered seven puncture wounds and unexplained incisions in the vicinity of his veins that appeared to be related to efforts to set the execution line. He also had puncture wounds in his arm muscles that appeared to be unrelated to insert the IV, which the doctors at the autopsy believed were attempts to sedate James. James also experienced bleeding and bruising around his wrists where he was strapped to the gurney. Dr. Zivot, who participated in the autopsy, said it also revealed "evidence of pulmonary edema fluid [fluid in the lungs] indicating that [James] had experienced the traumatic sensation of suffocation."
Based on Alabama's conduct in executing James, Dr. Zivot, and two legal experts, Jon Yorke, Professor of Human Rights and the Director of the Centre for Human Rights at the Birmingham City University School of Law, and Deborah Denno, law professor and the Director of the Neuroscience and Law Center at Fordham University Law School, filed a human rights complaint with the United Nations on September 12, 2022 on Miller's behalf. The complaint, submitted to U.N. Special Rapporteur on Torture and Other Cruel, Inhuman or Degrading Treatment or Punishment, Dr. Alice Jill Edwards, and UN Special Rapporteur on Extrajudicial, Summary or Arbitrary Executions, Morris Tidball-Binz, argued that "there is an intolerable risk that Mr. Alan Eugene Miller will receive torture and an inhuman form of punishment during his execution scheduled for 22 September 2022."
The complaint called for U.N. intervention with the State of Alabama and the U.S. Secretary of State, saying "[i]t would be appropriate under international human rights law for the execution of Mr. Alan Eugene Miller to be suspended until Alabama is able to adequately review its execution protocol."
Sources
Alabama asks appeals court to let exe­cu­tion go for­ward, Associated Press, September 20, 2022; Kim Chandler, Judge blocks upcom­ing lethal injec­tion in Alabama, Associated Press, September 20, 2022; Ivana Hrynkiw, Alabama inmate Alan Eugene Miller grant­ed stay of exe­cu­tion, AL​.com, September 19, 2022; Federal Court Stays Alan Miller Execution, Equal Justice Initiative, September 20, 2022; Evan Mealins, Judge calls off exe­cu­tion of Alan Miller ​'by any method oth­er than nitro­gen hypox­ia', Montgomery Advertiser, September 19, 2022.
Juveniles
Jun 06, 2023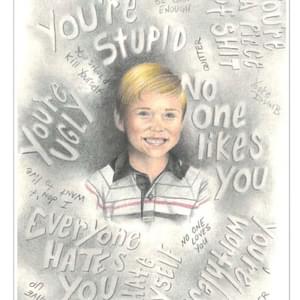 Jurors Who Sentenced Michael Tisius to Death Express Regret
International
Jun 01, 2023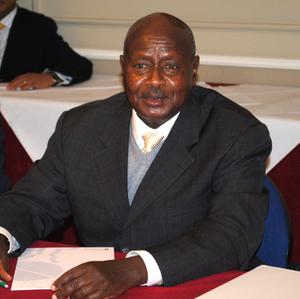 Uganda's Controversial ​
"

Anti-Homosexuality Act" Includes Possibility of Death Sentence