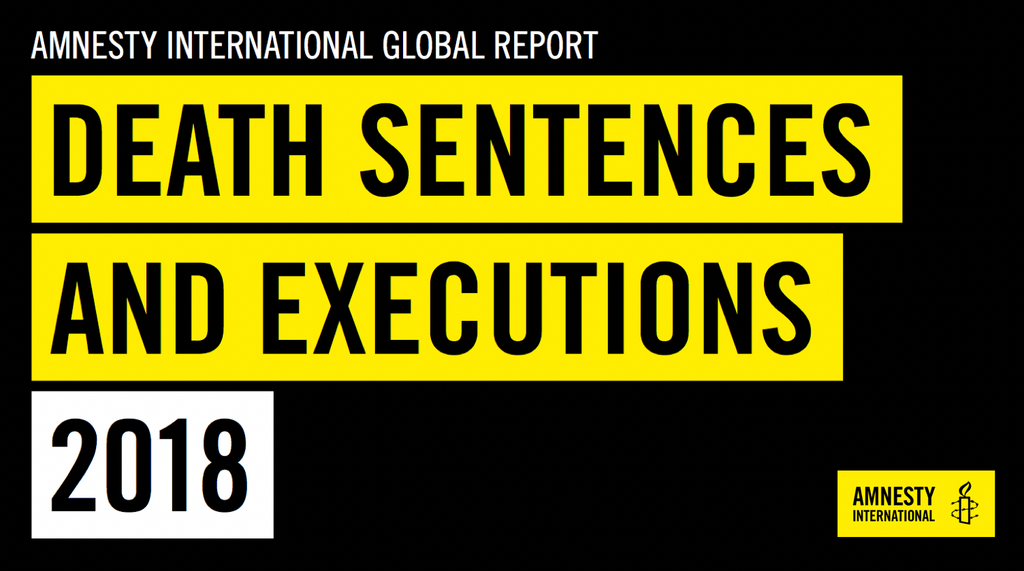 Executions worldwide have fallen to their lowest levels in a decade, according to a new report released April 9, 2019 by Amnesty International.
In its annual Global Report: Death Sentences and Executions 2018, the human rights organization says it recorded at least 690 executions in 20 countries in 2018, a 31% decline from the 993 executions it recorded in 23 nations in 2017 and 58% below the 1,634 reported executions in 2015. Five countries accounted for 84% of all recorded executions—Iran (253), Saudi Arabia (148), Vietnam (85), Iraq (52) and Egypt (43). Nonetheless, executions in Iran fell by half in 2018, as the country revised its death-penalty law to bar capital punishment for some drug offenses. Data was unavailable for executions in China—where Amnesty says thousands of undocumented executions likely took place—and North Korea, two countries in which information on death sentences and executions is considered a state secret. The 25 executions in the U.S. were the seventh most of any nation.
Amnesty International's Secretary General Kumi Naidoo called the global decline in executions "dramatic" and said it "proves that even the most unlikely countries are starting to change their ways and realize the death penalty is not the answer." Although Thailand carried out its first execution in nearly a decade and Japan, Singapore, and South Sudan reported their highest execution levels in years, Naidoo said these "regressive steps" were countered by the significant reduction in executions "carried out by several of the worst perpetrators."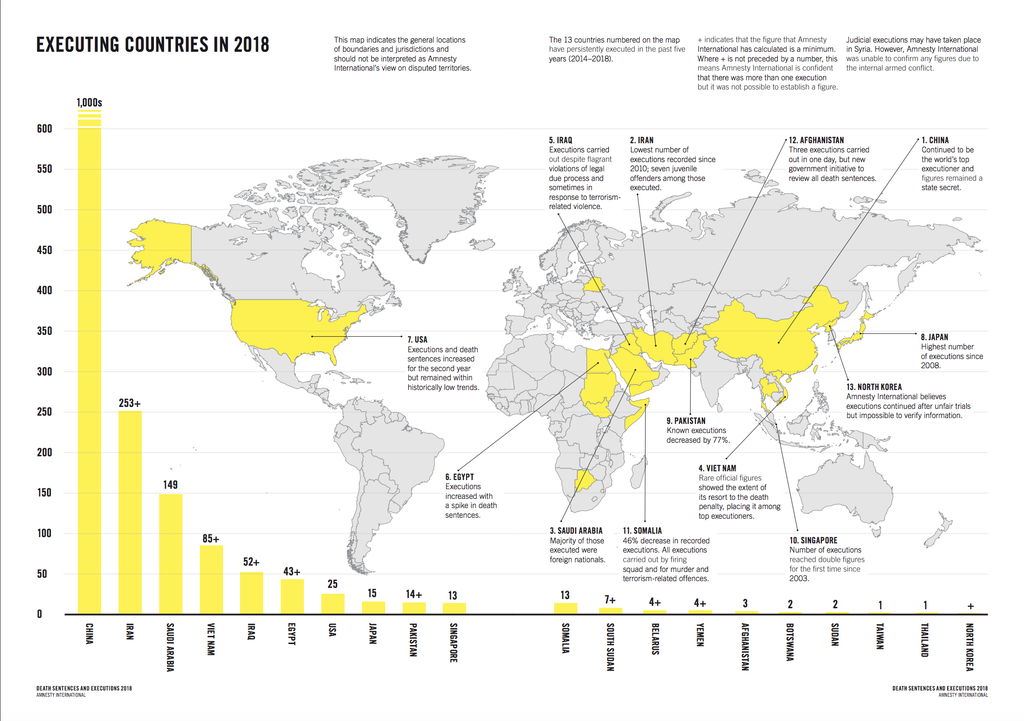 The report found that global death-sentencing levels in 2018 were similar to those in 2017. Amnesty recorded at least 2,531 death sentences in 54 countries last year, down 2% from the 2,591 reported in 2017. However, death sentences were down 19% from the reported 3,117 death sentences imposed in 55 countries in 2016. The U.S. ranked 12th in death sentences known to have been imposed. Amnesty reported that at least 19,336 people were known to be on death rows around the world at the end of 2018, a 12% decline from the 21,919 people known to be on death row globally at the end of 2017. Only two nations in the Western hemisphere—the United States and Guyana—imposed any death sentences in 2018, the fewest to do so since Amnesty began tracking global death sentences in 1979. For the tenth consecutive year, the U.S. was the only country in the Americas to carry out any executions.
Amnesty characterized the global death penalty as "firmly in decline," pointing to Burkina Faso's abolition of the death penalty for ordinary crimes, moratoria on executions declared in the Gambia and in Malaysia, and the Washington state supreme court's declaration that the death penalty in that state was unconstitutional. At the end of 2018, Amnesty said, 106 countries had abolished the death penalty in law for all crimes and 142 had abolished it in law or practice. In December, a United Nations General Assembly resolution calling for a global moratorium on the death penalty received the support of a record 121 countries, while only 35 nations opposed the resolution. "Slowly but steadily, global consensus is building towards ending the use of the death penalty," Naidoo said, "but with more than 19,000 people still languishing on death row worldwide, the struggle is far from over."
Sources
Amnesty International, Global Report: Death Sentences and Executions 2018, April 9, 2019; Amnesty International, Death penal­ty 2018: Dramatic fall in glob­al exe­cu­tions, April 9, 2019; Amnesty International, The Death Penalty in 2018: Facts and Figures, April 9, 2019; Global exe­cu­tions fall to low­est lev­el in a decade, Amnesty says, BBC News, April 10, 2019; Niall McCarthy, Amnesty International Reports 31% Fall In Global Executions In 2018, Forbes, April 10, 2019.
See International.
Juveniles
Jun 06, 2023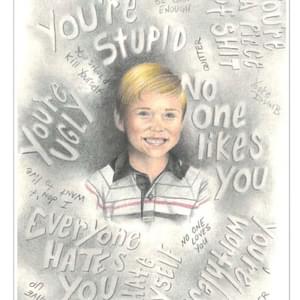 Jurors Who Sentenced Michael Tisius to Death Express Regret
International
Jun 01, 2023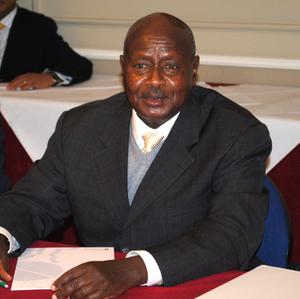 Uganda's Controversial ​
"

Anti-Homosexuality Act" Includes Possibility of Death Sentence