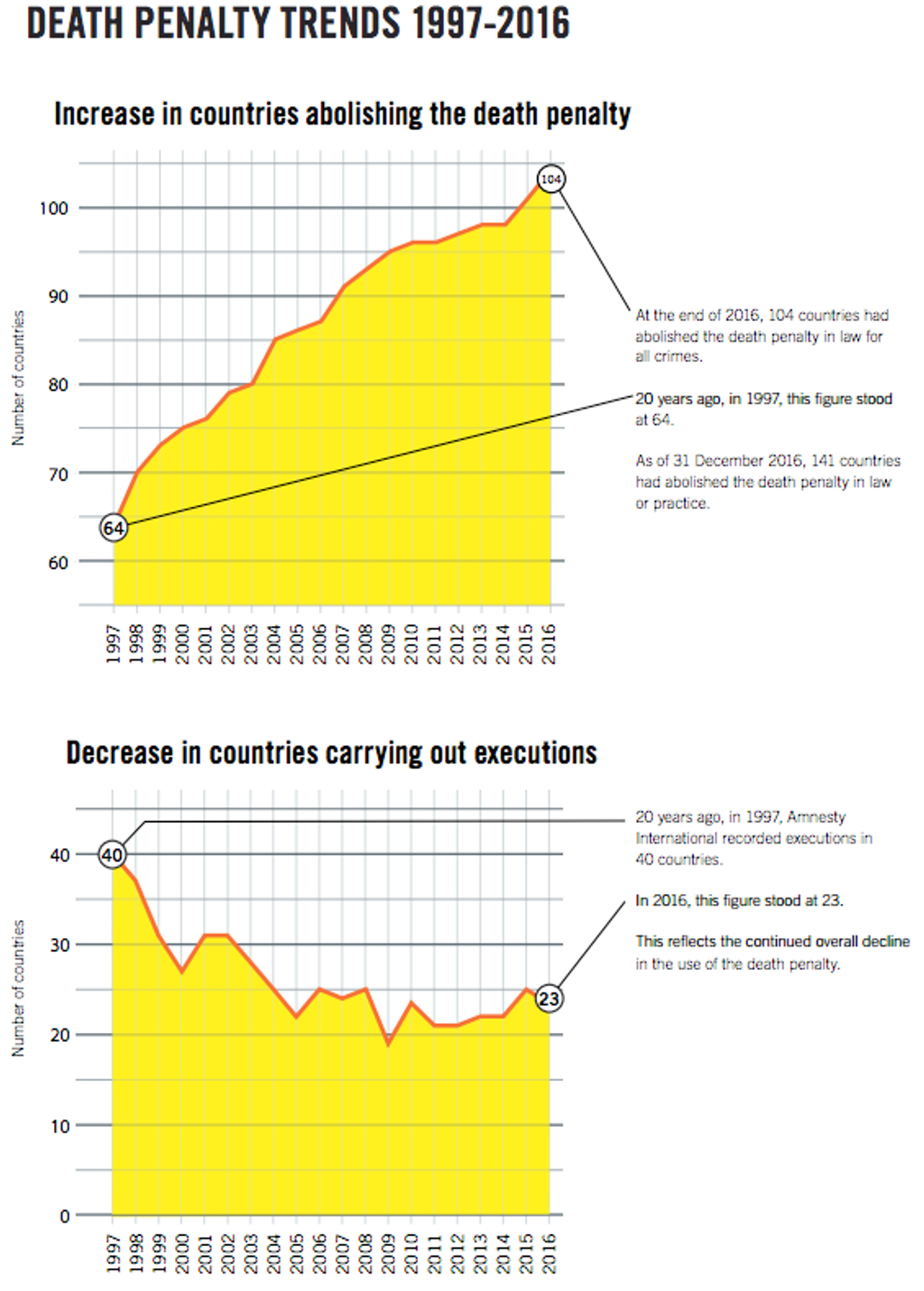 Executions worldwide fell by 37% in 2016, according to the annual Amnesty International Global Report on Death Sentences and Executions, released on April 11, 2017.
With 20 executions in 2016, the United States ranked seventh in the world among confirmed executions, the lowest it has ranked since at least 2005. For the 8th consecutive year, the U.S. was the only country in the Americas to conduct any executions, and the only Western democracy in the world to do so.
Amnesty International confirmed that at least 1,032 people were executed worldwide in 2016, not including the estimated thousands executed in China, which classifies information on the death penalty as a state secret. Vietnamese media uncovered secret executions in that country, revealing that Vietnam had carried out 429 executions since August 2013, making it the world's third biggest executioner in that period, following China and Iran.
The report found that 23 countries carried out executions in 2016, with 87% of the known executions occurring in just four countries (Iran, Saudi Arabia, Iraq, and Pakistan). Iran's 567 executions accounted for 55% of all documented executions worldwide.
Death sentencing trends were mixed worldwide, with improved data collection documenting 3,117 death sentences in 2016—a record number for a single year—but those death sentences were concentrated in a smaller number of countries (55).
Benin and Nauru abolished the death penalty for all crimes—bringing to 104 the number of countries to have done so—and Guinea abolished it for ordinary crimes. 141 countries worldwide, more than two-thirds, have now either abolished the death penalty in law or not executed anyone in more than a decade.
Salil Shetty, secretary-general of Amnesty International, summarized the international trends in the death penalty, saying, "Just a handful of countries are still executing people on a large scale. The majority of states no longer condone the state taking human life. With just four countries responsible for 87 percent of all recorded executions — the death penalty is itself living on borrowed time." (Click here to enlarge graphic.)
Despite purported moves toward transparency, including a new online court database, China continued to tightly restrict information on executions. Of the 931 Chinese executions for which Amnesty International found news reports from 2014-2016, just 85 were included in the new database.
International
Sep 01, 2023
New
DPIC

Podcast: Dr. Roya Boroumand dis­cuss­es cap­i­tal pun­ish­ment in Iran