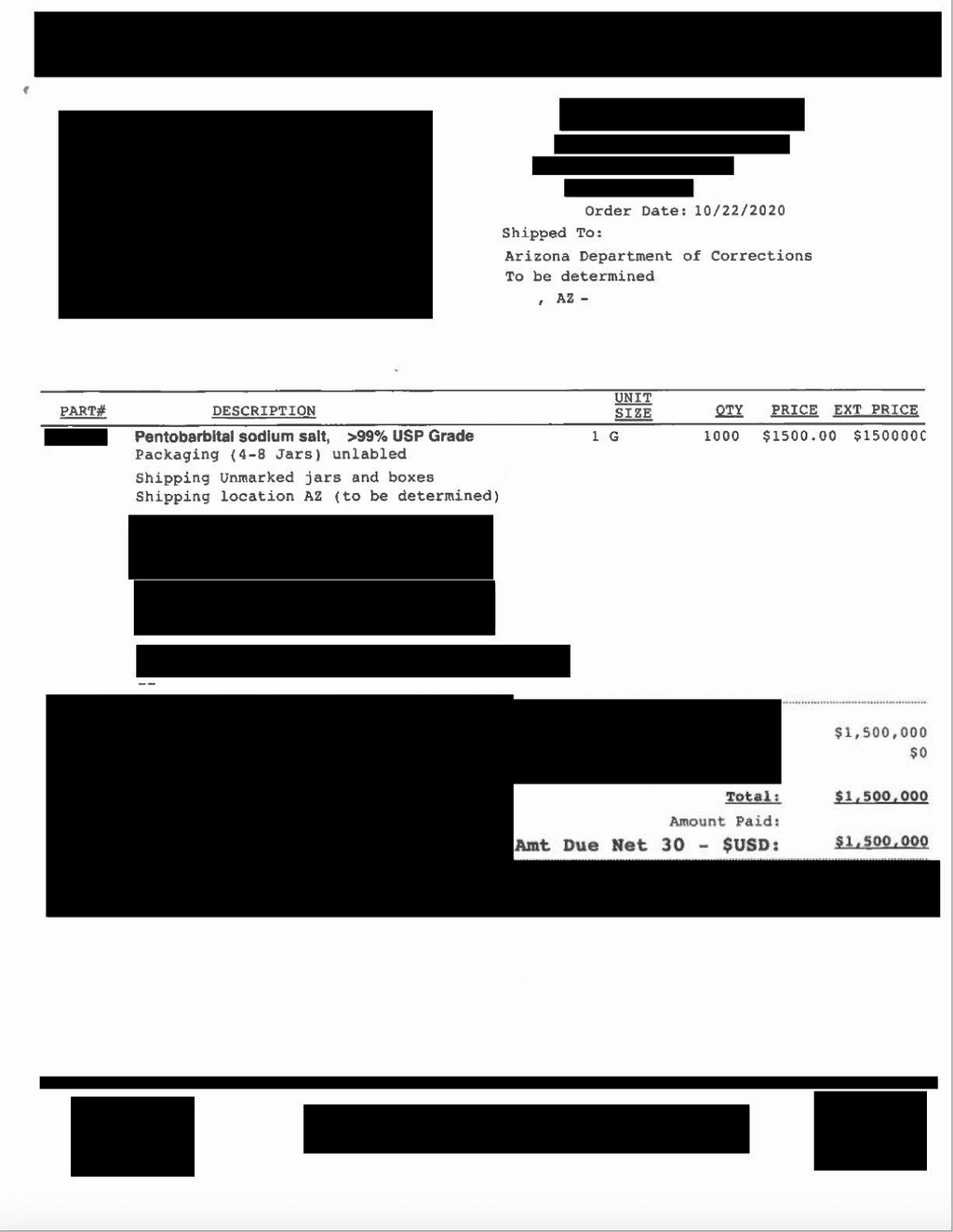 At a time in which the Arizona Department of Corrections is facing criticism for crumbling infrastructure, substandard medical care, and understaffing, the department has spent $1.5 million to purchase the lethal-injection drug pentobarbital from an undisclosed source. The exorbitant price, experts say, is a function of the questionable use of the drug for non-medical purposes and the secretive nature of the transaction.
Records obtained by The Guardian show that, in October 2020, Arizona ordered 1,000 vials of the barbiturate pentobarbital. Each one-gram vial cost the state $1,500, for what the newspaper described as a "jaw-dropping" total of $1.5 million. A heavily redacted invoice (click to enlarge picture) shows that the state ordered 4–8 "unlabeled" jars to be shipped in "Unmarked jars and boxes" to an Arizona location "to be determined." The state's execution protocol calls for five grams of the drug, so the vials would be enough for 200 executions in a state that has 119 people on death row.
Assistant federal defender Dale Baich, whose office represents numerous Arizona death-row prisoners, issued a statement April 9 saying: "We are shocked to learn of the steps Arizona has taken to hide the facts related to its effort to carry out executions. Taxpayer money should not be spent in this manner without complete transparency — certainly not with unmarked boxes and 'heavily redacted document[s]' … and not with the shroud of secrecy in which Arizona has cloaked its execution processes."
"For the State to spend $1.5 million on execution drugs is even more disturbing given recent reports about the budget crisis at the Department of Corrections," Baich said. "Surely there is a better use for this money than carrying out executions."
Prashant Yadav, a lecturer at Harvard medical school, said that states have paid as much as a 1,000% markup on execution drugs, compared to the usual market price of the drugs. "These drugs are being traded in a zone of unclear regulatory apparatus, and so they typically charge a higher price," he said.
Deborah Denno, a professor at Fordham Law School, summarized the situation, saying, "States have switched from one drug to another, crossed state lines to get drugs, paid cash and failed to record the payments to keep the purchases secret. All of those actions are violations of state or federal laws, and all of them have ended up jacking up the price of the drugs." Robert Dunham, executive director of the Death Penalty Information Center, said, "Any time a government retreats into secrecy you know there's a problem. If you don't have accountability then it opens the door to favoritism, to graft and to dealing with a lot of shady characters who don't have the public's interest in mind."
The purchase comes as Arizona officials seek to restart executions after a nearly seven-year hiatus following the botched lethal-injection execution of Joseph Wood. Although the coronavirus remains uncontrolled in the Arizona prisons, state Attorney General Mark Brnovich has vowed to "do everything I can" to ensure that the 21 Arizona death-row prisoners who have exhausted their state and federal post-conviction appeals are executed "before I leave office" in January 2023. In an April 12 editorial, the Los Angeles Times criticized Brnovich for attempting to set execution dates "dictated by the interests of politics, not the interests of justice."
This is the third time Arizona's process for obtaining lethal-injection drugs has come under scrutiny. The state twice before attempted to illegally import execution drugs from overseas suppliers with murky backgrounds.
The Guardian's investigation also revealed large secretive expenditures for execution drugs by Tennessee and Missouri. Between 2017 and 2020, the paper reports, Tennessee spent $190,000 for the three drugs it used in executions. Two people were executed by lethal injection during that period, for a $95,000 cost per execution. (An additional five people were executed by electrocution in Tennessee from 2017 to 2020.) Missouri spent more than $160,000 on lethal-injection drugs from 2015 to 2020, and executed ten people in that period, for an average cost of $16,000 per execution for the drugs alone.
As chronicled in DPIC's November 2018 report, Behind the Curtain: Secrecy and the Death Penalty in the United States, both Missouri and Arizona have engaged in illegal activity to obtain execution drugs in the past. In 2010, Arizona purchased sodium thiopental, an anesthetic, from Dream Pharma, a pharmaceutical distributor based in the back of a London driving school. In 2011, prior to the state's scheduled execution of Donald Beatty, the Department of Justice told Arizona not to use the drug because it had been imported illegally. In 2015, Arizona and Texas both attempted to purchase sodium thiopental from Harris Pharma, an Indian pharmaceutical supplier with a troubling history that included lying to a drug manufacturer about the intended purpose of a drug it later sold to Nebraska for use in executions. The U.S. Food and Drug Administration (FDA) halted the shipments to Arizona and Texas, and the drugs expired while the states were still suing to obtain them from the FDA.
Missouri obtained lethal-injection drugs illegally from an Oklahoma pharmacy, The Apothecary Shoppe, that was not licensed to practice in the state. To hide the state's business with the pharmacy, a Missouri corrections official traveled to Oklahoma at night with an envelope containing $11,000 in cash to purchase the drugs. Later investigations by BuzzFeed News found that The Apothecary Shoppe had admitted to nearly 1,900 violations of state pharmacy regulations. Another pharmacy Missouri used to supply execution drugs had been deemed "high risk" by the FDA because of numerous safety violations.
States have engaged in these illegal practices because major pharmaceutical manufacturers have refused to provide their products for use in executions, saying that their mission is to save and improve lives, not end them.
Hannah Cox, national manager of Conservatives Concerned About the Death Penalty, said that the spending of large sums of taxpayer money on executions by Arizona, Missouri, and Tennessee violates conservative principles. "You can't run around and say you are a fiscal conservative Republican, or that you are pro-limited government and for the free market, and then behave like this," Cox said. "It's completely contradictory to every conservative value."
Sources
Ed Pilkington, Revealed: Republican-led states secret­ly spend­ing huge sums on exe­cu­tion drugs, The Guardian, April 9, 2021; Editorial, Arizona's attor­ney gen­er­al wants to fin­ish his term with a rush of exe­cu­tions, Los Angeles Times, April 12, 2021; Molly Gill, Arizona pris­ons are squalid and unsafe. They need inde­pen­dent over­sight, Arizona Republic, February 9, 2021.
Read the state­ment from coun­sel for Arizona death-row pris­on­ers.
Arbitrariness
Mar 24, 2023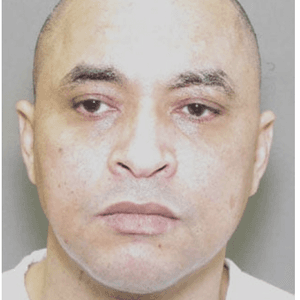 REPRESENTATION

: Why Poor People in Texas End Up on Death Row and Face Execution
Sentencing Alternatives
Mar 21, 2023
California to Close San Quentin's Death Row as Part of a Broader Prison Reform