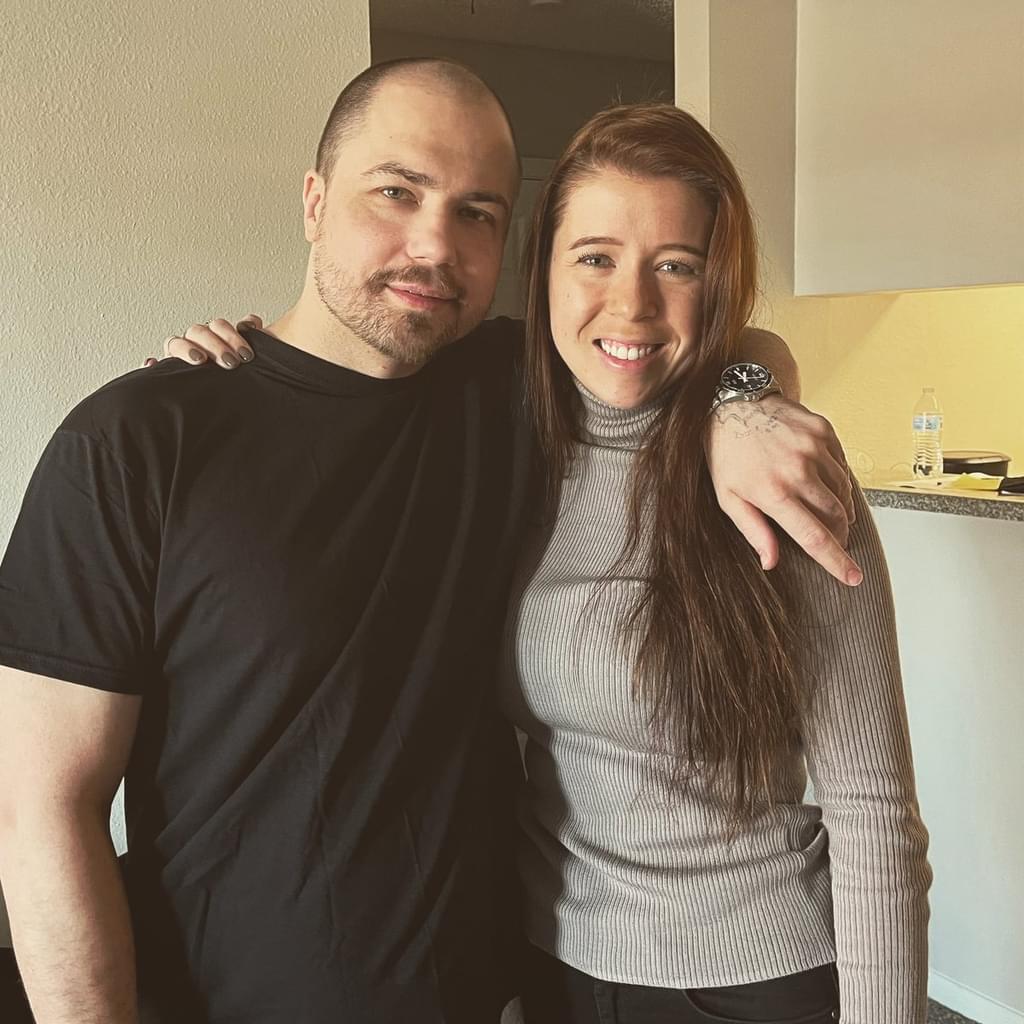 Former Texas death-row prisoner Clinton Young has been released from custody nearly twenty years after being sentenced to death for a double murder he has consistently said he did not commit.
Young, pictured with Clinton Young Foundation Legal Director Merel Pontier after his release, walked out of the Midland County Detention Center January 21, 2022, after the foundation posted bond to secure his freedom while prosecutors from neighboring Dawson County decide whether to retry Young on the charges. The foundation crowdfunded contributions to cover 15% of the $150,000 cash bail to gain Young's release.
The Texas Court of Criminal Appeals (TCCA) granted Young a new trial in September 2021 following revelations that his prosecutor from the Midland County District Attorney's office had also secretly served as a paid clerk to county judges who presided over Young's trial and post-conviction appeals.
In a video posted on the foundation's Facebook page, Young removed his left sneaker and sock and stepped off the pavement onto a lawn, saying "It's not a win until my feet touch grass."
"I was on death row for over 20 years for a crime that I didn't commit," Young told Midland television station KMID in a telephone interview. "I had no physical contact with my friends or family. I was in solitary confinement for over 20 years … facing death. … Yesterday was the first time I hugged my baby sister in a long time," Young said.
"Just being able to touch grass and to look at the sun without looking through prison bars, I mean, man, it's a blessing. It's overwhelming," Young told reporter Rob Tooke. "[I]t's kind of hard to find the right words," Young said. "I am still processing everything."

Evidence of Innocence and Prosecutorial and Judicial Misconduct
Young was convicted of kidnapping and double murder and sentenced to death in a 2003 trial before Midland County Judge John G. Hyde. His conviction rested on the testimony of David Page, an admitted participant in the killings, who provided testimony implicating Young. The trial and state-court appeals took place within a 19-year period between 2000 and 2019 in which a member of Young's prosecution team, Assistant District Attorney Ralph Petty, served simultaneously as a full-time prosecutor and as a part-time law clerk to Midland County's judges. Neither Petty, the DA's office, nor any of the county judges disclosed the arrangement to the defense.
Petty acted in this dual role throughout both Young's trial and his trial-court appeals. During this time, he advocated against Young's challenges to his conviction and sentence in the courtroom while acting behind the scenes as a law clerk advising the court on the resolution of those challenges. Court records show that while Young's state post-conviction challenge was pending before Hyde, "Petty authored the State's pleadings opposing Young's application and appeared, in-person, as the prosecutor at the 2006 evidentiary hearing."
Four years later, after the Texas Court of Criminal Appeals had authorized Young to pursue a second habeas petition, Petty again served both as prosecutor and law clerk in the trial court. This time, Young's case was before Judge Robert Moore, who held evidentiary hearings in January and July 2010. Petty represented the state in those hearings, and in his role as prosecutor, Petty submitted a "suggested order" that sought to dismiss the claims the appeals court had authorized Young to pursue. Judge Moore, who was paying Petty for his work as a judicial clerk, adopted the suggested order verbatim.
After the federal courts denied Young's federal habeas corpus petition, Petty filed a motion before Judge Moore seeking a warrant for Young's execution. Judge Moore issued the warrant and set an execution date of October 26, 2017. Young moved to withdraw the warrant based upon allegations that prosecutors had obtained his conviction and death sentence with false or perjured testimony. He argued that gunshot residue on the gloves of David Page and affidavits from four prisoners that Page had bragged about committing the killing and framing Young would show that Page was the actual killer.
Judge Moore set a hearing date on Young's allegations but, without notifying the defense, Petty then filed motions with Moore to grant use-immunity to Page and to appoint Petty to represent Page at the hearing. Young was able to halt the hearing, but not before Midland prosecutors had obtained a bench warrant and moved Page to the county jail. Documents filed with the court showed that Midland District Attorney Laura Nodolf then secretly interviewed Page, who admitted that he, not Young, had kidnapped one of the victims at gunpoint; that he had testified falsely when he said that Young had suggested slitting the victim's throat; and that he testified falsely when he denied having bought the gloves, on which the residue was later found, hours before the victim was shot.
While Petty successfully argued in the trial court against lifting the death warrant, Midland prosecutors withheld that exculpatory evidence.
Young came within eight days of being executed. However, on October 18, 2017, the TCCA issued an order staying his execution and directing the trial court to conduct an evidentiary hearing on his false or perjured testimony claim.
Following Petty's retirement, a new prosecutor was assigned to the case, and in August 2019, Young's attorney received a phone call from the Midland District Attorney's office alerting the defense for the first time to Petty's dual role in the case and the judicial conflicts of interest. The Midland DA's office then moved to withdraw from the case, calling the court's arrangement with Petty a "direct violation" of ethical rules. The TCCA granted the motion and appointed Dawson County District Attorney Philip Mack Furlow to represent the state in the case.
On April 26, 2021, Senior Judge Sid Harle issued a recommendation that the TCCA reverse Young's conviction, citing "brazen" and "shocking prosecutorial misconduct" that, he said, "destroyed any semblance of a fair trial." On September 22, 2021, the TCCA granted Young's petition for a new trial. In a unanimous decision, the court wrote: "Judicial and prosecutorial misconduct—in the form of an undisclosed employment relationship between the trial judge and the prosecutor appearing before him—tainted Applicant's entire proceeding from the outset …. The evidence presented in this case supports only one legal conclusion: that Applicant was deprived of his due process rights to a fair trial and an impartial judge."
The TCCA returned the case to the trial court for the Dawson County District Attorney to determine whether to attempt to retry Young or dismiss the charges against him. The trial court set bail at $150,000, setting the stage for Young's release.
Dawson County prosecutors declined to comment on the case.
A USA Today investigation in February 2021 found that Petty had prosecuted at least 355 cases while simultaneously performing legal work for the judges trying the cases. Seventy-three of the defendants in those cases were still in prison, with 21 serving sentences of 50 years or more. Court documents showed that Petty had received at least $132,900 in payments from Midland County as a law clerk to multiple district judges on cases he also was involved in prosecuting. Facing disciplinary action, Petty surrendered his law license and was formally disbarred in April 2021.
Sources
Rob Tooke, Former death row inmate Clinton Young talks about first moments out on bond, KMID-TV, Midland, Texas, January 22, 2022; Taiyler Simone Mitchell, Former death row inmate released on $150,000 bond fol­low­ing crowd­fund­ing efforts: ​'It's not a win until my feet touch grass', Insider, January 21, 2022; Mercedes Cordero, Former death row inmate Clinton Young released on bond, Midland Reporter-Telegram, January 21, 2022.
Photographs cour­tesy of the Clinton Young Foundation.
Innocence
Mar 31, 2023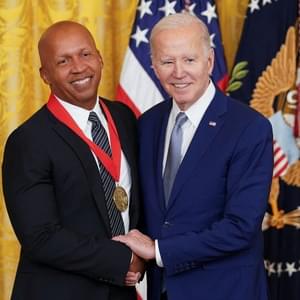 Bryan Stevenson Honored with the National Humanities Medal