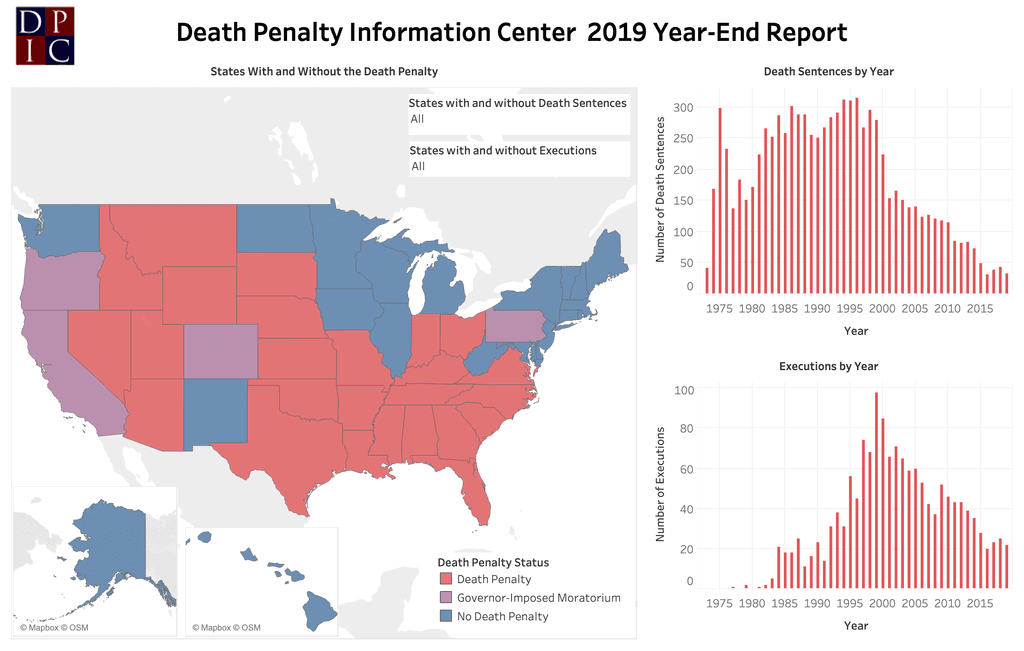 The death penalty has now disappeared from whole regions of the country and continues to erode in others, according to the Death Penalty Information Center's 2019 Year End Report. With New Hampshire's repeal of its capital punishment statute in May, 21 states have now abolished the death penalty, with nine having done so since 2004. In March, California Governor Gavin Newsom imposed a moratorium on executions on the nation's largest death row, joining governors in Oregon, Colorado, and Pennsylvania in formally halting executions in their states. Half of U.S. states have now either abolished the death penalty or halted executions. Executions and new death sentences remained near historic lows for the fifth consecutive year. For the first time since Gallup began asking the question in 1985, a majority of respondents (60%) believe that life in prison without parole is a better approach for punishing murder than the death penalty.
Innocence remained a crucial concern in 2019, as three* people were exonerated from death row. Two of these exonerations occurred more than 40 years after the convictions. "2019 came close to being the year of executing the innocent," said Robert Dunham, DPIC's executive director "Two prisoners were executed this year despite substantial doubts as to their guilt, and James Dailey in Florida and Rodney Reed in Texas came close to execution despite compelling evidence of innocence." Domineque Ray was executed in Alabama after a conviction based solely on the testimony of a witness who was experiencing delusions and hallucinations when he accused Ray. No physical evidence linked Ray to the crime. Larry Swearingen was executed in Texas on the basis of what his attorney called forensic "quackery." Eight forensic experts contradicted trial testimony on the timing of the victim's death, concluding that the victim had been killed while Swearingen was in police custody. "Our courts and public officials too frequently flat out ignore potentially deadly mistakes, and often take steps to obstruct the truth," Dunham said. "That is one of the reasons why public support for the death penalty continues to fall."
The 22 executions this year belied the myth that the death penalty is reserved for the "worst of the worst." At least 19 of the 22 prisoners who were executed this year had one or more of the following impairments: significant evidence of mental illness (9); evidence of brain injury, developmental brain damage, or an IQ in the intellectually disabled range (8); or chronic serious childhood trauma, neglect, and/or abuse (13). Four were under age 21 at the time of their crime, and five presented claims that a co-defendant was the more culpable perpetrator. Every person executed this year had one of the impairments listed above, an innocence claim, and/or demonstrably faulty legal process.
The death penalty became increasingly geographically isolated. With New Hampshire's abolition, no New England state has the death penalty, and the only northeastern state with capital punishment — Pennsylvania — has a moratorium on executions. Indiana had its tenth year without an execution, making it the 32nd state with no death penalty at all or no executions in more than a decade. There were record-low death sentences in the American West. The entire region imposed only four death sentences (three in California and one in Arizona), half of the previous record low of eight. For the fifth straight year, no state west of Texas conducted an execution.
Fewer than one percent of all U.S. counties imposed death sentences, and only two counties — Cuyahoga, Ohio (3) and Riverside, California (2) — imposed more than one. The five death sentences imposed in Cuyahoga County (Cleveland) over the past two years are more than in any other county. The county had imposed just one death sentence in the five years before Michael O'Malley became County Prosecutor in 2017.
DPIC Reports
Dec 16, 2021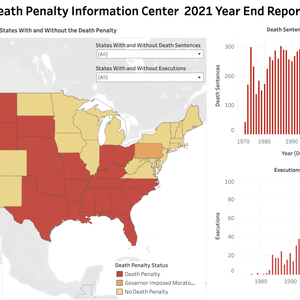 DPIC

2021

Year End Report: Virginia's Historic Abolition Highlights Continuing Decline of Death Penalty