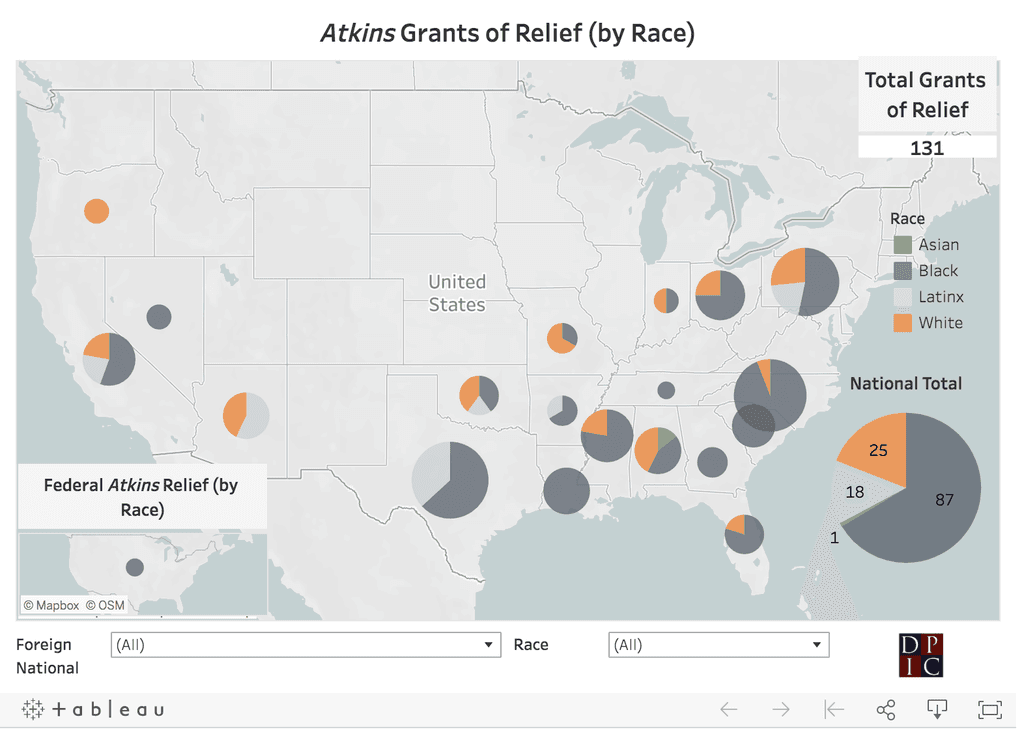 Defendants of color and foreign nationals who are intellectually disabled are disproportionately likely to be sentenced to death, a Death Penalty Information Center analysis of cases involving intellectually disabled defendants suggests.
The review of more than 130 cases involving defendants whose death sentences have been overturned because of the constitutional prohibition against executing persons with intellectual disability found that more than 80% of intellectually disabled defendants sentenced to death are persons of color. Two-thirds of the intellectually disabled defendants sentenced to death are African American (87, or 66.4%); 19.1% (25) are white; 13.7% (18) are Latinx; and one (0.8%) is Asian. Eleven (8.4%) are foreign nationals, representing nearly 5% of all foreign nationals known to have been sentenced to death in the U.S. (Click to enlarge map.)
DPIC Executive Robert Dunham, who conducted the analysis, said "[t]he numbers further confirm what researchers have repeatedly documented in other contexts: that vulnerable defendants who belong to communities that have historically been discriminated against by the criminal legal system face an elevated risk of being wrongfully sentenced to death. The findings are especially significant now, as the federal government and several states are rushing to execute a number of intellectually disabled Black men without affording them meaningful judicial review of legal claims that, if proven, would require their death sentences to be vacated."
On December 11, 2020, the federal government plans to execute Alfred Bourgeois, who medical experts say is intellectually disabled. His intellectual disability claim was denied by a Texas federal court that relied on medically irrelevant factors that the Supreme Court, in another case, declared unconstitutional. Bourgeois filed a petition in the U.S. Supreme Court on December 3 seeking a stay of execution so his claim can be considered based on legally and medically appropriate factors. Corey Johnson, who faces execution by the federal government on January 14, 2021, has also never been afforded a hearing on his intellectual disability claim.
Intellectually disabled death-row prisoners also face imminent execution in several states. Alabama death-row prisoner Willie B. Smith III is scheduled to be executed on February 11, 2021. A federal appeals court agreed that Smith would have been ineligible for execution had Alabama applied a constitutionally valid standard in evaluating his intellectual disability claim. However, the court allowed his death sentence to stand, saying the state court decision that rejected his intellectual disability claim had been decided before the Supreme Court declared their approach to the issue unconstitutional. Whether Smith could be executed, the court ruled, was purely "a matter of timing." On July 2, 2020, the U.S. Supreme Court declined to hear Smith's case.
Pervis Payne is one of 14 Tennessee death-row prisoners with active death sentences who cannot obtain judicial review of their intellectual disability claims because of defects in the state post-conviction review system. Payne, who also has a strong claim of innocence, was scheduled to be executed December 3, but received a reprieve because of coronavirus concerns.
DPIC's review examined demographic data compiled by researchers and capital defense organizations on death-penalty cases involving defendants whose death sentences have been overturned because of intellectual disability. The data, compiled by the Habeas Assistance and Training Project, the Cornell Center on the Death Penalty Worldwide at Cornell Law School, Justice360, and the Death Penalty Information Center through December 1, 2020, identified 131 former death-row prisoners who obtained relief from their death sentences as a result of court decisions, plea agreements, or stipulations by prosecutors that they had intellectual disability. At least seven prisoners with intellectual disability also have been removed from death row and resentenced to life in prison through the commutation process. Five of the men exonerated from death row in the U.S. also have intellectual disability.
More people with intellectual disability have been sentenced to death in Texas than in any other state. The researchers identified 19 prisoners whose death sentences have been overturned because of intellectual disability, many of whom received relief only after the Texas courts reconsidered their cases after the U.S. Supreme Court declared the state's prior method of determining intellectual disability to be unconstitutional. DPIC has identified at least 14 prisoners who were executed after the Texas courts rejected their intellectual disability claims by applying an unconstitutional standard.
The U.S. Supreme Court also declared the Florida Supreme Court's method of determining intellectual disability to be unconstitutional, striking it down in Hall v. Florida in 2014. After initially ruling that it would reconsider all cases in which the state courts had unconstitutionally rejected intellectual disability claims, the Florida Supreme Court rescinded its opinion in May 2020. In Phillips v. State, the court announced it would apply Hall only to cases whose appeals were decided after that decision was issued.
Sources
Death Penalty Information Center, Reversals Under Atkins (post­ed December 4, 2020). DPIC Analysis by Robert Dunham.
Innocence
Sep 20, 2023
Glynn Simmons Exonerated
48

Years After He Was Sentenced to Death in Oklahoma
Arbitrariness
Sep 13, 2023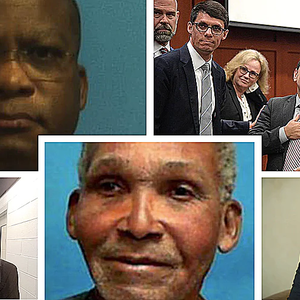 When Jurors Do Not Agree, Should a Death Sentence Be Imposed?