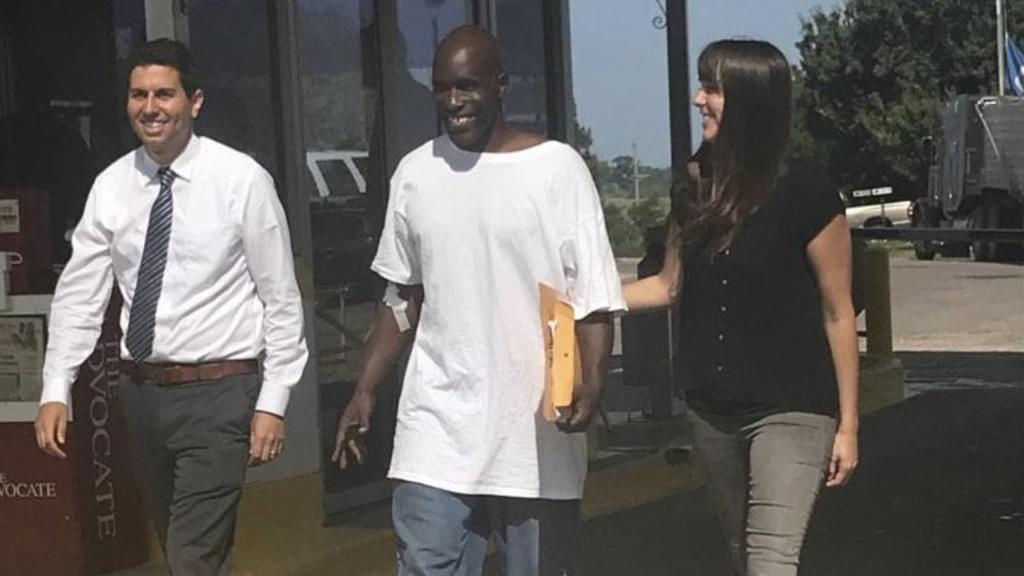 More than twenty years after being convicted and sentenced to death for a murder he has long said he did not commit, Corey Williams (pictured, center, with his defense team) walked free from prison in Louisiana on May 22, 2018. The deal was bittersweet for Williams, for despite the evidence of innocence, he had to agree to plead guilty to lesser charges of manslaughter and obstruction of justice to obtain his freedom.
In a statement released to the media, Amir Ali (pictured, left), Williams' lead counsel in his U.S. Supreme Court proceedings, said: "Imagine your child leaving to hang out with friends, and then losing him or her for twenty years. No one can give Corey back the time that he wrongfully spent behind bars, away from his family and friends. Today, we ensure this tragedy ends here—Corey can finally go home."
Williams, who is intellectually disabled, was just sixteen years old when he was arrested for the murder of a pizza deliveryman in Caddo Parish, Louisiana. Police interrogated him overnight, eventually leading him to confess, despite knowing that he was intellectually disabled and therefore more susceptible to confessing falsely.
Williams' attorneys said, "His confession was brief, devoid of corroborating details. Having just assumed responsibility for a homicide, Corey told the officers, 'I'm tired. I'm ready to go home and lay down.'"
Witnesses reported seeing several older men rob the victim. Fingerprints from one of those men were found on the murder weapon, and the victim's blood was found on the clothing of another man. A third possible suspect, Chris Moore, nicknamed "Rapist," was the only witness who testified against Williams.
Prosecutors withheld recordings of witness interviews that supported Williams' innocence claims. Those recordings showed that police suspected Moore and the two other men were trying to frame Williams.
Williams was sentenced to death, but his death sentence was vacated six years later after the U.S. Supreme Court declared the use of the death penalty against people with intellectual disability to be unconstitutional.
Hugo Holland, who along with Dale Cox, is responsible for 75% of death sentences imposed in Louisiana from 2010-2015, prosecuted Williams' case. He was later investigated for withholding evidence in a separate case, and had to resign his post due to other misconduct.
At the time the plea deal was made, Williams had an appeal pending before the U.S. Supreme Court, seeking review of his case based upon the prosecution's improper withholding of exculpatory evidence. Forty-four former state and federal prosecutors and Department of Justice officials—including former U.S. Attorney General Michael Mukasey—filed a brief in support of Williams' claim, urging the U.S. Supreme Court to grant him a new trial. The plea deal ends the litigation of that case.
Ali said, "The District Attorney's decision not to defend the tragic decisions of his predecessors is commendable. Corey's release is vindication that he was wrongfully targeted years ago by prosecutors who had no regard for truth or justice."
Because Williams pled guilty on related charges, he does not meet the criteria to be included on DPIC's Innocence List.
Sources
Andrew Cohen, Corey Williams About to Walk Free in Louisiana, The Marshall Project, May 21, 2018; Michael Kunzelman, Man who claims pros­e­cu­tors with­held evi­dence set to be freed, Associated Press, May 21, 2018; Mark Berman, He was 16 when Louisiana charged him with mur­der. Two decades lat­er, he's free., Washington Post, May 22, 2018; Amir Ali, Attorney Statement Re: Louisiana Agrees to Release Man Convicted As Intellectually Disabled 16 Year-Old, Former Death Row Prisoner, May 22, 2018. Photo cour­tesy of Ben Cohen (click to enlarge).
See Innocence and Prosecutorial Misconduct.
Innocence
Oct 12, 2023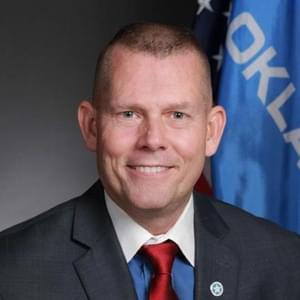 Republican-Led State Legislative Committee Considers Death Penalty Moratorium in Oklahoma