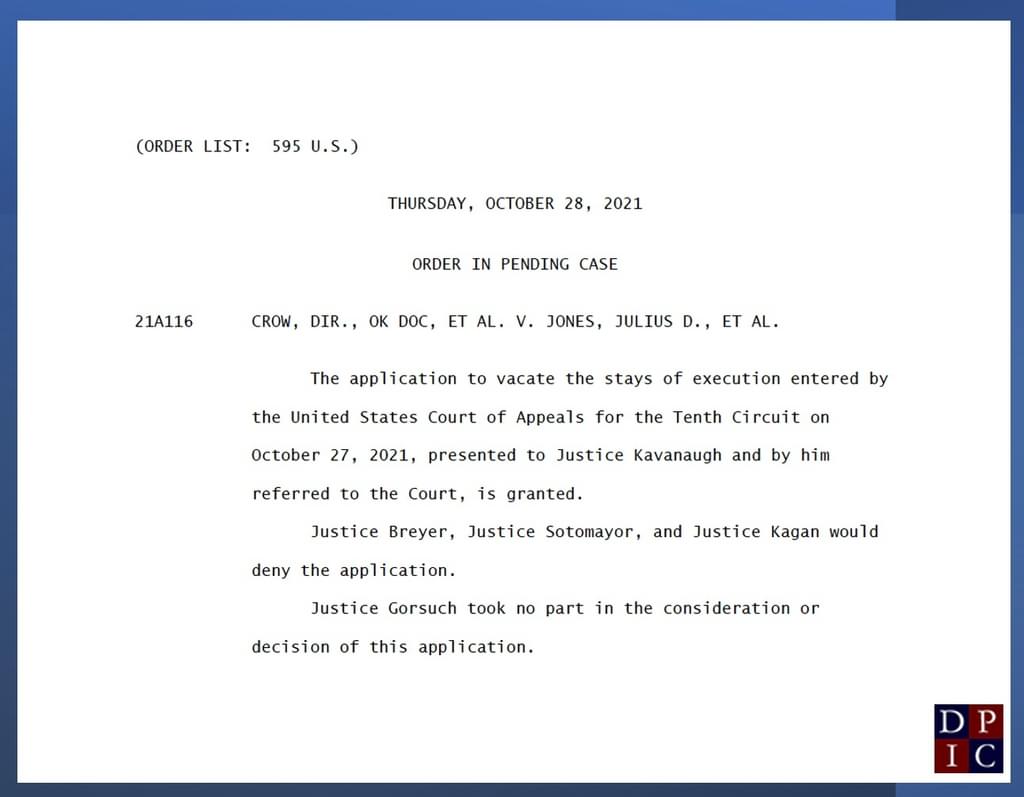 Within hours of a partisan vote in the United States Supreme Court lifting an appeals court stay, Oklahoma executed John Grant on October 28, 2021, ending a six-year hiatus brought on by a series of execution mishaps in 2014 and 2015. Eyewitnesses reported that Grant convulsed more than two dozen times and vomited as Oklahoma put him to death with a controversial three-drug execution cocktail whose constitutionality is the subject of a federal-court trial scheduled to begin in February 2022.
The Supreme Court's action, over the dissents of Justices Stephen Breyer, Sonia Sotomayor, and Elena Kagan, with Justice Neil Gorsuch not participating, came just hours before Grant's scheduled 4:00 p.m. Central execution. Without opinion, the Court lifted an emergency order the U.S. Court of Appeals for the Tenth Circuit had issued October 27 that had stayed Grant's execution and the November 18 execution of Julius Jones.
Grant and Jones are the first of seven prisoners Oklahoma has scheduled for execution between October 2021 and mid-March 2022. The executions were scheduled 40 days after the U.S. District Court for the Western District of Oklahoma ordered a trial on allegations by state death-row prisoners that Oklahoma's three-drug lethal-injection process is unconstitutionally torturous. Jones' execution was scheduled one week after the Oklahoma Pardon and Parole Board recommended that his death sentence be commuted based upon serious doubts as to his guilt.
Associated Press reporter Sean Murphy, who witnessed the execution, said Grant experienced "full-body" convulsions after being injected with midazolam, convulsed "about two dozen times," and vomited before execution personnel cleaned off his face. Grant continued to convulse and vomited again before he was declared to be unconscious.
The Tenth Circuit panel had voted 2-1 to stay Grant's and Jones' executions, citing the inequity of executing the men using a method the federal court had found sufficiently problematic to order a trial to resolve issues concerning its constitutionality. Allowing the executions to go forward, the appeals court wrote, created an unacceptable risk that they would be "unable to present what may be a viable Eighth Amendment claim to the federal courts before they are executed using the method they have challenged."
As it had done in vacating 22 stays of executions and preliminary injunctions during the federal government's execution spree in the last six months of the Trump presidency, the Court again offered no explanation for reversing the appeals court's order.
Grant's execution was the first in Oklahoma since its 45-minute botched lethal-injection execution of Clayton Lockett in 2014 and its execution of Charles Warner in 2015 using an unauthorized execution drug. Executions were halted in the state after the aborted attempt to execute Richard Glossip in September 2015, when the state again obtained the wrong execution drug.
Oklahoma's attorney general John O'Connor has pushed for the state to resume executions after years-long pause, despite the ongoing lawsuit about how the state uses lethal injection. Grant and Jones were among six men dismissed from the lawsuit by district court judge Stephen P. Friot for not identifying an alternative method by which they could be executed. Earlier in October, the circuit court reversed Friot and reinstated the men as plaintiffs in the suit. Although then-Attorney General Mike Hunter had told Judge Friot in March 2020 that the state would not seek executions while the lawsuit was pending, and Friot told the counsel for the prisoner during a May 2020 hearing "if we should have any indication that that will happen, I will be, to put it mildly, immediately available," Friot denied the prisoners' request to enjoin their executions.
Grant was convicted and sentenced to death in 2000 for the murder of a prison cafeteria worker while he was incarcerated for a robbery committed when he was a teenager. On October 5, 2021, a divided Oklahoma Pardon and Parole Board denied Grant clemency by a vote of 3-2. In a statement released after the vote, Grant's clemency lawyer, Sarah Jernigan characterized the decision as the culmination of institutional failures in Grant's life. Jernigan noted that Grant had suffered from chronic abuse at home as a child, and as early as 9-years-old he began stealing food and clothes to provide for his family. When he was sent to a juvenile detention center at the age of 12, she said, he experienced routine "[w]hippings, rapes, and assaults."
Jones was convicted and sentenced to death in 2002 on charges that he had murdered Paul Howell, a prominent white businessman, in 1999. Jones case has gained international attention amid evidence of racial bias and innocence. On September 13, the Oklahoma Pardon and Parole Board voted 3-1 to recommend that Governor Kevin Stitt commute Jones' sentence to a life term with the possibility for parole.
TIMELINE of APPEALS
2000: John Marion Grant sentenced to death.
2002: Julius Jones sentenced to death.
April 29, 2014: The execution of Clayton Lockett is botched. It takes more than 40 minutes, between when the first injection takes place and when Lockett ultimately dies. Lockett writhes in his restraints, breathes heavily and speaks unintelligibly during this time.
January 15, 2015: Oklahoma executes Charles Warner using a drug not authorized in the state's execution protocol. Warner's last words are "My body is on fire."
September 30, 2015: Oklahoma calls off the execution of Richard Glossip hours before it was scheduled to begin after learning that the Oklahoma Department of Corrections had again received the wrong drugs to carry out the execution.
October 8, 2015: Oklahoma Governor Mary Fallin halts executions in the state after an autopsy confirms prison officials used an unauthorized drug in the execution of Charles Warner, according to the Associated Press. Citing past botched executions, Oklahoma death-row prisoners, including Grant and Jones, go on to file a lawsuit in federal court, challenging the constitutionality of the state's lethal injection practice.
May 5, 2020: U.S. District Court Judge Stephen P. Friot tells defense counsel that Attorney General Mike Hunter has represented that prosecutors will not seek to carry out executions while the lawsuit is pending, according to court transcripts.
August 11, 2021: Six people, including Grant and Jones, are removed from the lawsuit, per a ruling by Judge Friot, for not responding to an interrogatory requiring them to designate an alternative method by which they could be executed.
August 26, 2021: New attorney General, John O'Connor, files a motion in the criminal appeals court seeking to execute seven men, including Grant and Jones. At this time, O'Connor asserts that seven prisoners could be executed, because they were not involved in the lawsuit. Six, including Grant and Jones, had been dismissed from the federal lawsuit and the seventh is not a party to the lawsuit.
September 13, 2021: The Oklahoma Pardon and Parole Board recommends, 3-1, that Governor Kevin Stitt commute Jones' sentence to a life term with the possibility for parole, citing doubts as to Jones' guilt.
September 20, 2021: The Oklahoma Court of Criminal Appeals issues death warrants, setting execution dates for the seven men, including Grant.
October 5, 2021: A divided Oklahoma Pardon and Parole Board denies Grant clemency.
October 15 2021: Plaintiffs who were removed from the lawsuit are reinstated, after the U.S. Court of Appeals for the Tenth Circuit reverses Judge Friot's August 2021 ruling.
October 25, 2021: Judge Friot denies plaintiff's request for injunction filed by five people who are scheduled to be executed, including Grant and Jones, who asked for the executions to be halted until the outcome of the federal.
October 27, 2021: The Tenth Circuit grants a motion to stay the execution of Grant and Jones. Oklahoma appeals to the U.S. Supreme Court.
October 28, 2021: The U.S. Supreme Court vacates the stays of execution and Oklahoma executes John Grant.
Sources
Dean Osborne, Stay of exe­cu­tion grant­ed in tri­al for John Grant, Julius Jones; AG Files Appeal to U.S. Supreme Court, The Black Wall Street Times, October 27, 2021; EDITORIAL: It's time for Oklahoma to get rid of the death penal­ty, Norman Transcript, October 24, 2021; Elizabeth Caldwell, As attor­ney gen­er­al push­es for exe­cu­tions, fate of con­demned rests with fed­er­al judge, Tulsa Public Radio, October 21, 2021; Dillon Richards, Oklahoma less than 48 hours from first sched­uled exe­cu­tion in over six years, KOCO News, October 26, 2021.
International
May 23, 2023

The Lancet Editorial: Physician Involvement in Executions Violates Medical Ethics
Human Rights
May 19, 2023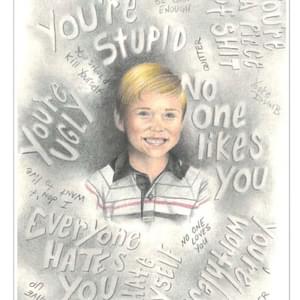 Missouri Clemency Petition Highlights Prisoner's Extraordinary Artwork