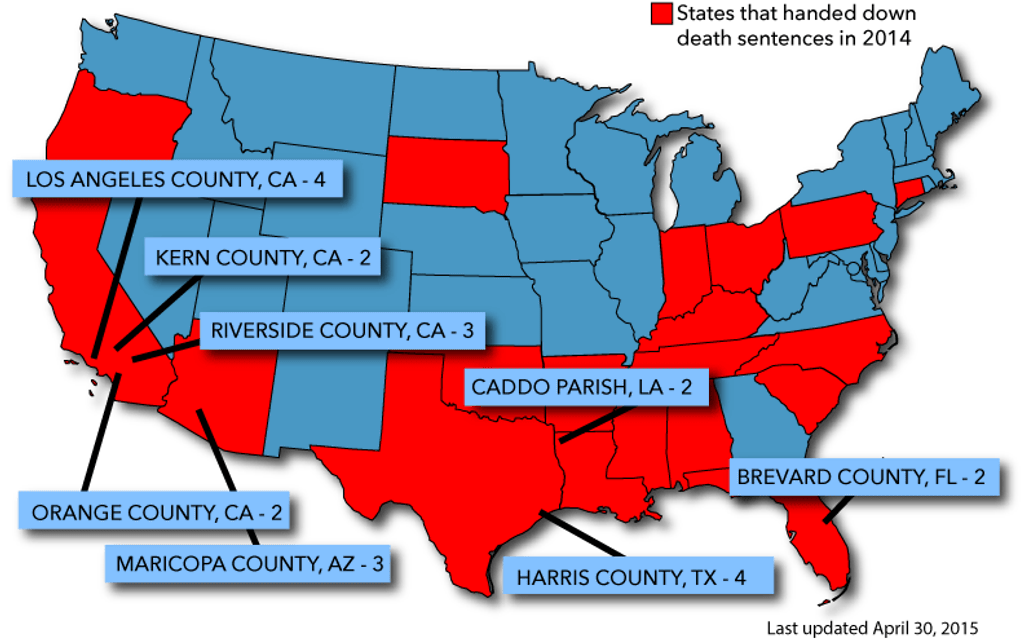 Riverside County, California imposed more death sentences than any other county in the United States in 2015, accounting for more than half of the state's new death sentences and 16% of new death sentences imposed nationwide. Among other states, only the 9 death sentences imposed in Florida outstripped Riverside's total of 8.
The 29 death sentences imposed in Riverside from 2010-2015 made it the nation's second most prolific death-sentencing county during that period, behind only the country's most populous death-penalty county, Los Angeles, which has five times as many homicides. While California imposed more death sentences than any other state during that period, Riverside stood out even among California counties, imposing death sentences at a rate that was 9 times greater per homicide than the rest of the state.
A 2015 piece by Professor Robert J. Smith of the University of North Carolina at Chapel Hill called Riverside County, "the buckle of a new Death Belt," because it, along with four other southern California counties, had replaced the Deep South in overproducing death sentences. Those five counties, which also include Kern, Orange, Los Angeles, and San Bernadino, have received national attention for misconduct by prosecutors and other public officials. In 2011, a federal magistrate judge characterized the conduct of the Riverside County District Attorney's office as, "turn[ing] a blind eye to fundamental principles of justice," in a murder case.
As with many of the counties that produce disproportionately large numbers of death sentences, Riverside also faces other serious criminal justice problems. The office has been the subject of an investigation into allegedly illegal wiretapping practices, after former DA Paul Zellerbach oversaw what The Desert Sun newspaper described as "an astronomical rise in wiretaps" that was "so vast it once accounted for nearly a fifth of all U.S. wiretaps," including triple the number of wiretaps issued by any other state or federal jurisdiction in 2014. Riverside police ranked 9th in the nation in killings of civilians.
The death sentences imposed in the county also exhibit significant racial disparities. 76% of those sentenced to death in Riverside between 2010 and 2015 were defendants of color.
Defendants in Riverside County often receive inadequate defense because of a pay structure for court-appointed attorneys that financially penalizes plea bargains and robust investigation of mitigating evidence. In two-thirds of Riverside County cases that were reviewed on direct appeal between 2006 and 2015, defense counsel presented less than two days of mitigation. Among that same group of cases, 55% involved a defendant who was under 21 years old at the time of the offense or had an intellectual impairment, brain damage, or severe mental illness. 7 of the 8 defendants sent to death row in 2015 were represented by appointed private counsel. Only one was represented by the public defender's office. (Click to enlarge image.)
Sources
Too Broken to Fix: Part I, The Fair Punishment Project, August 23, 2016; B. Kelman and B. Heath, Warrant for for­mer DA Paul Zellerbach in wire­tap case, The Desert Sun & USA Today, Aug. 24, 2016; P. Esquivel, Riverside County lead­ing U.S. in death sen­tences, report says, Los Angeles Times, December 15, 2015; R. Balko, The Watch: America's Killingest Counties, Washington Post, December 3, 2015.
See Prosecutorial Misconduct and Representation.
Prosecutorial Accountability
Oct 02, 2023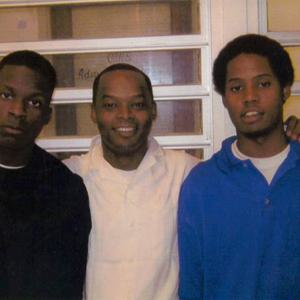 Supreme Court Denies Certiorari to Two Death-Sentenced Men with Credible Innocence Claims
Prosecutorial Accountability
Jul 28, 2023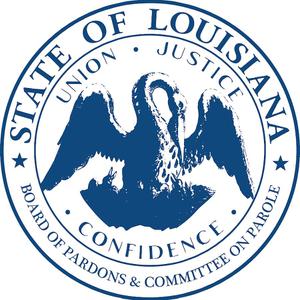 Louisiana Pardon Board Declines to Consider
56

Death Row Clemency Petitions Without Merits Review