A Nashville trial judge has denied a Tennessee death-row prisoner's motion to reopen his case and halt his scheduled April 21, 2022 execution in light of new DNA evidence.
In a motion filed April 4, 2022, lawyers for Oscar Smith had argued that evidence from "touch DNA" — a new DNA testing technology — on an awl used in the murder of Smith's estranged wife and her two sons in 1989 "definitively excluded" Smith and suggested that another, unknown male had been involved in the murders. The three were shot and stabbed with a knife and an awl, the only murder weapon recovered from the crime scene.
In January 2022, with the agreement of both prosecutors and the defense, the trial court released the awl for testing with the touch DNA technology. "The significance of this result cannot be overstated," Smith's lawyers wrote in the motion. "Oscar Smith has, using his new touch DNA technology, demonstrated that he is not the person who used the awl to kill his family."
Davidson County Criminal Court Judge Angelina Blackshear Dalton disagreed. In a 13-page order issued April 12, 2022, she wrote, "[t]here is not a reasonable probability that the recently discovered DNA evidence would have prevented Mr. Smith's prosecution or conviction. Nor is there a reasonable probability the recently-discovered DNA evidence would have resulted in a more favorable conviction or sentence for Mr. Smith had the DNA evidence been presented at trial."
Smith has appealed the trial court's order. "The criminal court refused to hear Mr. Smith's claim that DNA evidence shows that an unknown assailant — not Mr. Smith — used the bloody murder weapon found at the crime scene," Smith's lawyer, assistant federal public defender Amy D. Harwell, said in a statement.
Smith, 72, had previously appealed to reopen the case based on alleged errors made by the crime scene investigator who testified for the prosecution. The investigator testified that a bloody palm print found on the sheet next to one of the victims was missing two fingers and that there was "no doubt" the print belonged to Smith, who is missing two fingers on his left hand.
Defense lawyers have argued that the prosecution expert made "egregious" errors, including leaving his own fingerprints on the awl, and that his "incompetence and lack of professionalism" makes the identification testimony suspect and unreliable. The motion said that the touch DNA evidence excluding Smith and implicating another person further undermines the prosecution's palm print testimony, which defense lawyers called the state's "most important piece of evidence."
The trial court previously rejected that argument, and its ruling was affirmed in March 2022 by the Tennessee Court of Criminal Appeals.
Smith is also part of a federal lawsuit challenging the constitutionality of the state's execution protocol. Tennessee uses a three-drug protocol of midazolam, a sedative; vecuronium bromide, a paralytic; and potassium chloride, which stops the prisoner's heart. The suit sets forth a variety of concerns about the protocol, including that midazolam is unsuitable for use in executions and that the state was aware of problems with the preparation of its potassium chloride but failed to disclose those problems to the prisoners and the courts.
The U.S. Supreme Court requires prisoners who challenge the constitutionality of a state's execution method to propose an alternate method by which the state can take their life. Smith offered execution by firing squad as his alternative to lethal injection. If the execution goes forward, it would be Tennessee's first since the start of the COVID-19 pandemic.
Sources
Travis Loller, Tennessee death row inmate: Unknown DNA on weapon, Associated Press, April 4, 2022; Samantha Max, New DNA test­ing casts doubt on triple mur­der con­vic­tion that land­ed a man on death row, attor­neys say, Nashville Public Radio, April 5, 2022; Danielle Haynes, Attorneys seek to reopen case of Tennessee death row pris­on­er, UPI, April 5, 2022.
Innocence
Sep 20, 2023
Glynn Simmons Exonerated
48

Years After He Was Sentenced to Death in Oklahoma
Arbitrariness
Sep 13, 2023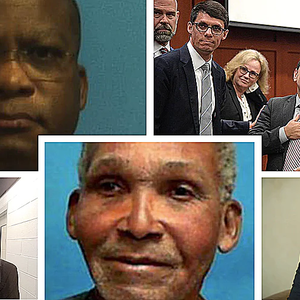 When Jurors Do Not Agree, Should a Death Sentence Be Imposed?