In the wake of sharp criticism of several controversial death-penalty decisions, the five conservative justices of the U.S. Supreme Court issued three opinions on May 13, 2019, explaining their votes in those earlier cases. The opinions, issued in connection with the apparently inconsistent orders in religious discrimination claims brought by two death-row prisoners and a decision declining to review the case of an Alabama death-row prisoner who had challenged the state's execution process, highlighted growing friction and fissures within the Court.
In a pair of opinions issued five weeks after the Court halted the March 28 execution of Buddhist death-row prisoner Patrick Murphy, the Court's three far-right justices dissented from the order granting him a stay and Justice Kavanaugh and Chief Justice Roberts issued a statement seeking to explain why they voted to spare Murphy from execution while permitting the execution of Muslim prisoner Domineque Ray to go forward. The Court's disparate treatment of Murphy and Ray—both of whom claimed religious discrimination because their states denied their requests to have non-Christian spiritual advisors present in the execution chamber—had generated widespread condemnation across the political spectrum. In a second contentious case, Justice Clarence Thomas wrote to "set the record straight" in response to criticism from Justice Breyer and the Court's other moderate and liberal justices regarding a 5-4 late-night ruling on April 12 to vacate a lower court stay of execution for Alabama death-row prisoner Christopher Price.
In Murphy's case, Justice Alito, joined by Thomas and Gorsuch, accused defense lawyers of "inexcusably dilatory litigation tactics" and complained that "the great majority" of applications for stays of execution "are almost all filed on or shortly before the scheduled execution date … [with] no good reason for the late filing." Staying Murphy's execution, Alito wrote, "countenance[es] the dilatory litigation [and], I fear, will encourage this damaging practice." While acknowledging that "[t]he claims raised by Murphy and Ray are important and may ultimately be held to have merit," Alito said that "[p]risoners should bring such claims well before their scheduled executions so that the courts can adjudicate them in the way that the claims require and deserve and so that States are afforded sufficient time to make any necessary modifications to their execution protocols."
Justice Kavanaugh and Chief Justice Roberts defended the stay, saying that Murphy had not been dilatory. Murphy had made his request to have his spiritual advisor in the execution chamber 30 days before his scheduled execution, they wrote, and the delay in filing his court appeal was attributable to "the State's footdragging" in response to his request. Kavanaugh also disagreed that the stay encouraged additional litigation, noting that within five days of the order Texas had revised its protocol to "allow religious advisers only into the viewing room." The stay, he wrote, "facilitated the prompt resolution of a significant religious equality problem … [and] should alleviate any future litigation delays or disruptions that otherwise might have occurred." Kavanaugh justified granting Murphy a stay while allowing Ray's execution to proceed by saying the two had presented different legal claims to the courts. Murphy, he wrote, had argued that Texas treated prisoners of different religions unequally, permitting Christians and Muslims to have ministers in the execution chamber, while limiting other prisoners to "hav[ing] ministers of their religions only in the adjacent viewing room." By contrast, he said, Ray had raised a claim under the Establishment Clause of the First Amendment and the religious discrimination claim had been raised on its own by a federal appeals court.
In his statement concurring in the Court's denial of review in the Price case, Justice Thomas—joined by Justices Alito and Gorsuch—accused death-row prisoners of attempting to manipulate the legal process by "gamesmanship" by "bring[ing] last-minute claims that will delay the execution, no matter how groundless. The proper response to this maneuvering," he wrote, "is to deny meritless requests expeditiously." Price had challenged the constitutionality of Alabama's lethal injection practices, offering execution by lethal gas as an alternative. However, the state argued he had missed the statutory deadline for electing that option and that his request was untimely. As the warrant to execute Price on April 12 was expiring, Justice Breyer urged his colleagues to leave the lower court stay in place until the Court could meet in person to discuss "substantial" procedural and substantive issues presented by the case. When the Court then lifted the stay with no discussion even after the execution had been called off, Breyer wrote: "To proceed in this way calls into question the basic principles of fairness that should underlie our criminal justice system. To proceed in this matter in the middle of the night without giving all members of the court the opportunity for discussion tomorrow morning is, I believe, unfortunate."
(Amy Howe, Justices spar over death penalty, SCOTUSblog, May 13, 2019; Marcia Coyle, Justices' Feud Over Death Penalty Flares, Exposing Tension and Private Deliberations, National Law Journal, May 13, 2019; Adam Liptak, Tempers Fraying, Justices Continue Debate on Executions, The New York Times, May 13, 2019; Nina Totenberg, Supreme Court's Conservatives Defend Their Handling Of Death Penalty Cases, NPR, May 14, 2019.) Read the opinions in Murphy v. Collier, No. 18A985, and Price v. Dunn, No. 18-1249. See Executions and U.S. Supreme Court.
United States Supreme Court
Nov 02, 2023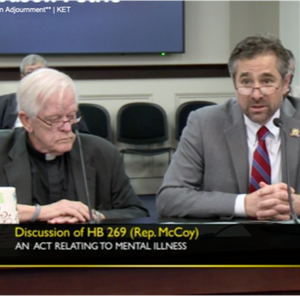 Under Recent State Legislation, Courts in Ohio and Kentucky Rule Four Men Ineligible for Execution Due to Serious Mental Illness