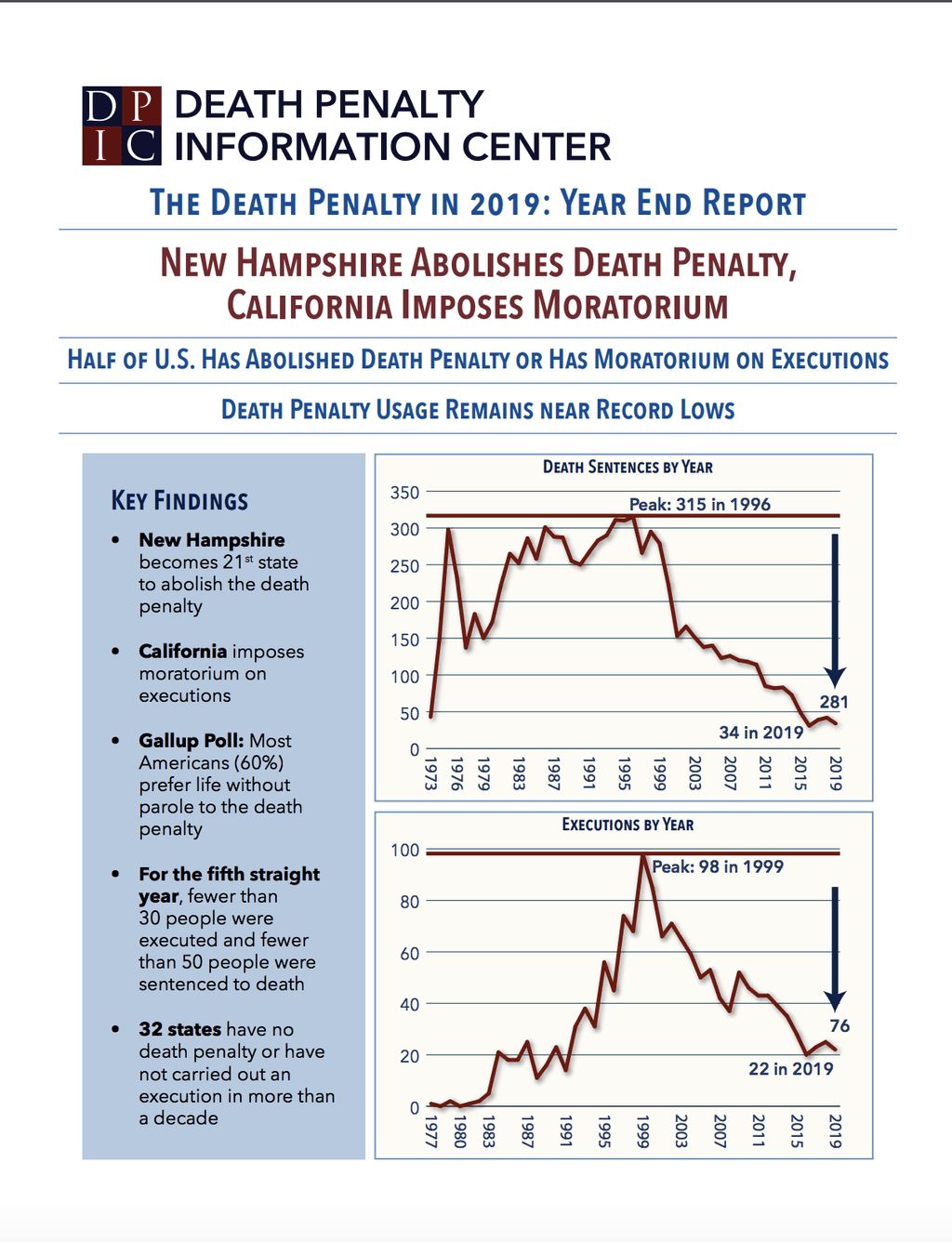 A DPIC analysis of executions and new death sentences in 2019 has found that even as death penalty usage declined across the United States, racial disparities in its application persisted.
Studies have consistently found racial disparities at nearly every stage of the capital punishment process, from policing and charging practices, to jury selection, to jury verdicts, to which cases result in executions. Those patterns of discriminatory sentencing and executions — and particularly race-of-victim effects — were evident once again in 2019.
In 2019, new death sentences declined to 34 and executions fell to 22. A disproportionate percentage of both involved white victims. Nationwide, the murder-victimization rate for African Americans is significantly higher than for whites. About half of all murder victims are black; yet, in 2019, nearly 80% (27 of 34) of new death sentences were imposed in cases involving victims who were white. 73% of executions in 2019 (16 of 22) involved cases with only white victims.
The racial disparities were even starker when DPIC looked at the race of both the defendants who were sentenced to death and the victim(s) they were accused of killing.
In 2019, 17 white defendants were sentenced to death. In each case, there was at least one white victim and only one case involved any black victim. In the five cases in which Latino defendants were sentenced to die, four involved a Latinx victim or victims, one involved a second victim who was white, and one involved a single white victim. Only African Americans were predominantly sentenced to death for interracial murders. Of the 12 black defendants sentenced to death, three involved only black victims. By contrast, five involved only white victims and seven had at least one white victim. Black defendants were also sentenced to death for murders of LatinX-only victims and Asian-only victims. No non-black defendant was sentenced to death a killing involving only black victims.
Since executions resumed in 1977, 308 black defendants have been executed for murders involving at least one white victim, compared to 34 white defendants who have been executed for murders in which at least one black victim was killed. In 294 of these cases, black defendants were executed for murders involving only white victims, while only 21 white defendants were executed for murders in which only black victims were killed.
As the number of new death sentences decreases, death row is growing even more racially disproportionate, with a significant increase in the percentage of Latinx death-row prisoners. Half of the 34 defendants sentenced to death in 2019 were people of color, with 35% African American and 15% Latinx. Southern California counties accounted for all of the death sentences in the state in 2019, and all three defendants sentenced to death were Latino.
The counties that have most aggressively pursued capital punishment have also been imposing it in an increasingly disproportionate manner. Only two counties imposed more than one death sentence in 2019: Cuyahoga County in Ohio (3) and Riverside County in California (2). Riverside has sentenced more people to die than any other county in the United States since 2013, and 92% (23 out of 25) of those condemned in the county in that time frame have been black or Latino. In Cuyahoga County, 4 of the last 6 defendants sentenced to death have been black.
Those numbers coincide with the death-sentencing trends of other counties that heavily use the death penalty. In Los Angeles, the last 22 people sentenced to death have been people of color. In Harris County, Texas—home to Houston—18 of the last 20 condemned defendants have been black or Latino; a 19th was of Middle Eastern descent.
The Increasing Minority Concentration of Death Row
Over time, the composition of death row has become increasingly racially disproportionate, with people of color comprising a higher and higher percentage of death-row prisoners each decade. In 1980, a majority of death-row prisoners were white (54.4%). By July 2019, 57.8% were people of color. The most dramatic increase has been among the Latinx population, whose proportion of death row more than doubled between 1980 and 2000 (from 4.4% to 9.0%) and has increased by another 4.4% this century. Latinx prisoners now comprise 13.4% of the nation's death row.
| Year | Death-Row Prisoners | Percent White | Percent Black | Percent Latinx | Percent Other | Percent Non-White |
| --- | --- | --- | --- | --- | --- | --- |
| 1980 | 636 | 54.4 | 39.8 | 4.4 | 1.4 | 45.6 |
| 1990 | 2393 | 50.4 | 39.5 | 6.9 | 3.12 | 49.6 |
| 2000 | 3682 | 46.2 | 42.7 | 9 | 2.1 | 53.8 |
| 2010 | 3259 | 43.9 | 41.7 | 11.9 | 2.5 | 56.1 |
| 2019 | 2656 | 42.2 | 41.6 | 13.4 | 2.9 | 57.8 |
Race was also a substantial factor in two of the biggest death-penalty developments in the United States in 2019. Citing its discriminatory application against black and brown people and calling the death penalty a "failure," California Governor Gavin Newsom imposed a moratorium on executions. In June, the United States Supreme Court reversed the conviction and death sentence imposed in Mississippi death-row prisoner Curtis Flowers' sixth trial, finding that District Attorney Doug Evans had exhibited a pattern of deliberately excluding African Americans from serving on the jury. No physical evidence linked Flowers to a quadruple murder in a white-owned business where he had previously worked, and the decision marked the fourth time that Flowers' conviction had been overturned as a result of prosecutorial misconduct.
New Death Sentences Imposed in 2019
(by Race of Defendant and Race of Victims)
First Name
Middle
Last Name

Suffix

State
County
Race
Race of Victim(s)
Brett
Richard
Yeiter
AL
Escambia
White
1 White Male
Lionel
Francis
AL
Madison
Black
1 Black Female
Michael
David
Belcher
AL
Tuscaloosa
White
1 White Female
Kenneth
Wayne
Thompson
AZ
Yavapai
White
1 White Male, 1 White Female
Miguel
Crespo
CA
Kern
Latino
1 Latinx Transgender Female
John
Hernandez
Felix
CA
Riverside
Latino
1 Latino Male, 1 White Female
Rigoberto
Villanueva
CA
Riverside
Latino
1 Latina Female, 1 White Male
Brandon
Council
Federal
S.C.
Black
1 White Females
Donald
Davidson
FL
Clay
White

1 White Female

Robert
Earl
Craft
FL
Columbia
White
1 White Male
Rocky
Ali
Beamon
FL
Jackson
White
1 White Male
Johnathan
Alcegaire
FL
Polk
Black
1 Black Male, 1 Latina Female, 1 White Female
Rocky
Ali
Beamon
FL
Santa Rosa
White
1 White Male
Christian
Cruz
FL
Volusia
Latino
1 White Male
Scottie
Allen
FL
Wakulla
White
1 White Male
Tiffany
Moss
GA
Gwinnett
Black
1 Black Female
David
Isiah
Godwin
NC
Carteret
White
1 White Female
Mikel
Brady
NC
Pasquotank
White
1 White Male, 1 Black Male, 2 Black Females
Seaga
Gillard
NC
Wake
Black
1 White Female, 1 Black Male
Thomas
Knuff
Jr.
OH
Cuyahoga
White
1 White Male, 1 White Female
Joseph
McAlpin
OH
Cuyahoga
Black
1 White Male, 1 White Female
Matthew
Nicholson
OH
Cuyahoga
Black
1 Latina Female, 1 Latino Male
Kristofer
Garrett
OH
Franklin
Black
2 Black Females
Arron
Lawson
OH
Lawrence
White
2 White Males, 2 White Females
George
Brinkman
OH
Stark
White
1 White Male, 1 White Female
Derek
Don
Posey
OK
Canadian
Black
1 White Female, 1 White Male
Jacob
Sullivan
PA
Bucks
White
1 White Female
Rahmael
Sal
Holt
PA
Westmoreland
Black
1 White Male
Jerome
Jenkins
Jr.
SC
Horry
Black
1 Asian Male
Timothy
Jones
Jr.
SC
Lexington
White
3 White Males, 2 White Females
Ronald
Lee
Haskell
Jr.
TX
Harris
White
2 White Males, 4 White Females
Dameon
Jamarc
Mosley
TX
Smith
Black
1 White Male
Hector
Acosta-Ojeda
TX
Tarrant
Latino
1 Latino Male, 1 Latina Female
Gary
David
Green
TX
Upton
White
1 White Male
Sources
The Death Penalty in 2019: Year End Report, Death Penalty Information Center, December 17, 2019; Death Row USA, NAACP Legal Defense and Educational Fund, July 1980, July 1990, July 2000, July 2010, July 2019; Emily Widra, Stark racial dis­par­i­ties in mur­der vic­tim­iza­tion per­sist, even as over­all mur­der rate declines[RD1] , Prison Policy Initiative, May 3, 2018; Matthew Cella and Alan Neuhauser, Race and Homicide in America, by the Numbers, U.S. News and World Report, September 29, 2016.
DPIC analy­sis by Robert Dunham [Updated to include an addi­tion­al death sen­tence imposed in Harris County in 2019.]
Juveniles
Jun 06, 2023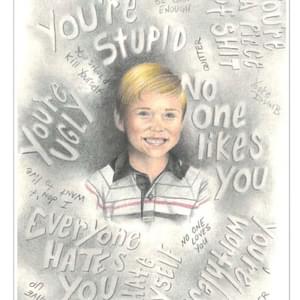 Jurors Who Sentenced Michael Tisius to Death Express Regret