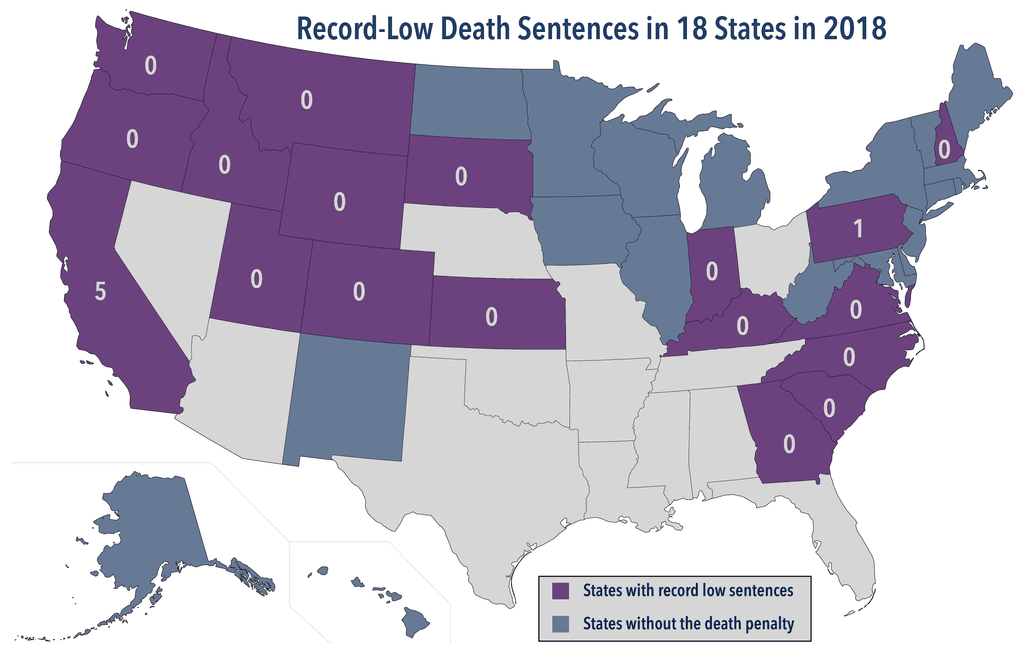 2018 was a record-low year for death-penalty usage in the United States, as eighteen death-penalty states set or matched records for the fewest new death sentences imposed in the modern history of U.S. capital punishment. (Click here to enlarge map.) Thirty-five U.S. states—including sixteen that authorized capital punishment in 2018—did not impose any death sentences in 2018, while California and Pennsylvania, which collectively account for nearly one-third of the nation's death-row population, imposed record lows. Every western state except Arizona and Nevada set or tied a record low, and Arizona, which imposed two new death sentences, and Nevada, which imposed one, were just one above their record lows. Several southern states that were once among the heaviest users of capital punishment have now gone years without imposing any new death sentences.
For the first time in its modern history, North Carolina has gone two consecutive years without a death sentence, and it has imposed one new death sentence in the past four years. Only three capital trials took place in the state in 2018, and jurors rejected the death penalty in each. Gretchen Engel, executive director of North Carolina's Center for Death Penalty Litigation, said, "Jurors are turning away from the death penalty and, in response to less favorable jury pools, prosecutors are seeking the death penalty less. And so, this trend away from the death penalty is really being led by citizens who've been summoned for jury duty." In Wake County (Raleigh), one of the 2% of U.S. counties that was responsible for a majority of death-row prisoners as of 2013, the last nine capital trials—including one in 2018—have resulted in life sentences. According to the North Carolina Office of Indigent Defense Services, taxpayers would have saved $2.4 million if prosecutors had not sought the death penalty in those cases. For the seventh consecutive year, Virginia did not sentence anyone to death in 2018. Though second only to Texas in the number of executions, Virginia has seen a dramatic decline in death sentences since establishing regional capital defender offices to provide quality representation to capital defendants. Georgia and South Carolina each marked four years with no new death sentences, a change that can also be attributed, at least in part, to improved representation.
Two of the states with the nation's largest death rows, California and Pennsylvania, had historically low numbers of death sentences in 2018. California imposed only five death sentences, its fewest since reinstating the death penalty in 1978 and 38 fewer than its peak of 43 in 1999. Pennsylvania imposed a single death sentence for only the second time in the modern era. The previous year in which only one sentence was imposed was 2016. Neither state has carried out an execution in more than a decade, but California has the largest death row in the U.S., with 740 prisoners, and Pennsylvania has the fifth-largest, with 160.
(Robert Dunham, DPIC Analysis: Record-Low Death Sentencing in Most of the Country in 2018, Death Penalty Information Center, December 28, 2018; Antoinette Kerr, More NC Jurors Reject the Death Penalty, Public News Service – NC, December 17, 2018; Herbert L. White, NC juries pass on capital punishment for second straight year, The Charlotte Post, December 17, 2018; The Death Penalty in 2018: Year End Report, Death Penalty Information Center, December 14, 2018.) See Sentencing.
NOTE: Corrected on July 11, 2019 to reflect the discovery of a new death sentence in Nevada.
North Carolina
Nov 10, 2023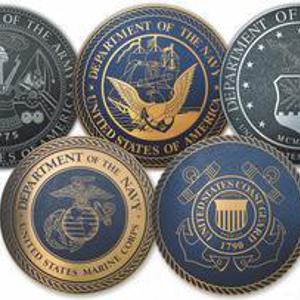 A Veterans Day Review: Uneven Progress Understanding the Role of Military Service in Capital Crimes
Sentencing Data
Sep 13, 2023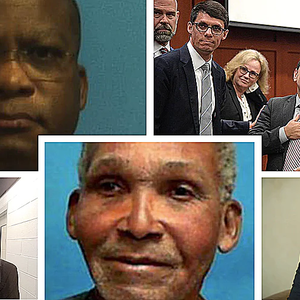 When Jurors Do Not Agree, Should a Death Sentence Be Imposed?
Pennsylvania
Aug 03, 2023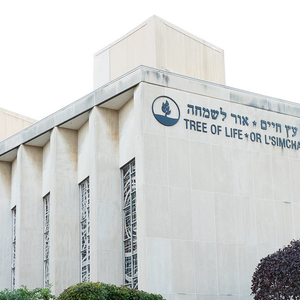 Jurors Sentence Robert Bowers to Death for
2018

Synagogue Shooting